The Cable ($GBPUSD) and Gold ($GC_F, $GLD) are forming classic triangle patterns on the charts
The symmetrical triangle is the least reliable of all major chart patterns. The symmetrical triangle is also the most commonly misdiagnosed pattern by novice chartists. But when a symmetrical triangle works, it is a thing of beauty.
Gold
The dominant pattern in Gold continues to be the POSSIBLE 10-month descending triangle on the weekly and monthly charts. But remember this, you novice chartists, this descending triangle does not become a descending triangle until it is completed. Until then it is only a possibility. A close below $1500 (+/- $10) is required to complete the descending triangle. This would establish a downside target of $1150 or so.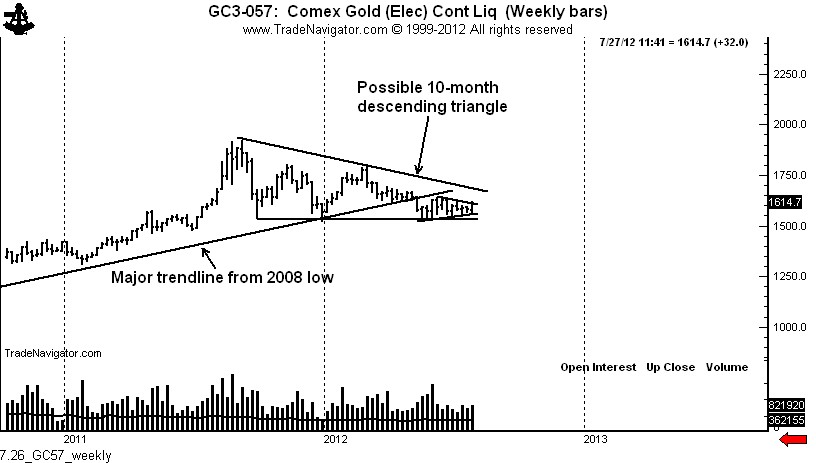 A nifty little 10-week symmetrical triangle on the daily graph is forming near the lower boundary of this descending triangle. This symmetrical triangle would be completed by a close below the June 28 low at 1547 or above the July 3 high at 1626 — however, a close above 1615 would nick the upper boundary of the triangle. Such an event would stack the odds for an eventual completion with a target of 1700 (+/- $10).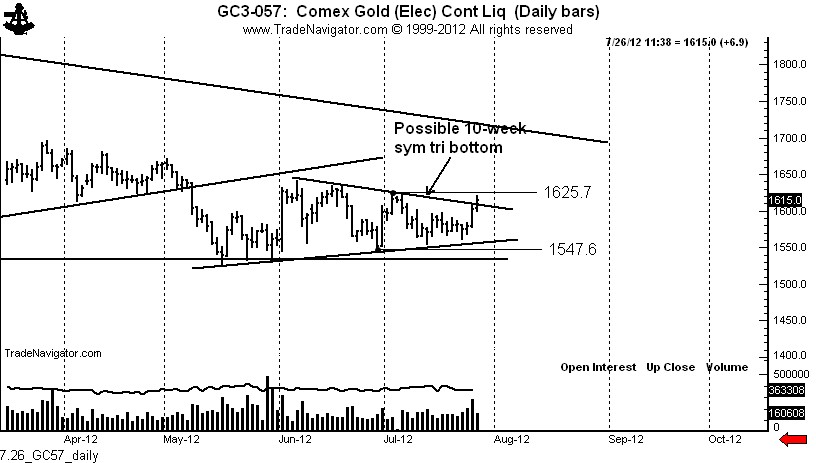 Interestingly, the chart for Gold expressed in Swiss Francs displays a textbook symmetrical triangle. A close above 1600 would complete this triangle and establish a target of 1740 CHF/oz.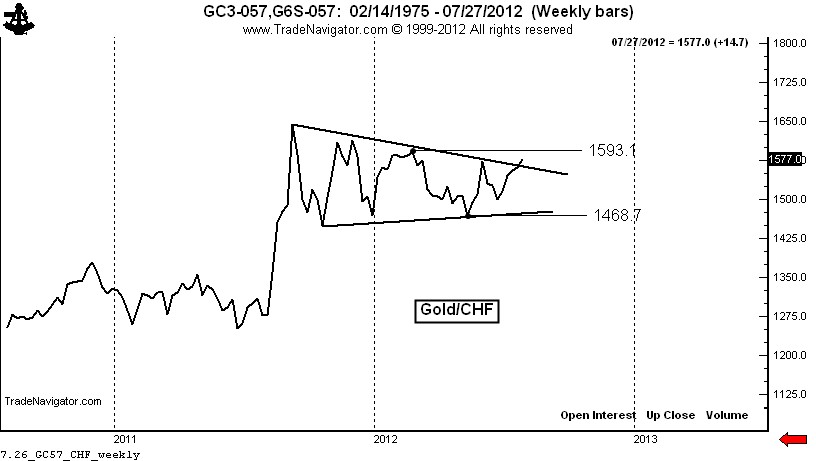 British Pound ($GBPUSD, $G6B_F)
$GBPUSD presently represents the grand daddy of all symmetrical triangles. The monthly chart displays a possible 43-month triangle. The problem with this pattern is that we are working too far towards the apex. Valid triangles should breakout no more than 60% or so the distance to the apex. This pattern is pushing its limit.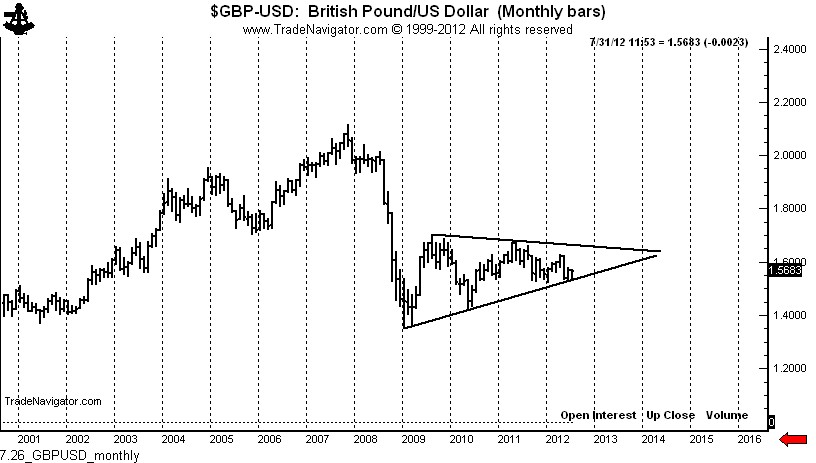 The daily graph displays a possible 9-week symmetrical triangle bottom. Symmetrical triangle bottoms require five contact points, the first of which must be a low under classical charting principles. This is unlike Elliott Wave whereby a high can count as the first point for a symmetrical triangle bottom.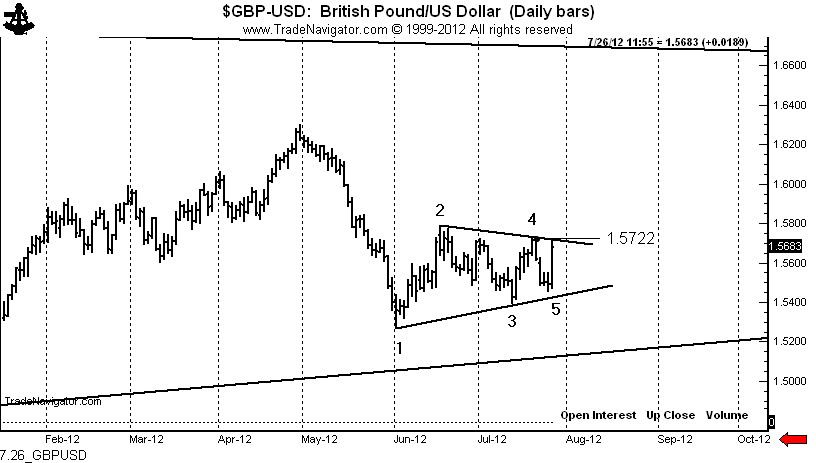 A close by the daily chart above 1.5730 and especially above 1.5800 would complete this triangle and set up the possibility that the multi-year triangle is ready to be launched.
Markets: $GLD, $GC_F, $USDCHF, $G6S_F, $G6B_F
###
.
https://www.peterlbrandt.com/wp-content/uploads/2016/03/Factor-Research-Trading-Services-300x79-300x79.png
0
0
Peter Brandt
https://www.peterlbrandt.com/wp-content/uploads/2016/03/Factor-Research-Trading-Services-300x79-300x79.png
Peter Brandt
2012-07-26 14:08:00
2016-01-28 13:43:43
Triangulation galore -- Gold and British Pounds are set to move