The January low is very likely to hold. Yet, there is no easy way to go long this market due to carrying charges and the premium of the ETFs and deferred futures contracts.
While prices could dip below the 2.300 to 2.500 level again (and if they do futures trades should do somebuying), it is not likely prices would remain there long. In fact, the retest this week may be all we get. The huge spike in volume along with the vertical drop in recent months are characteristic of a market bottom. The problem is that there is no profitable way to play the market. The carrying charges will continue to be a hurdle to playing the market from the long side. Specifically, while nearby Nat Gas futures bottomed at 2.2890 on Jan 23, the Feb 2013 contract is presently trading at 3.6000. Thus, the cash market needs to advance 57% from the Jan 2012 low to keep the Feb 2013 contract from expiring in the red.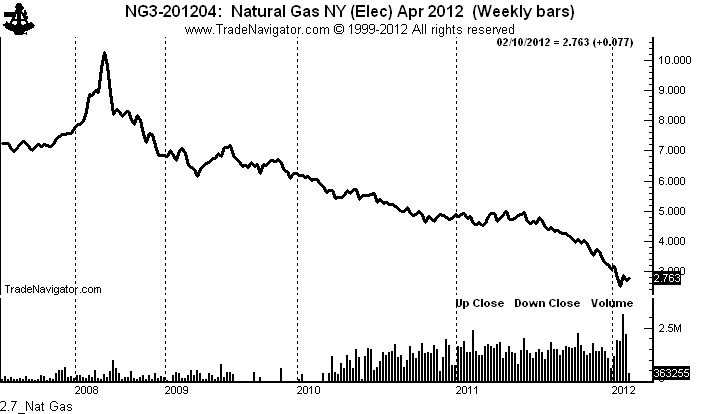 The chart below is for UNG, the natural gas ETF. Notice the huge volume spike in the past few weeks. There are about 180 mil shares outstanding in UNG. In the three weeks ending Feb 3 a total of 503 mil shares traded. I believe this  indicates a major change of ownership as several years of buyers finally threw in the towel and commercial interests covered shorts. This type of volume spike is a trademark of major market bottoms and tops. Copare the UNG volume spike to the volume spike at the top in Silver last April.
Yet, the carrying charge structure of the underlying asset (Natural Gas) will make UNG a difficult bet even at these prices .
So, while spot prices have probably hit an important low there is no neat and clean way to buy this market due to the huge carrying charges. However, on retests of the low there is probably little risk in scalping the market from the long side.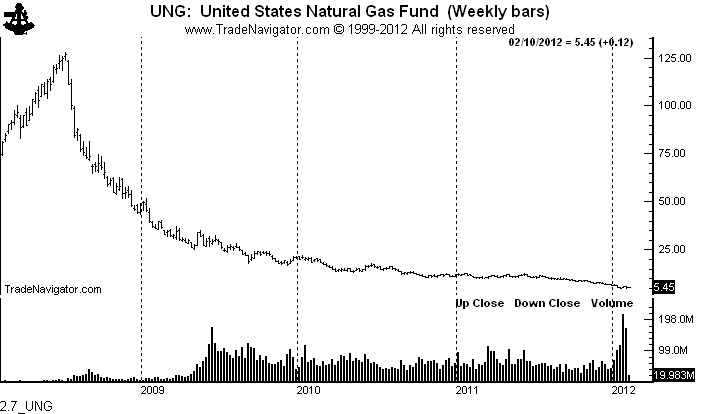 $NG_F $UNG
.
https://www.peterlbrandt.com/wp-content/uploads/2016/03/Factor-Research-Trading-Services-300x79-300x79.png
0
0
Peter Brandt
https://www.peterlbrandt.com/wp-content/uploads/2016/03/Factor-Research-Trading-Services-300x79-300x79.png
Peter Brandt
2012-02-07 19:13:10
2016-01-28 13:44:21
Bottom to Natural Gas at long last