Understanding time frames is an important aspect of market speculation.
I differentiate between three types of trades based on the time frame of the chart pattern and the likely holding period for the trade. These trade types include:
Position trades – based primarily on weekly chart patterns of at least three or four months in duration. The holding period for position trades may be two or three months (or a day or two if the position moves against my entry).
Swing trades – based on daily chart patterns of at least eight weeks in duration.  The holding period for swing trades may be two or three weeks (or a day or two if the trade turns into a loser).
Scalp trades – based on daily chart patterns from one to seven weeks in duration. The holding period for scalp trades — winners and losers — may be from one to five days. 
It is important for a trader to anticipate a holding period and use trade management protocols that are consistent with the time framing of the chart pattern being traded. For example, how ridiculous would it be to enter a trade based on a monthly chart and then use an hourly chart to determine the price of a protective stop-loss order?
WIth this understanding of time framing, there are a number of charts I will be monitoring this coming week.
Sugar ($SB_F). I am long Sugar as a position trade. The quarterly chart has a target of 65 cents.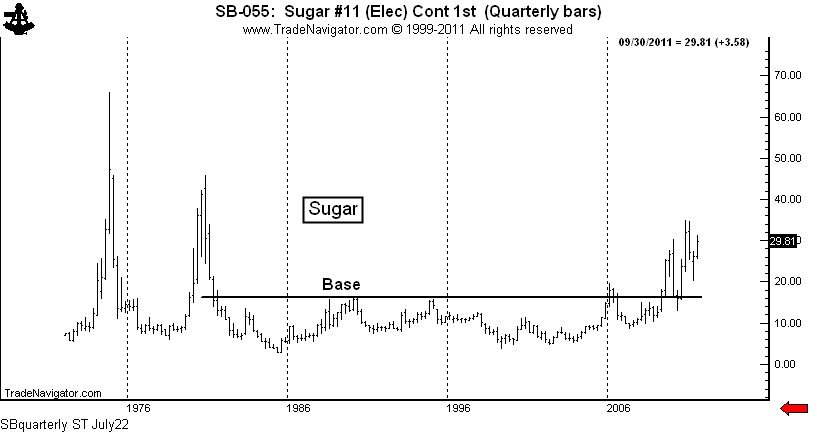 I will hold a long position in the July (below) and March contracts as long as they remain in an uptrend and as long as the nearby contracts are gaining on the late 2012 contracts. Catching a ride to 65 cents may require several trading events.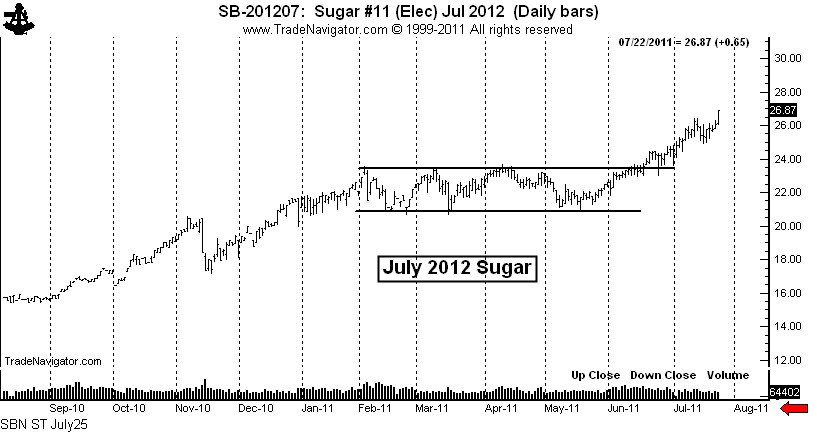 Gold ($GC_F, $GLD). I am long Gold as a swing trade.  The daily chart has a target of $1,648 from the 12-week symmetrical triangle completed on July 12. The tight trading range of the past six days may prove to be a half-mast flag. If so, the target would become $1,715. I will use this flag to extend leverage as a pyramid to the swing trade.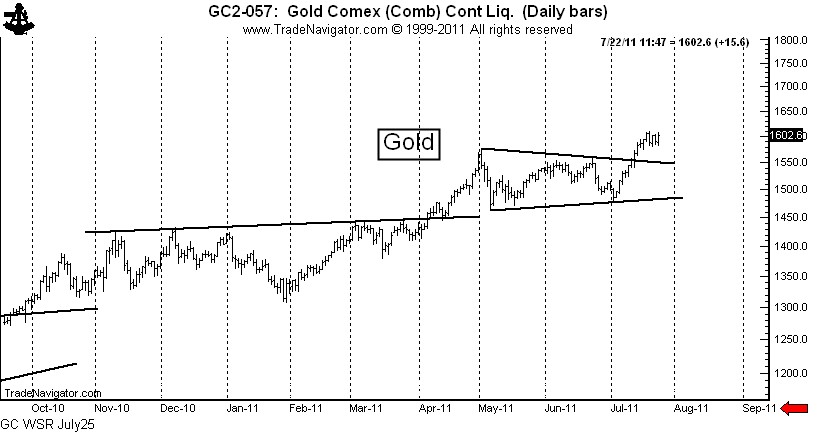 S&P 500 ($SP_F, E$S_F, $SPY). The stock market, based on the S&Ps, is forming a 6-month H&S top. The market is in the right shoulder. I am flat in this market, but will view it as a position trade if one of two things occur.
First, I will short the market if it rolls down and completes the H&S top. Note that the completion of the top would also penetrate the trendline from the 2009 low. By the way, the CFTF Committment of Traders data indicate that the strong hands (commercials) were heavy sellers in the right shoulder, arguing for a decline.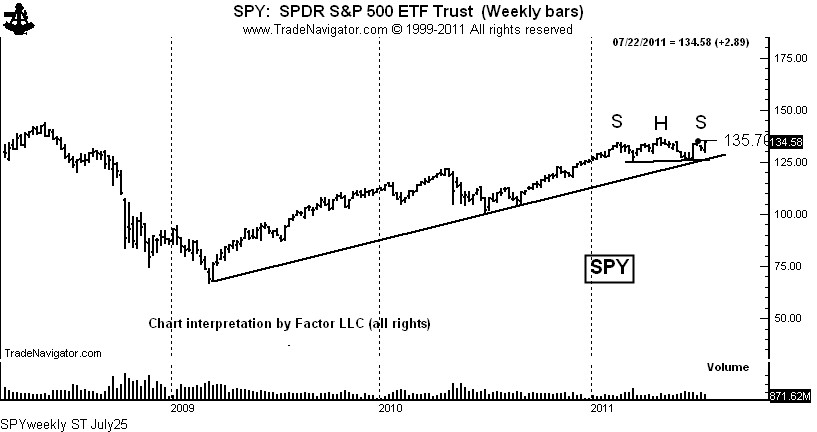 Second, I would go long if the market can close above the existing right shoulder high (135.70 in $SPY). Such a development would complete a H&S top failure, which I view as a singular pattern. The target would be 147.0 ($SPY).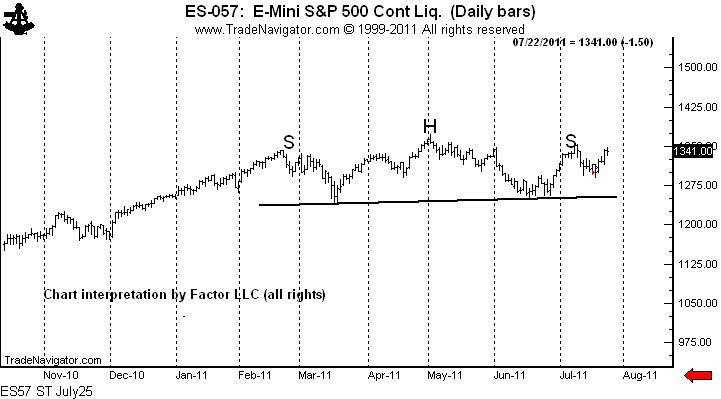 Silver ($SLV). I am long the ETF as a swing trade. The 8-week rectangular bottom has a target of $45. I will exit the trade if the July 13 low is penetrated. That is my risk point.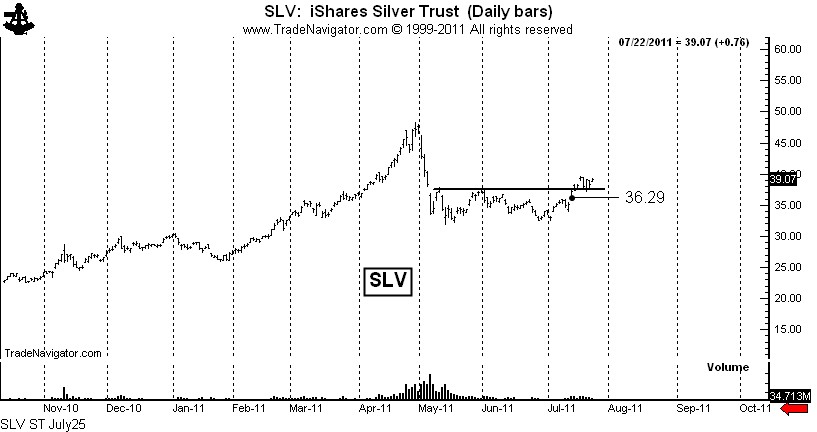 Soybeans and Soybean Oil. ($ZS_F and $ZL_F). Both of these markets are forming extensive continuation patterns that could launch significant trends. I will buy new highs in both markets.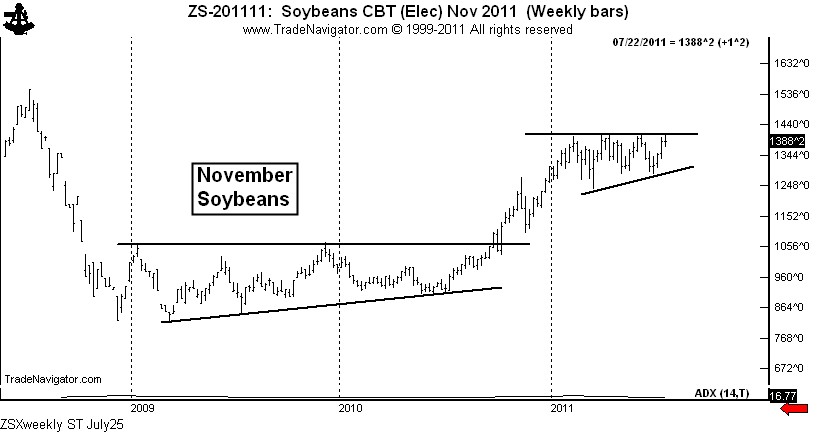 I view both markets as possible position trades. I am lightly long Soybeans presently in anticipation of a breakout. By the way, I am not sure I have made money over the years with anticipatory trades.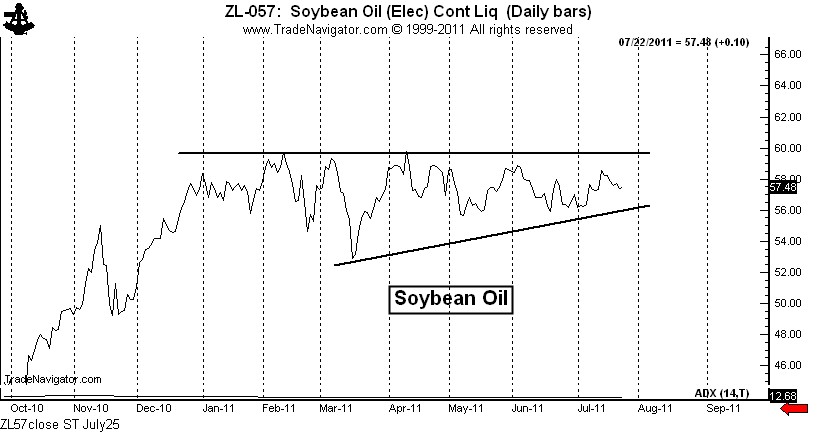 Crude Oil ($CL_F). This is my token scalp trade possibility for the upcoming week. The daily chart is in a down trend. However, there is a possibility that a 12-day symmetrical triangle could produce a rally toward the 104.00 level to test the late May high.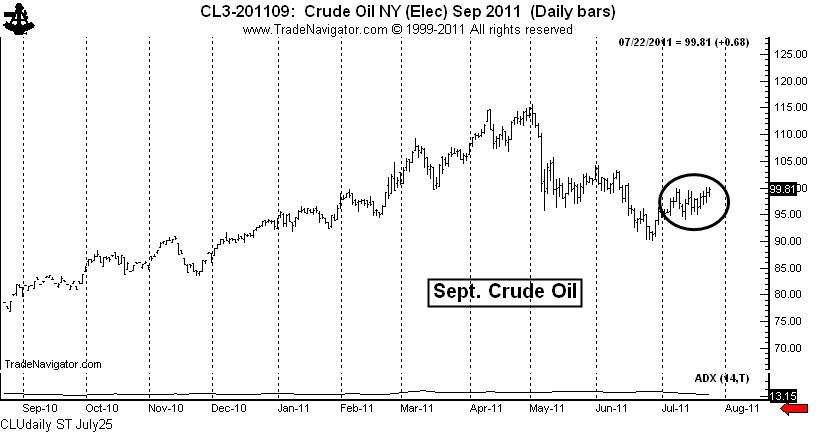 This pattern can be best seen on the hourly chart. The market broke out late Friday. I will go long Crude Oil on any overnight weakness on Sunday, protecting the trade to Friday's low.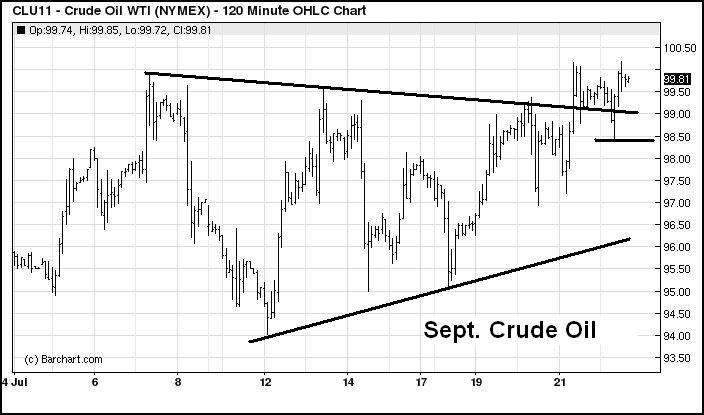 $USDJPY (also, $G6J_F). I am short the Dollar/Yen as a position trade. My bias in this market comes from the completion in 2008 of a 12-year descending triangle on the monthly chart. This pattern has a target of 60.00 in spot.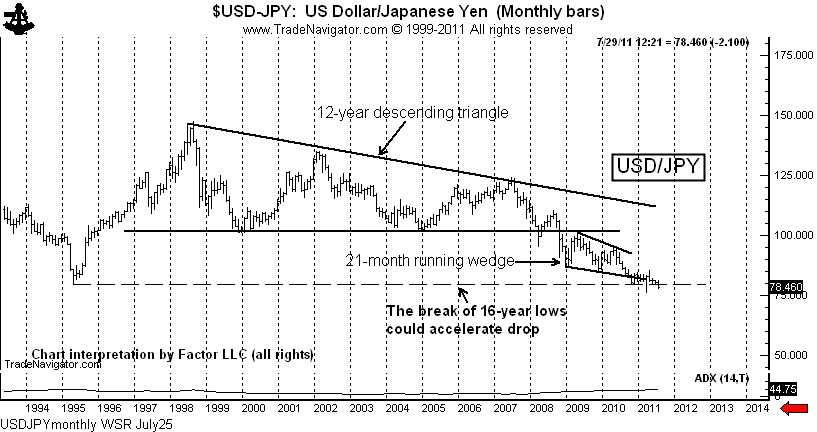 The decline on July 12 completed a triangle on the daily graph. Friday's close was the lowest week-ending close in history. I would NOT be surprised if I am stopped out of this trade due to Bank of Japan intervention.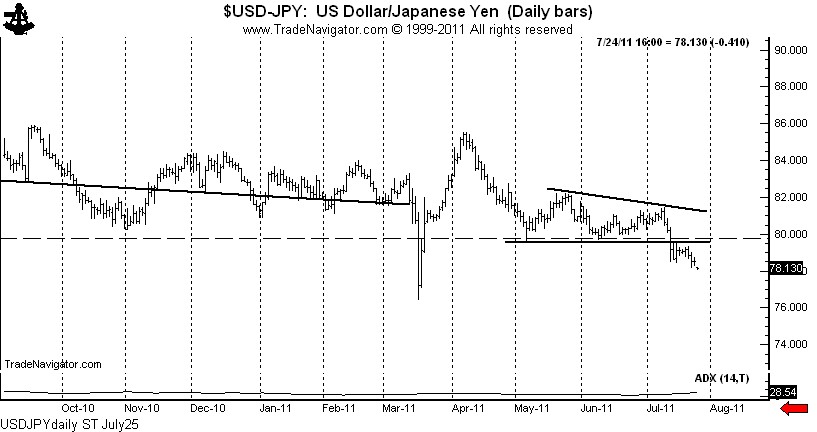 U.S Dollar Index ($UUP, $DX_F). The decline in April completed a 36-month symmetrical triangle.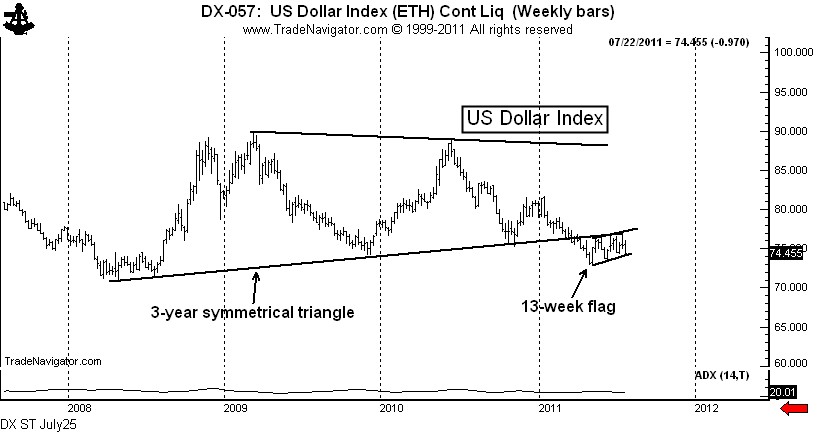 Since the breakout the market has chopped sideways and has now formed a 10-week flag. I will use this flag to establish a position trade with a target of 61.00.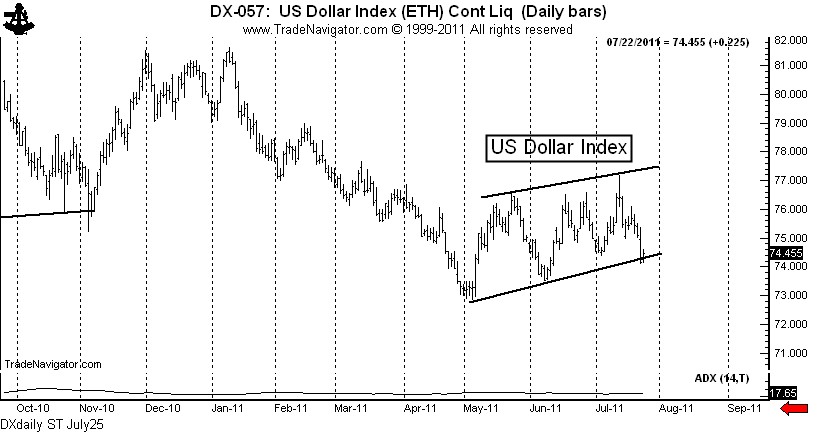 Singapore stock market ($EWS).  I remain a long-term bull on Asia. Just as the 19th and 20th Centuries belonged to the U.S., the 21st Century will belong to Asia. Signapore is well positioned to benefit from the Asian economic boom. $EWS is forming a 9-month triangle with an eventual target of $30. This will be a position trade when it breaks out.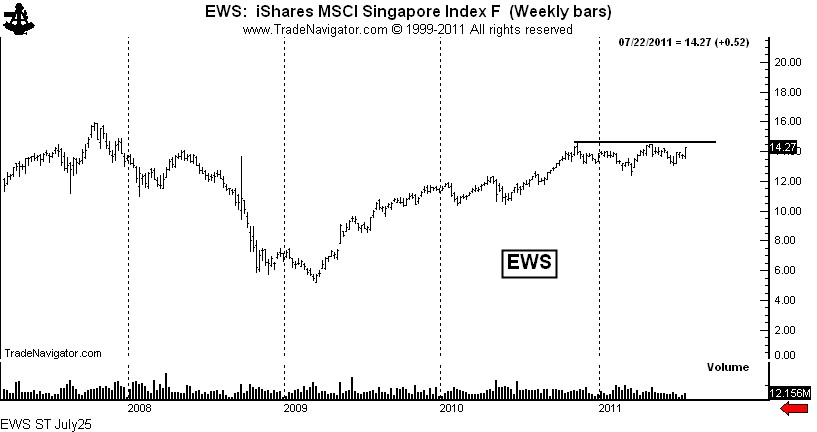 Taiwan Semiconductor ($TSM). This is about as sexy as a chart set up gets. The monthly graph displays a completed 8+ year rectangle base.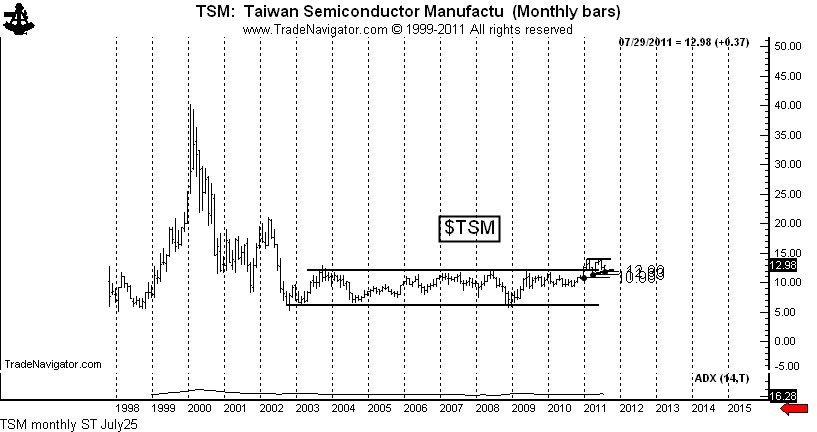 Since breaking out of the rectangle, the weekly chart has formed a 6-month ascending triangle. I have a long position trade on, using the March low for protection. There is a strong chance that last week's low will be the final low in the weekly continuation pattern. I will add to my position if the market can clear 14.20. My targets for $TSM are 21.00, then 35.00.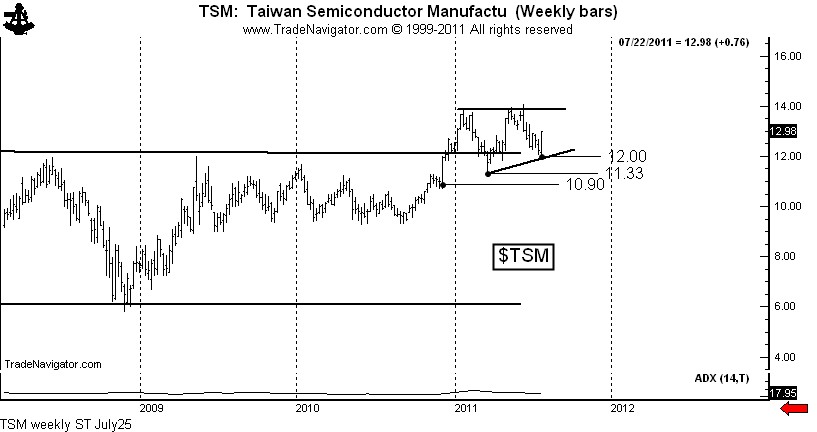 Cotton ($CT_F). This last market is a perfect example of how not to properly trade time frames. I was extremely bearish on Cotton based on a massive H&S top and short the market at a good spot. In my mind it was a position trade that should have been ridden all the way to the objective in the mid 80s. Yet, I was greedy in grabbing a quick profit (14 cents), thinking I could sell a rally. I converted a position trade into a scalp. I am now without a short position in what might have been my best trade of the year. This trade is an example of why I need to match the time frame of my analysis with the tactical treatment of a position. So, I am flat and will probably not get a good rally to resell.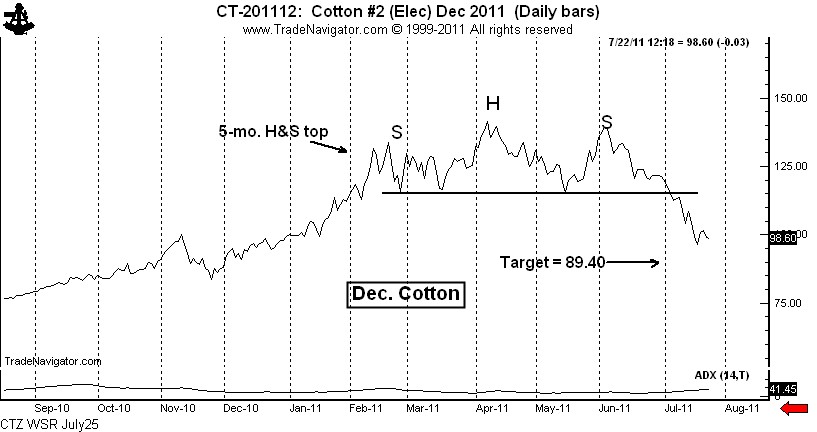 Markets: $CL_F, $ZS_F, $ZL_F, $GC_F, $GLD, $SI_F, $SLV, $SB_F, $USDJPY, $EWT, $TSM, $UUP, $DX_F, $SP_F, $ES_F, $SPY, $CT_F
###
https://www.peterlbrandt.com/wp-content/uploads/2016/03/Factor-Research-Trading-Services-300x79-300x79.png
0
0
Peter Brandt
https://www.peterlbrandt.com/wp-content/uploads/2016/03/Factor-Research-Trading-Services-300x79-300x79.png
Peter Brandt
2011-07-24 18:08:19
2016-01-28 13:45:36
Charts I am watching the week of July 25, 2011