Will the January Effect work in EURUSD in 2012? If so, what's next?
I have written about the January Effect in the forex markets (see here) — the strong tendency for a season low or high to be made during January from which at least a six month advance or decline will occur.
Initially it looked like the Jan 3 might have been the January high. But that high was exceed yesterday and today. We now have a new January high (so far). The questions are:
Will the high today (or by next Tuesday) become the new January, marking the risk point for shorts?
Is the Jan 13 low the January low — and we go up from here?
Will the January Effect not work in 2012?
I do not have the answers to the questions above. But, the market today looked like an exhaustion day — trading higher and closing back at its opening price. I asked my Tweet community what this pattern is called — and I got back about 6 or so different names.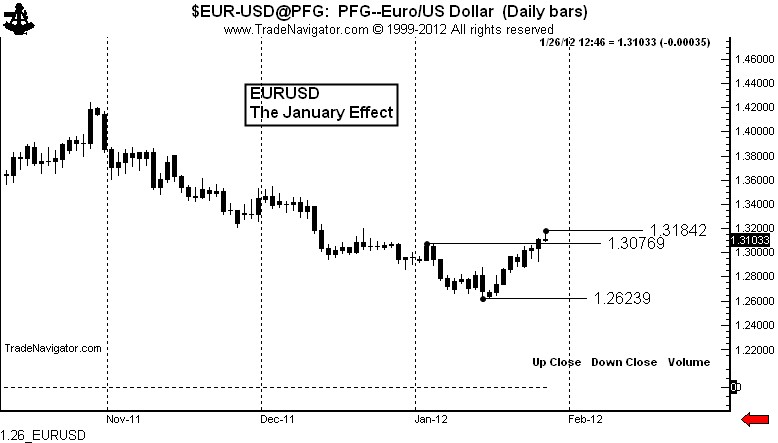 I normally trade patterns — big patterns (12 weeks or longer) but I also have a few specialty set ups I trade. The January Effect is one. If the cross closes today in the area of the open price I will bet 50 basis points (1/2 of 1% of capital, or $5,000 per $1 million) that the mid Dec high will hold. The worst thing that can happen is that I will be wrong.
Markets: $UUP, $EURUSD
.
https://www.peterlbrandt.com/wp-content/uploads/2016/03/Factor-Research-Trading-Services-300x79-300x79.png
0
0
Peter Brandt
https://www.peterlbrandt.com/wp-content/uploads/2016/03/Factor-Research-Trading-Services-300x79-300x79.png
Peter Brandt
2012-01-26 15:21:02
2016-01-28 13:44:22
EURUSD and the January Effect - An update