Brief pause this past week could prove to half-mast flags
The following are quotes from the bible of classical charting principles, "Technical Analysis of Stock Trends," Robert Edwards and John Magee, 1948 (Fifth Edition).
"A flag looks like a flag on the chart….It might be described as a small, compact parallelogram of price fluctuations.

It usually forms after a rapid and fairly extensive [price thrust] which produces a nearly vertical, or at least quite steep, price track on the charts.

Sometimes each rally and set-back within the flag takes three or four days, rarely more. In other cases, prices will skip back and forth between the upper and lower flag boundaries in a single day or two.

Then suddenly prices will erupt with a new burst of activity from the end of the flag and push straight in another advance [decline] which practically duplicates the original 'mast' atop which the flag was constructed.

They [flags and pennants] are both 'half mast' patterns which ordinarily form after a fairly steady and rapid (steep) price movement.

In applying the measuring rule, go back to the beginning of that immediately preceding move, to the point where it broke away from a previous consolidation…(or through a significant trend line or resistance [support] level)…

Then measure the same distance from the point where prices break out of the flag or pennant, in the same direction."
There is a fair chance that half-mast flags are forming in Gold and Silver. At this point, the price action fits the definition perfectly. Sideways price action that extends more than a few weeks disqualifies itself for the flag definition.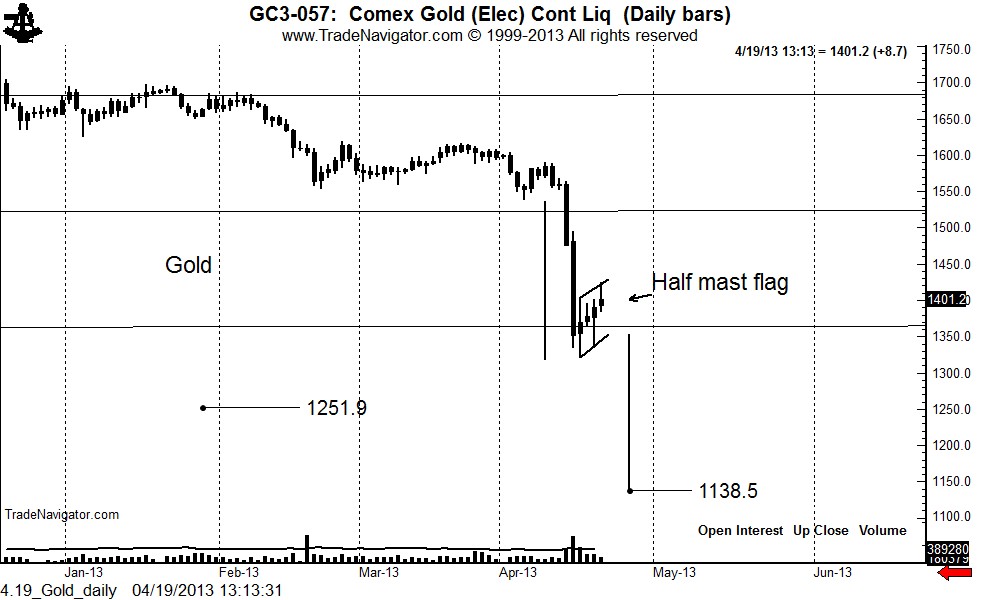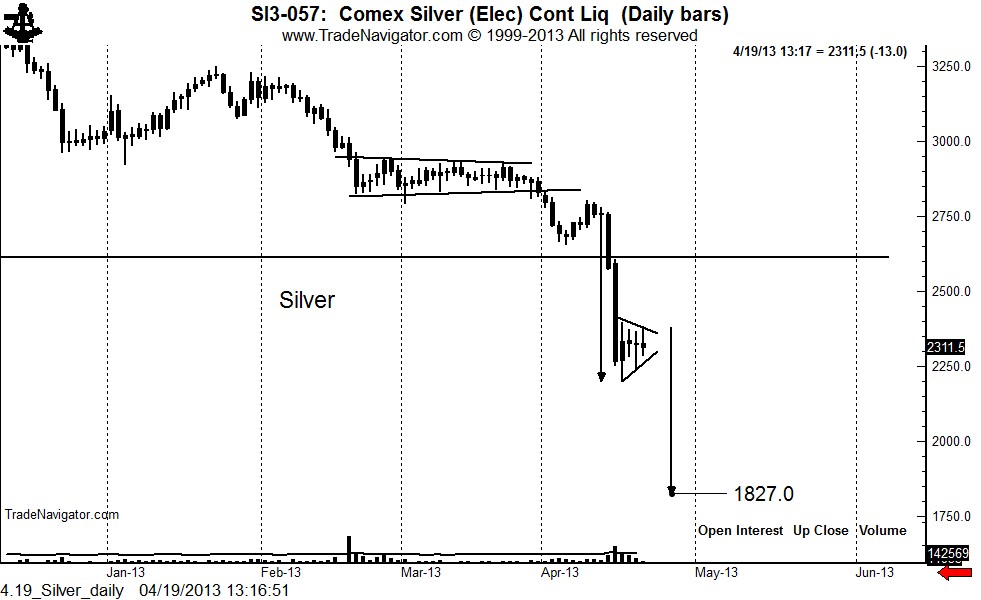 If these pauses in the Gold and Silver debacle prove to be flags, the targets would be $18.27 for Silver and $1,139 for Gold
$GC_F, &SI_F
###
P.S. I do NOT recommend any additions past the fifth or sixth additions. I had a chance to purchase the copyright of this book years ago. I wish I had done so. The current copyright owner, W.H.C. Bassetti, has ruined the original manuscript (IMO). DO NOT buy editions past the sixth edition. To purchase the copyright to a classic, insert some recent charts and add one's name as an equal author is not my definition of integrity and honor.
https://www.peterlbrandt.com/wp-content/uploads/2016/03/Factor-Research-Trading-Services-300x79-300x79.png
0
0
Peter Brandt
https://www.peterlbrandt.com/wp-content/uploads/2016/03/Factor-Research-Trading-Services-300x79-300x79.png
Peter Brandt
2013-04-19 15:34:28
2016-01-28 13:36:48
Flags flying at half mast in Gold and Silver