Cable may be close to declaring itself after three full years of chop suey
The Cable (GBPUSD) has experienced extreme chop with little or no regard to chart patterns during the past three years, especially during the past 18 months. This has been an  market hostile to the signalling methods I use. The market been most intent upon running stops on both sides of its ever evolving trading range.
The Cable is fast approach a possible point when the charts once again become reliable with pattern completion and fulfillment. Time will tell if the Cable is ready to rock and roll or just thrown rocks.
Four charts are presented below.
Chart 1 shows a classic horn or sloping top pattern, signified by three highs and three lows with an increasing down slope in construction. The horn pattern was identified by Schabacker but not covered by Edwards and Magee. Technically, the market must close below the Dec. 29 low to complete this topping construction.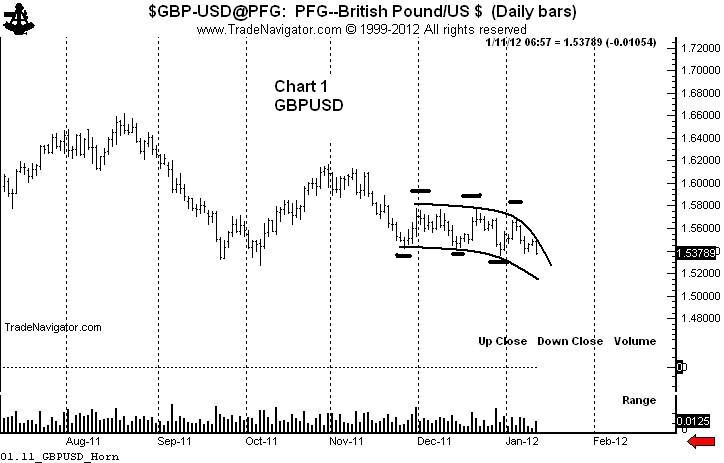 Chart 2 displays a candlestick pattern that I have used in the Cable for years — the Hikkake. It is one of the only candlestick patterns I can recognize (otherwise I am a candlestick idiot). I actually showed several examples of the Hikkake pattern on the charts of the Pound in my book.
This Hikkake sell signal consists of three events — first, an inside day (Jan. 9); second, a move above the high of the inside day (Jan. 10); and third, a move below the low of the inside day (Jan. 11). A close below the Jan. 11 low is required to confirm the Hikkake sell signal.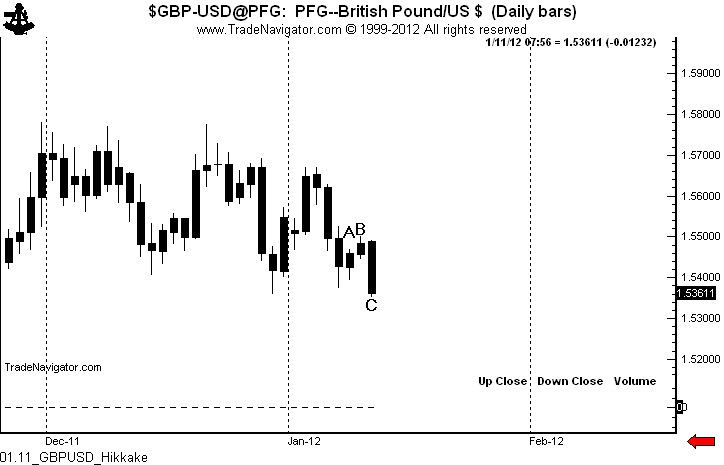 Chart 3 shows a complex H&S pattern that has been forming since July 2010. This pattern has two left shoulders and a double head — and it is not unreasonable (but not required) for a double right shoulder to form. A close below 1.52 is required to complete the H&S pattern.  Until then, this is just a possible pattern.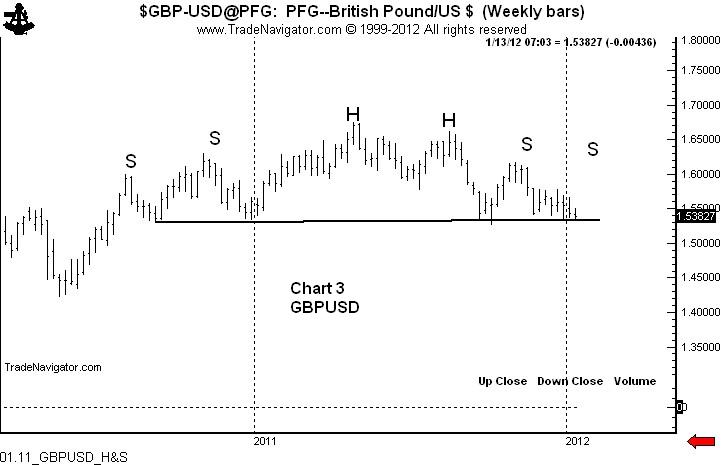 Chart 4 provides the 30,000 foot view of the Cable. The dominant chart pattern is a triangulation dating back to the early 2009 low. This triangle offers no clue to the near-term direction of the market other than to note the shorter-term charts are developing tops near the resistance boundary of the triangle.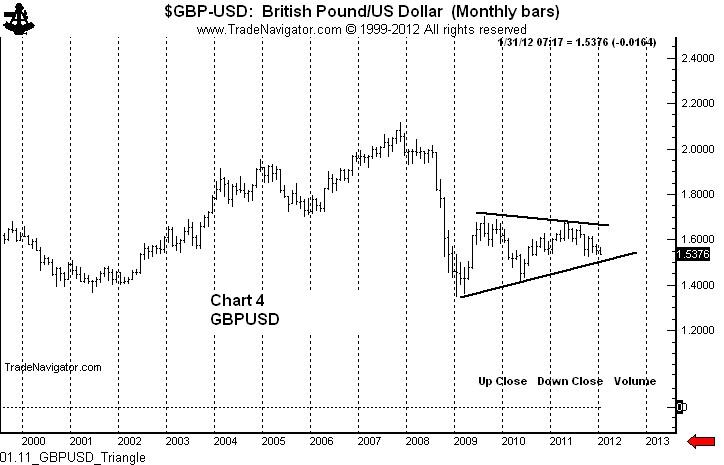 Sizing and risk
I don't trust the Pound, so I am layering into a short position. The maximum risk I am willing to take on my entire position (once established) is 7/10th of 1%, or $7,000 per $1 million of trading equity.
I am short the first layer as of today (Jan. 11) at 1.5384. My risk is to above the Jan. 10 high at 1.5512 (closing basis). Thus my risk is 118+ pips.
On the futures side, each contract is for 62,500 Pounds. A 118 pip adverse move equals ($737.50) per contract. Thus, if I were to establish my entire position here and not wait to layer, I would have shorted nine IMM contracts (9 x 118 pips = 1062 pips x 62,500 Pounds per contract = -$6,638). My actual short today was five contracts per $1 million of capital for a layer risk of just under 4/10th of 1% of capital.
My target is the May 2010 low, or about 1.4500.
I will put on the second layer if the cross closes below the Jan. 6 low. I am not sure if or where I will establish the third unit. By layering I am making the market prove itself before reaching my maximum risk point.
The Pound has totally ignored classical charting principles for several years. So my bet, in effect, is that the sequence of pattern failures and false moves will end with these current sell signals. Time will tell if I am right.
Markets: $GBPUSD, $G6B_F
.
https://www.peterlbrandt.com/wp-content/uploads/2016/03/Factor-Research-Trading-Services-300x79-300x79.png
0
0
Peter Brandt
https://www.peterlbrandt.com/wp-content/uploads/2016/03/Factor-Research-Trading-Services-300x79-300x79.png
Peter Brandt
2012-01-11 10:28:59
2016-01-28 13:44:22
GBPUSD -- Four charts show Cable to be at critical point