Silver bulls are all talk and no action
I have traded futures markets since 1975. For those of you who failed basic math, this means I have traded for almost 40 years. I have seen every conceivable market situation.
Every market has its perpetual bulls and perpetual bears. But of all markets, Silver attracts the most fanatical bulls of all. When Silver bulls are right (BTW, that is not very often — Silver has experienced significant price gains in only five years since 1972) it is because they are brilliant. When Silver bulls are wrong (nearly 85% of the years since 1971), it is either because they have been victimized (by the exchanges mostly) or because most other market participants "just don't get it."
So, Silver bulls, here is your chance to scoop up your worshipped metal at an historical bargain price. The charts you publish on your blogs verify this fact. Relative to the vast ever-increasing glut of fiat money printed by central banks, inflation-adjusted pricing or the standard set by some robed Spanish king 500-plus years ago, your metal has never been cheaper.
So, it is time for you to put your money where you mouth is. As a trader I do this every day. I am presently short Gold and Copper. If I am wrong on these trades I will count than as loses, not as part of a grand conspiracy against me. Losing trades are called losses. When I lose on a trade, I am a loser, not a victim.
I have put my money where my mouth is to be short precious metals. If I am wrong — so be it, I am wrong on more than 60% of the trades I do. If I am right, also, so be it. A trade is a trade is a trade is a trade. Silver is something to trade, not an idol to worship. So, it is time to put up or shut up!
A review of the metals charts is in order.
The daily Silver chart has penetrated an extremely important "line in the sand" at 2615. The longer term chart would indicate Silver is headed toward a retest of the 2008 high at 2150+. But, here is the good news, Silver bulls — the market is probably much closer to the lows than to the highs. After all, Silver is getting closer to zero than its 2011 high of $49.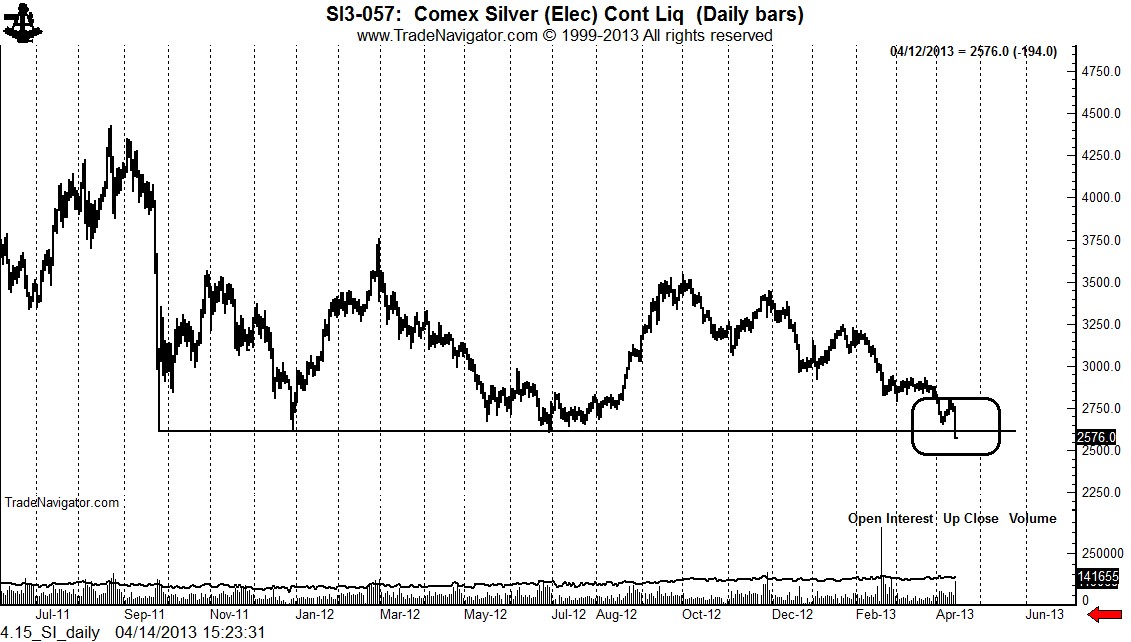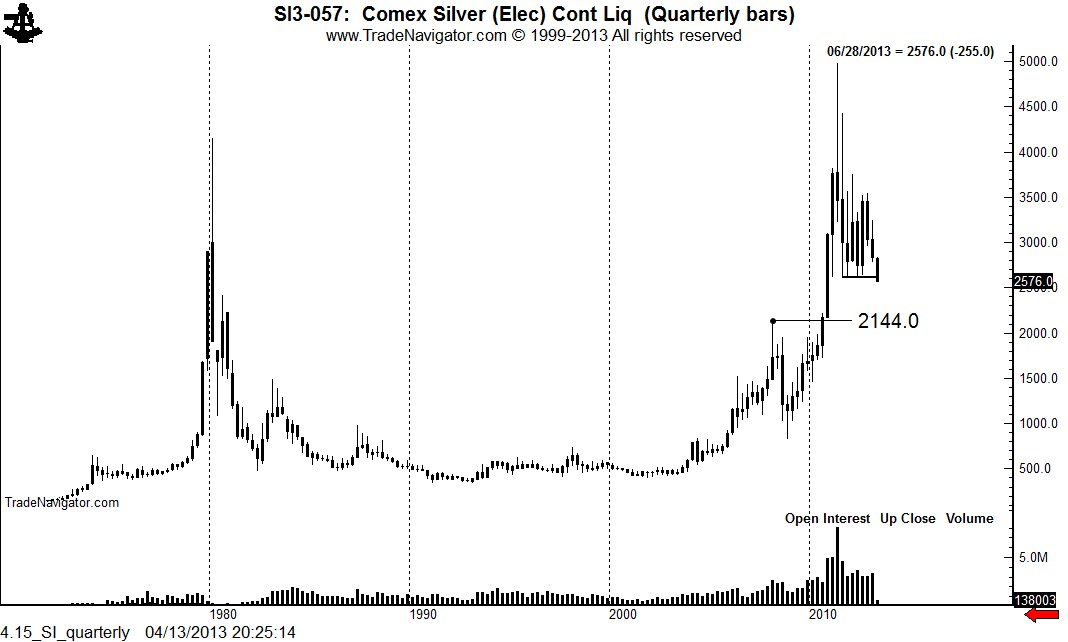 Actually, the charts in Gold looks more bearish to me than do the Silver charts. Now, this is interesting because I am on record as being a super-cycle bull on Gold. Wait just a minute! I am a long-term bull on Gold, yet I am short! To a Silver bull, this is would be sacrilege. To a trader, this is a trade. That is the major difference between traders and Silver bulls. To traders, markets are just a tool. To Silver bulls, Silver is an idol to worship.
The massive decline on Friday completed a massive top on the daily, weekly and monthly Gold graphs. The charts can be defined by a single word — UGLY! Should Gold rally, short sales in the 1520 to 1540 zone would be highly appropriate. There are various downside targets in Gold depending upon whether one uses a closing price chart, a candle chart or a bar chart. The lowest target I have is around 1131. Do I think Gold can go that low? Not really. But a decline to the low 1300s is very possible. In fact, two days like last Friday and we will be there.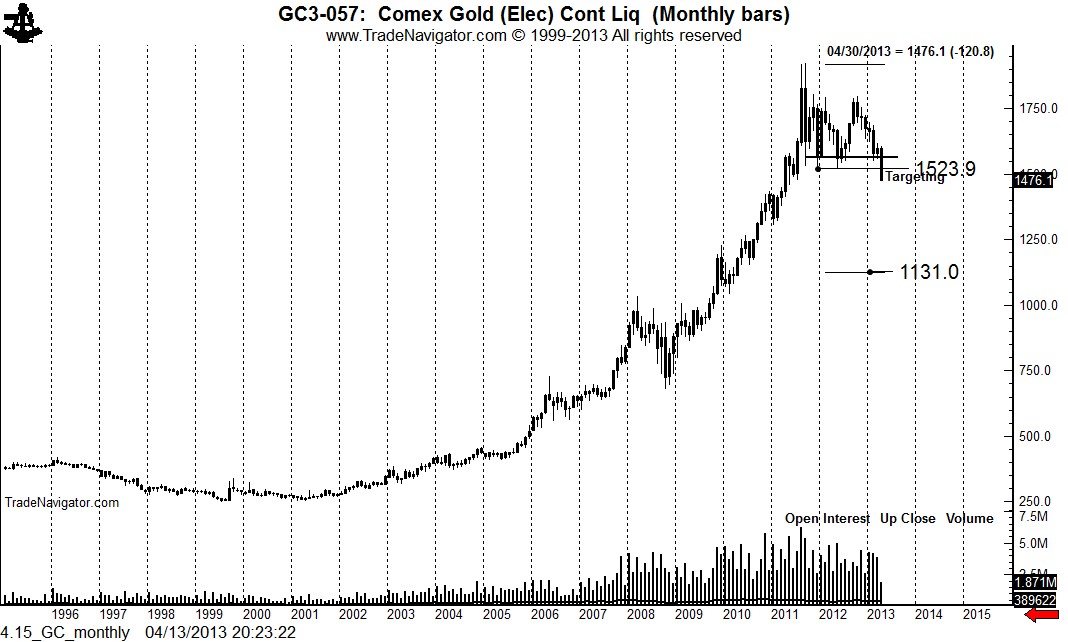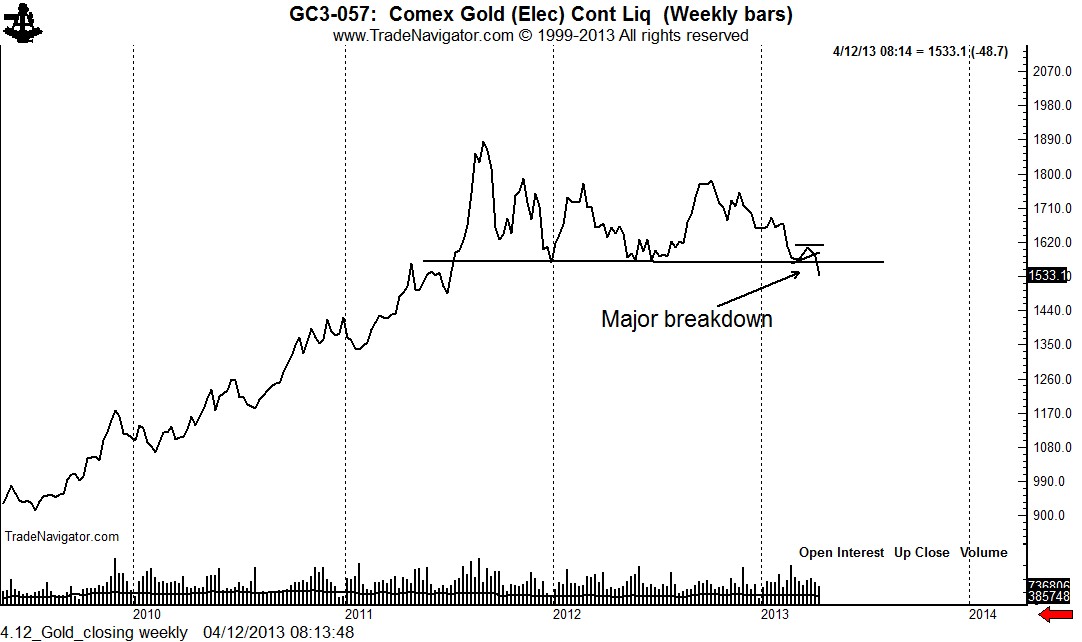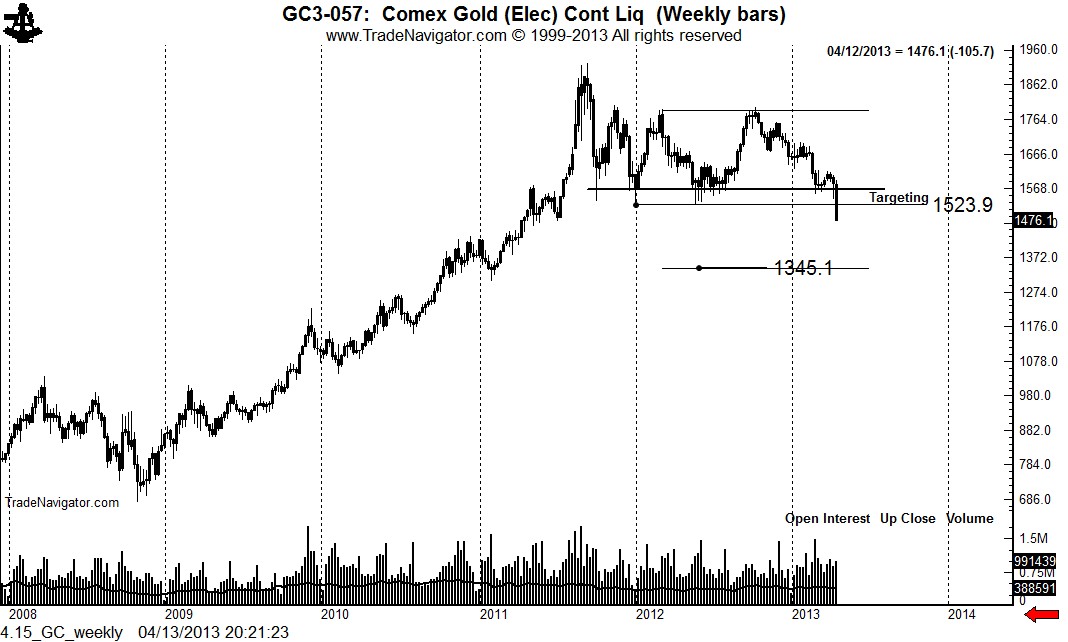 The longer-term chart in Platinum is also negative. The decline on Friday would indicate that the market is headed toward the lower end of its broad trading range at 1375 or so.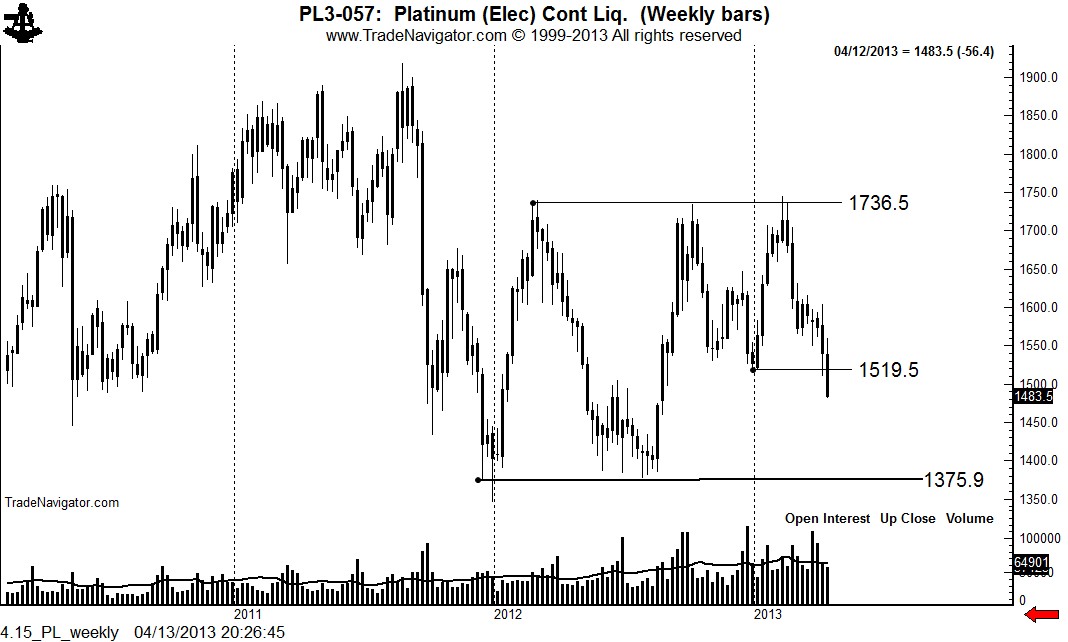 The weekly Copper chart also remains quite bearish, although as I pointed out this past week, the CFTC COT data are extremely constructive. Yet, price is always king, and the burden of proof is belongs to the bulls.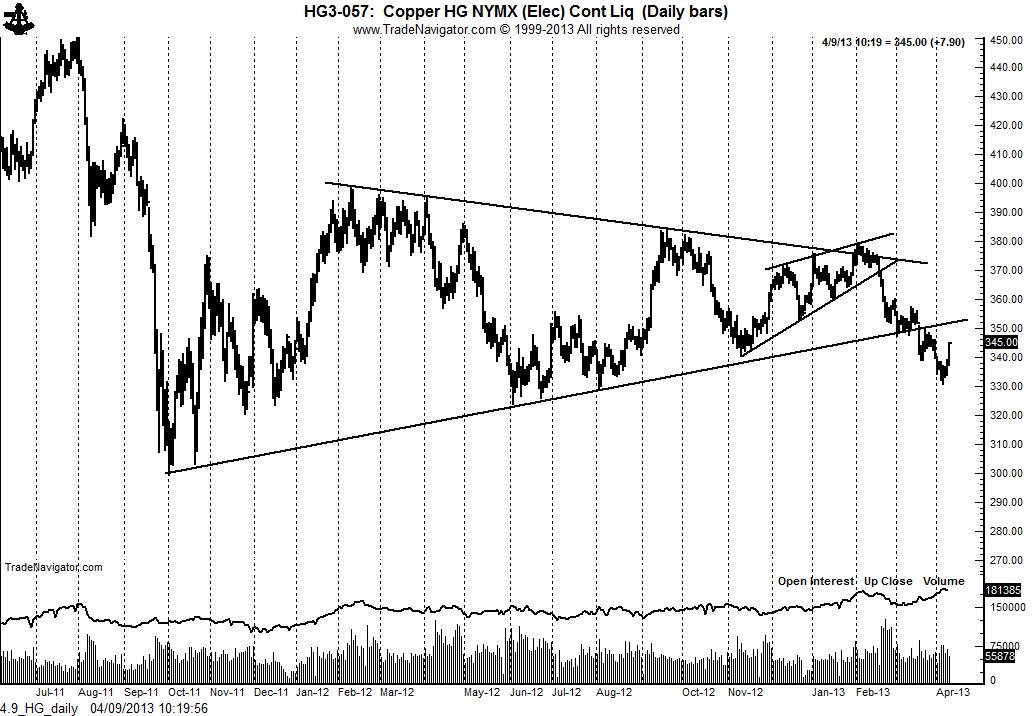 Finally, let me point out another fascinating chart development — in Crude Oil. The Crude Oil weekly chart displays a symmetrical triangle within a larger symmetrical triangle, as shown below.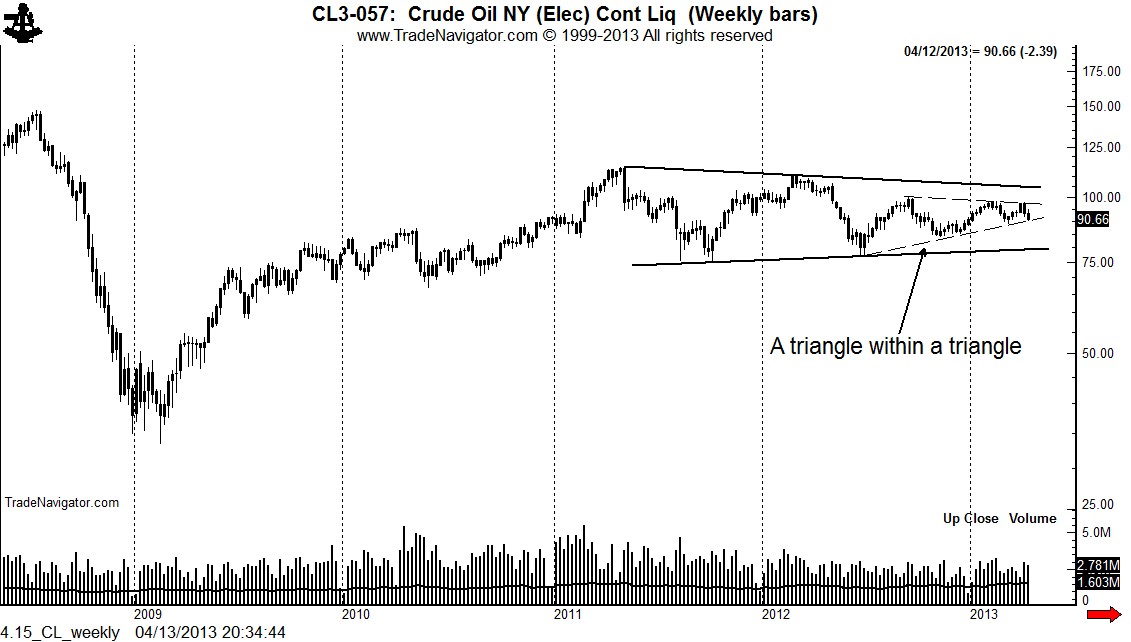 A case can be made that the shorter-term triangle was completed this past week, along with a H&S top pattern. However, this breakout is not yet convincing. The chart indicates a possible target of 77.35. Conventional wisdom holds that there is only one way energy prices can go — up. This is why the 77.35 target is probably correct.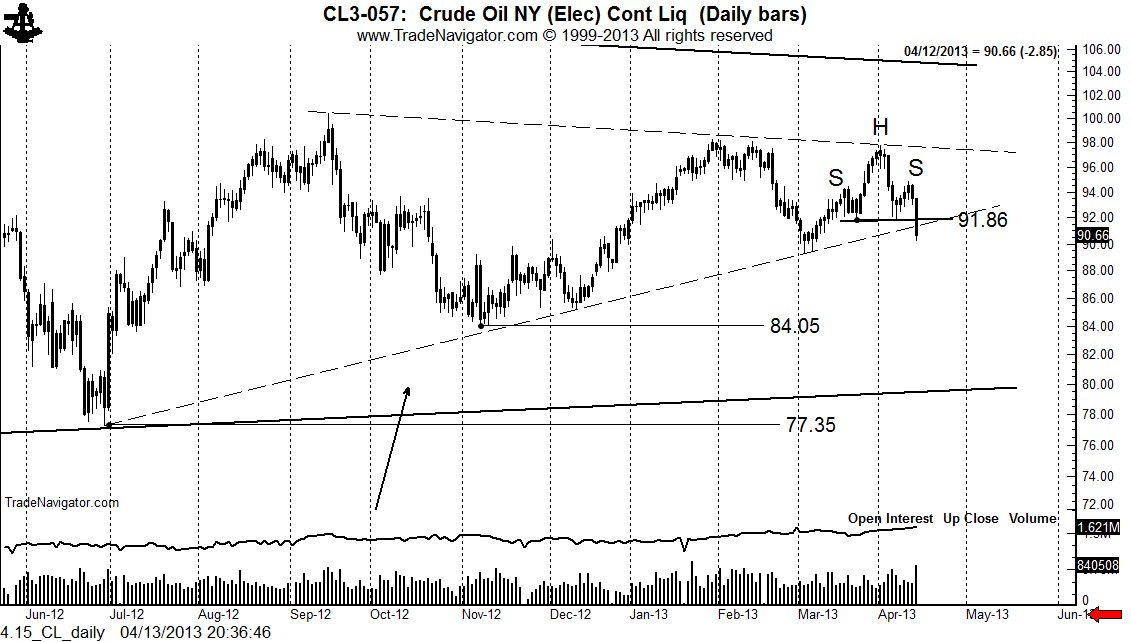 $SI_F, $GC_F, $PL_F, $GLD, $SLV, $HG_F, $JJC, $CL_F, $OIL
###
https://www.peterlbrandt.com/wp-content/uploads/2016/03/Factor-Research-Trading-Services-300x79-300x79.png
0
0
Peter Brandt
https://www.peterlbrandt.com/wp-content/uploads/2016/03/Factor-Research-Trading-Services-300x79-300x79.png
Peter Brandt
2013-04-14 22:06:24
2016-01-28 13:36:48
Hey Silver bulls, it's time to cut the B.S. and start buying