Managed Futures suffer record performance losses, record outflows
After years of outstanding performance and capital inflows, the managed futures industry is undergoing its worst period in its history. Capital is fleeing the category.
Managed futures is an alternative investment within the hedge fund space. At an AUM level of $325 billion, managed futures account for nearly 15% of the entire hedge industry fund AUM (figures as of the end of March 2014).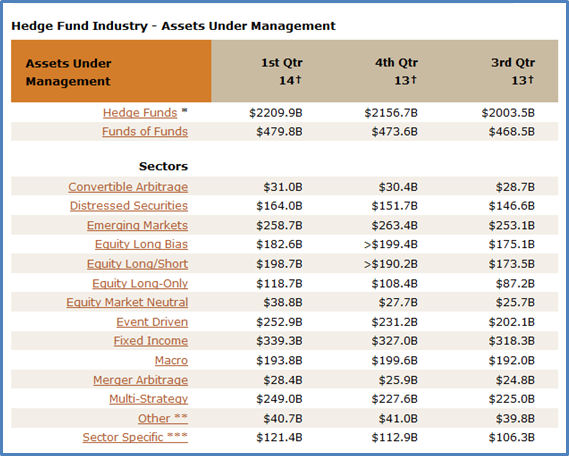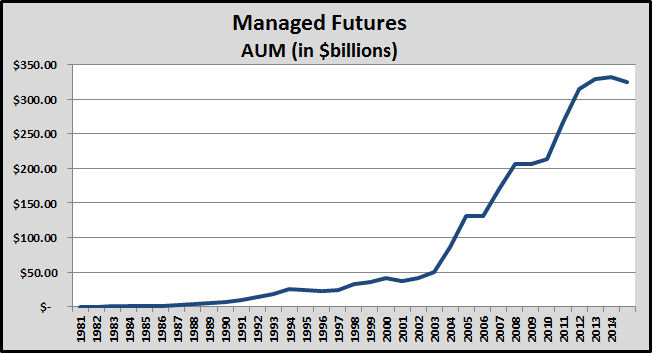 As the chart above shows, managed futures are experiencing the first capital outflow in its history. This is due to performance that has been nothing short of miserable.  The chart below is the rolling annualized ROR for the BTOP 50, a standard benchmark within the managed futures industry. Phase 1 (green box) consisted of volatile yet consistently profitable performance. There was only one losing period, a three-month stretch in 2000.
Phase 2, boxed in black from 2010 through mid-22012, consisted of stable, yet greatly diminished returns.
Important to note is that managed futures have performance remarkably well during periods of disastrous stock market performance.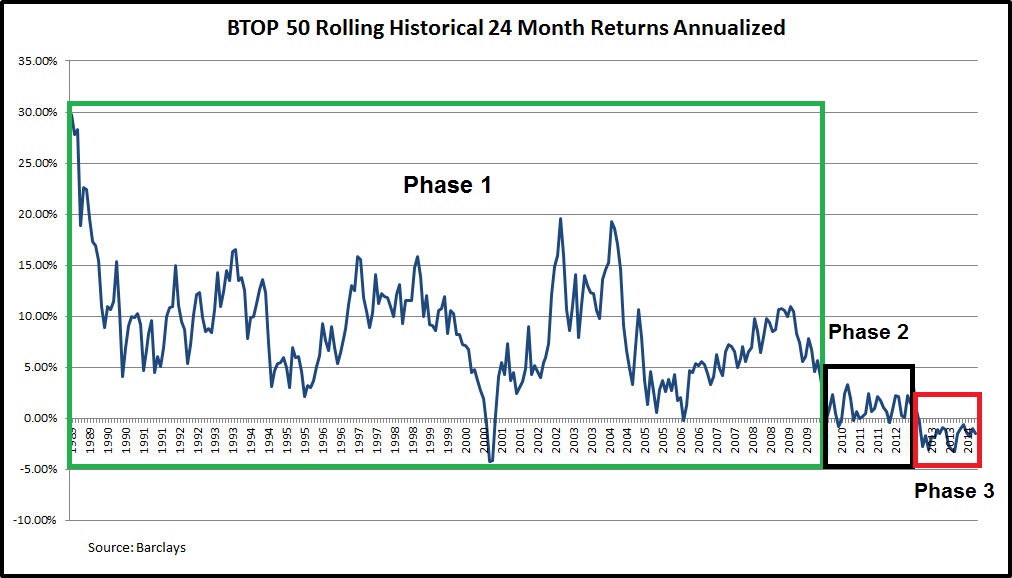 The third phase, boxed in red, represents the deepest and longest period of negative performance in the history of managed futures. The rolling annualized ROR for the BTOP has been underwater for 21 straight months.
The table below is a capsule of managed futures  for the past year — showing performance for  CTAs, single trader futures funds and multi-trader funds.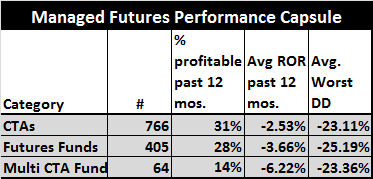 I am fully vested in the futures industry. So, this dismal performance is of concern to me. The questions that most concern me are:
What is the cause of the sub-par performance since 2010?
What is the likelihood of a turn around by the CTA world?
These questions are beyond the scope of this post. I have my opinion on these questions — but I will save them for another day.
Source of all data: Barclay Hedge
###
https://www.peterlbrandt.com/wp-content/uploads/2016/03/Factor-Research-Trading-Services-300x79-300x79.png
0
0
Peter Brandt
https://www.peterlbrandt.com/wp-content/uploads/2016/03/Factor-Research-Trading-Services-300x79-300x79.png
Peter Brandt
2014-05-20 13:20:33
2016-01-28 13:35:50
The Miserable Mangled Mess of Managed Futures