Exhuastion gap, measuring gap, area gap or breakaway gap — that is the question.
A significant up gap occurred in Gold on August 8, when the low of the day was higher than the previous day's high by about $8 per oz. The fact this gap took place on Monday adds to its significance. Do not dismiss this gap lightly. In it you will find the key to the intermediate future of Gold prices.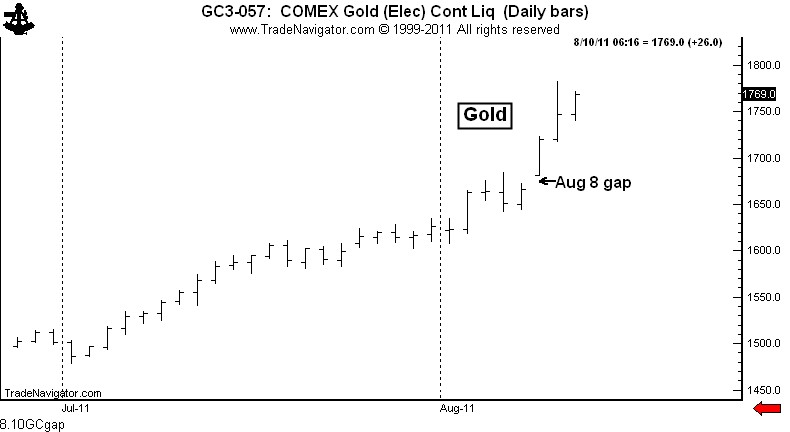 This is the first gap in Gold since August 1, 2007. There were a few gaps in 2007 (not shown) — they were all filled quickly and became "area gaps" as part of Gold's preparation for the run from under $700 to the 2008 high at $1033. 
Allow me to analyze the gap through a process of elimination.
The gap is not a breakaway gap. Breakaway gaps occur out of a prolonged period of congestion. Gold has been in a steep advance.
If it is a measuring gap (or half-way gap), the question is half way from what? It could be a measuring gap — and if so, the measurement is taken from the July 1 low at 1481. (See chart below.) This gap would then project a Gold price of 1872 to be attained rather quickly. Right now the market is acting as if the August 8 gap was of the measuring variety.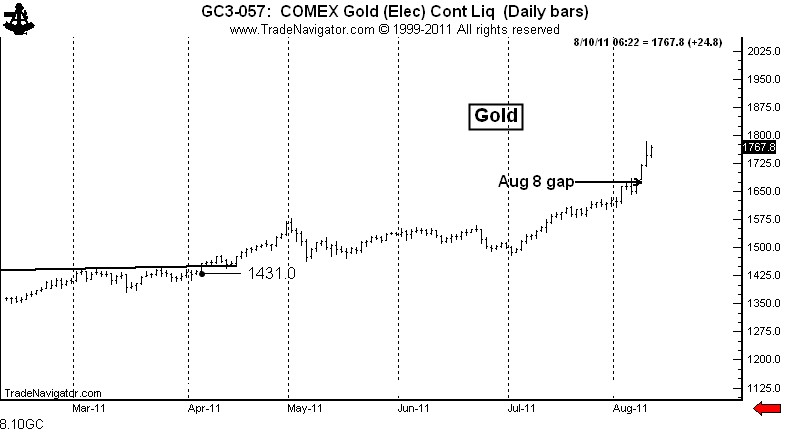 If the Gold market stalls and the gap is closed within the next week or so, then the gap would be either an area gap or an exhustion gap. In either case it would be wise for one to abandon a bullish stance.
An area gap would indicate that Gold will under go a lengthy period of consolidation in a wide trading range. The trading range could produce a reversal or continuation pattern, but there would be no urgency to hold a position.
An exhustion gap would indicate that the entire bull move in Gold is over for the intermediate term. Prices would likely retreat to at least the high 1400s, and then possibly go lower.
Should prices retreat back to the low 1680s and then gap down through the same price level as represented by the up gap on August 8, the chart would contain an area island top. If this down gap would not be closed quickly it would indicate that the bull market in Gold is over for the next few years. The chart below shows the island top in Gold from 1980. Gold prices eventually retreated to $297.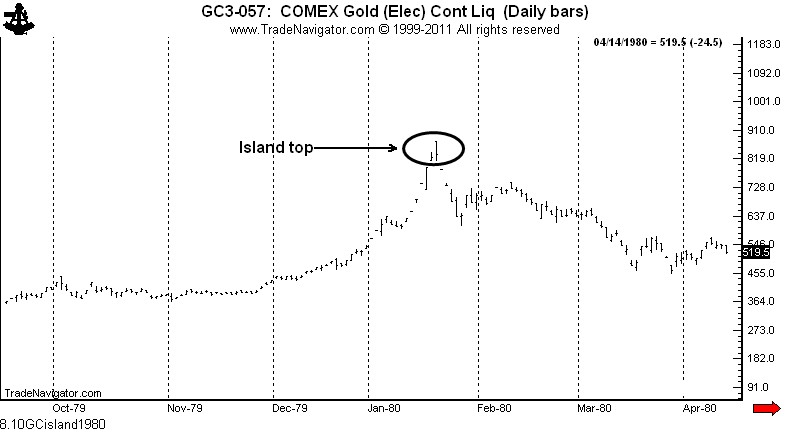 Tactically, traders can hold longs until the gap is filled. If the gap is filled, then I would want to dump my longs on rallies.
Markets: $GLD, $PHYS, $IAU, $GC_F
https://www.peterlbrandt.com/wp-content/uploads/2016/03/Factor-Research-Trading-Services-300x79-300x79.png
0
0
Peter Brandt
https://www.peterlbrandt.com/wp-content/uploads/2016/03/Factor-Research-Trading-Services-300x79-300x79.png
Peter Brandt
2011-08-10 08:36:24
2016-01-28 13:45:23
Want to know what Gold is going to do -- the key is the August 8 gap