The analog with the 2010/2011 advance continues
Few trading situations are ever cut and dry, technically or fundamentally. Most markets are a mixed bag at any given time — there are some factors arguing in favor of a sustained advance, arguments in favor of a sustained decline and arguments in favor of the continuation of a trading range. This is currently true for the U.S. stock indexes.
The dominant technical factors, as I see them, include:
Extremely light volume — bearish by the standards of conventional technical analysis
Overbought readings using most acceptable overbought/oversold indicators. This fact, on the surface, argues at least for a major correction
Strong uptrend on a daily basis — the market seems to shrug off all market sell offs. This is a constructive sign
Most major stock indexes are range bound, except for the tech-heavy (and Apple laden) Nasdaq. This argues for a continuation of the range
I have posited that the current advance in U.S. stock indexes is an analog with the advance from late Sept 2010 through Feb 2011. Click here for analog analysis. Taking this position puts me out on the edge. The charts below compare the two periods, highlighting the advance in 2010/2011 in the face of overbought readings.
The two key features of the analog comparison between the two periods are:
That large components of prior chart construction are similar (see analog analysis)
That prices are climbing a wall of worry and doubt — markets can remain overbought simply because traders are unwilling to buy market that are overbought
In relying on these two market factors I am using overbought indicators in a contrary sense and I am ignoring (or placing minimum importance) on the fact most indexes remain range bound and that markets are rest tend to remain at rest.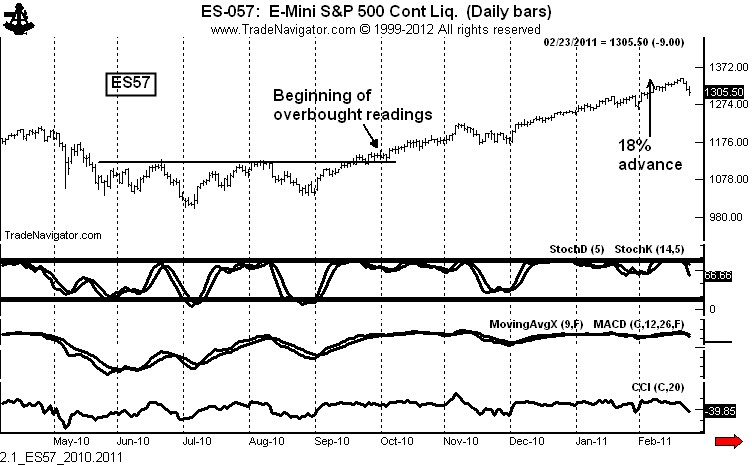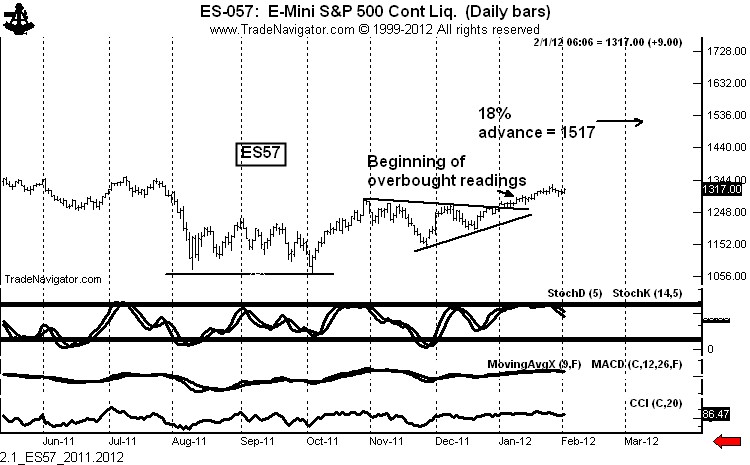 It is vitally important to remember that traditional overbought/oversold indicators work wonderfully well in trading range markets and terribly in sustained trends. A bull trend, but its very definition, becomes and remains overbought. A strong bull trend, by its very definition, becomes extremely overbought.
There are two other things that drive me to the opinion the advance will continue. First, I am not long. I wish I were long. I should be long. I violated my trading rules by not going. My buy signal came in the Nasdaq $NQ_F) with the breakaway gap on Jan 3 (with a well-defined risk to the gap), confirmed on Jan 18 when the advance penetrated the Oct high and completed a 9-month pattern. If I am a sold-out bull wanting to buy a sharp break, how many others like me are out there among you.
The second reason I am assuming the rally will continue is that the daily charts show absolutely no topping patterns. Until at least a four or five week top pattern forms it must be assumed that every one to three day break is a buying opportunity.
Anyway, this is my take on the U.S. stock market indexes, right or wrong. From a tactical standpoint, I would buy the Nasdaq futures on a sharp break to 2415 to 2420 absent the formation of a recognizable short-term top pattern. Of course, the problem with this tactic is that if I get such a break to buy the market will likely be no good.
Markets: $QQQ, $NQ_F, $SPY, $ES_F
.
https://www.peterlbrandt.com/wp-content/uploads/2016/03/Factor-Research-Trading-Services-300x79-300x79.png
0
0
Peter Brandt
https://www.peterlbrandt.com/wp-content/uploads/2016/03/Factor-Research-Trading-Services-300x79-300x79.png
Peter Brandt
2012-02-01 08:55:29
2016-01-28 13:44:22
Why I believe the S&Ps will go to 1517