January Effect in progress in $EURUSD — target remains 1.0800
I have posted extensively about the January Effect in the forex markets in recent weeks. See recent posts
The January 30 post was written by guest editor, Steve Briese, probably the preeminent expert on COT data. There has been much discussion lately on the profile of the open interest in futures, whereby commercials have an all-time record long position and large specs have an all-time record short position. This profile has been interpreted by some traders as a bullish factor in the forex cross. Steve explains that the COT data do not alter the dominant bear trend in the EuroFX ($G6E_F).
It now appears possible that the January 27 high in $EURUSD at 1.3234 will be the high for the next four to six months, and possibly longer.
IF the January high is in place, and IF the historic price change occurs, $EURUSD should decline 17% from the Jan 27 high, resulting in a target of $1.0984.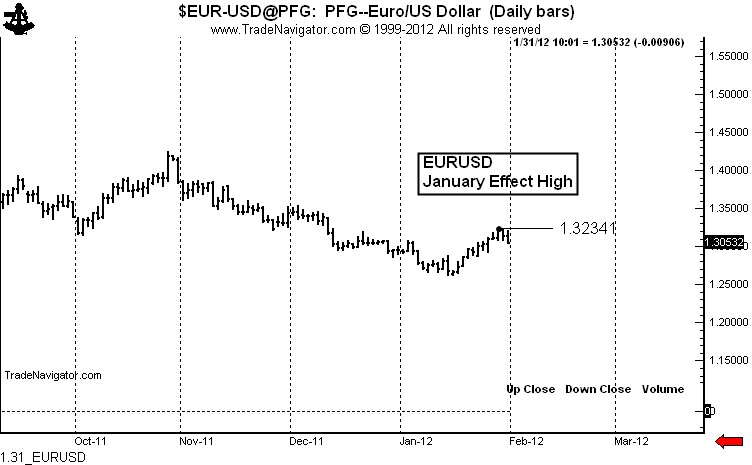 The Jan 27 high at 1.3234 must hold for the entire analysis above to remain valid.
Another way to play a bear move in the EuroFx is through $EURGBP. I actually quite like the Pound technically and think the EuroFX will lose to the Pound. Quite a strong trend has developed in support of this trade on the daily chart, as seen below.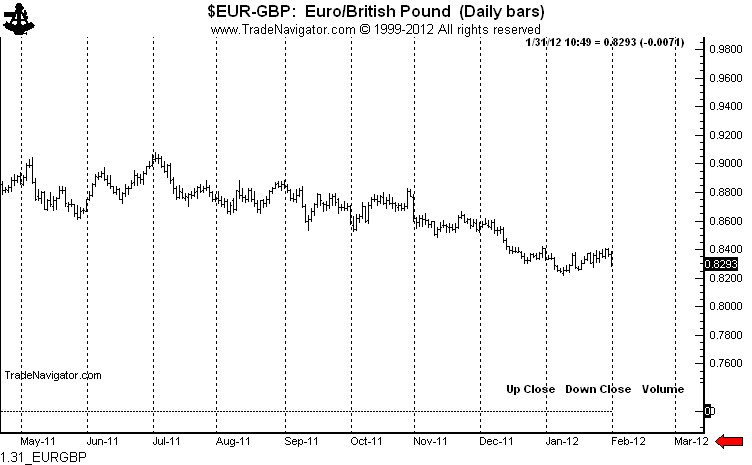 A small flag dating back to Jan 9 can be seen on daily graph. The chart below is the expression of this flag on the hourly chart.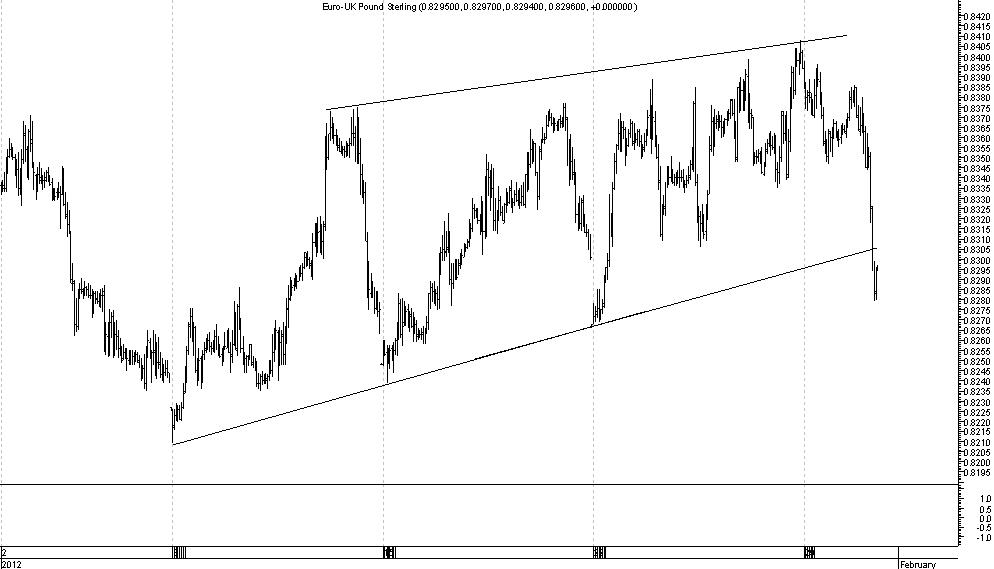 Markets: $EURUSD, $G6E_F, $EURGBP
.
https://www.peterlbrandt.com/wp-content/uploads/2016/03/Factor-Research-Trading-Services-300x79-300x79.png
0
0
Peter Brandt
https://www.peterlbrandt.com/wp-content/uploads/2016/03/Factor-Research-Trading-Services-300x79-300x79.png
Peter Brandt
2012-01-31 13:09:07
2016-01-28 13:44:22
January Effect high in place in EURUSD