Of all indicators, I have found the ADX to be the most useful
I am often asked about my use of indicators in addition to price patterns. Remember, all indicators are derivatives of price. So, as a general rule my attitude has been why study indicators when I can so directly study price itself.
Yet, there is one indicator that I have found quite reliable for predicting intermediate trends. The indicator is the Average Directional Index. I will not get into how the indicator is calculated. You can Google "ADX" and find this out for yourself.
I start to become especially interested in a market when its ADX reading (14 day) drops below 12. I become doubly interested when the ADX drops 1o or below 10. You should know that ADX readings of 10 and lower are quite rare, often not occuring a single time in a given market in a given year. The ADX indicator is a kind of "compression" reading. Low ADX readings indicate that a pattern congestion has stored a tremendous amount of potential energy.
This reading is an indication that the period of consolidation is likely to end. When combined with classical charting principles, the ADX can be very useful. An ADX set up occurs for me when a 12-week or longer chart pattern is completed just following a period with an ADX at 10 or lower.
We have just such a market set up at the present time. The ADX for Corn is hovering at 10. The ADX does not predict the direction of the trend, only the likelihood of a pending trend.
May Corn is in a 5-month period of congestion. The market exhibits a possible H&S bottom pattern. H&S patterns can signal a move in either direction. In the case of Corn, this pattern could signal an advance (H&S completion) or a decline (H&S failure).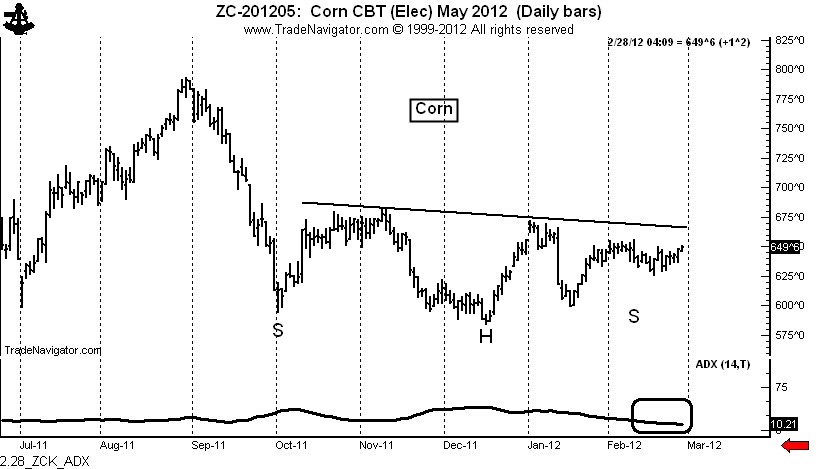 The H&S completion would be signaled by a decisive close above the right and left shoulders. The H&S failure would be signaled by a close below the existing right shoulder low and then the low of the head.
In either case, the ADX indicator would suggest that whatever the direction of the breakout, a sustained trend would be likely. Thus, I am willing to go in either direction with Corn.
Markets: ZC_F
fff
https://www.peterlbrandt.com/wp-content/uploads/2016/03/Factor-Research-Trading-Services-300x79-300x79.png
0
0
Peter Brandt
https://www.peterlbrandt.com/wp-content/uploads/2016/03/Factor-Research-Trading-Services-300x79-300x79.png
Peter Brandt
2012-02-28 06:31:02
2016-01-28 13:44:10
Using the ADX indicator for trade signaling and timing