Corn is poised to begin a significant trend soon — the question is, "In what direction?"
My experience is that an individual market will offer one to two really quality chart signals each year. When I say quality signal, I mean the following:
A pattern of substantial duration on the weekly and daily charts
A decisive pattern completion
A sustained trend equal to 20% or more of the underlying commodity's value
Such a situation is forming in Corn. Let's set the stage.
The weekly chart shows that the full extent of the 21-month triangle bottom completed in Aug 2010 has been played out. There is nothing more to expect to the upside.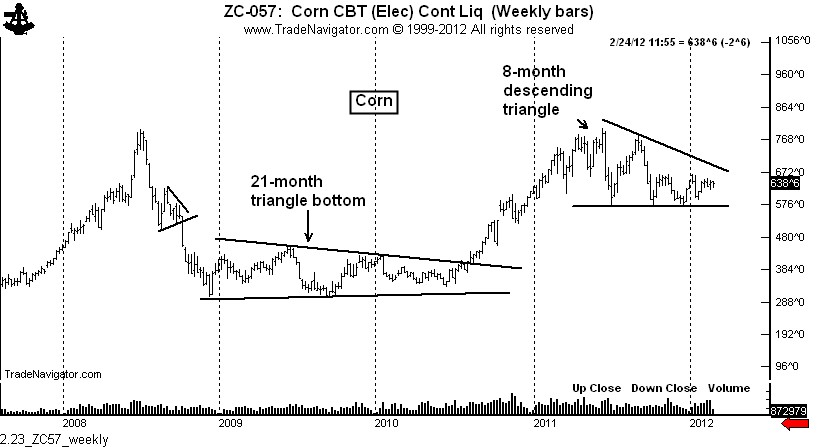 The weekly graph shows that the $5.75 to $6.00 level has provided tremendous support — in  June, October and December of 2011. However, each subsequent rally has been less forceful. This chart is a classic display of the descending triangle pattern. Far more often than not, descending triangles are resolved by downward moves. A decisive close below support would establish a price objective of $3.50. That 100% of farmers would object to the prospect of such a move does not make it less likely to occur.
Note that a blow-up of the weekly graph shows that a rectangle has formed in the past five months. It is not unusual for prices to drift sideways during the final phase of a massive descending triangle.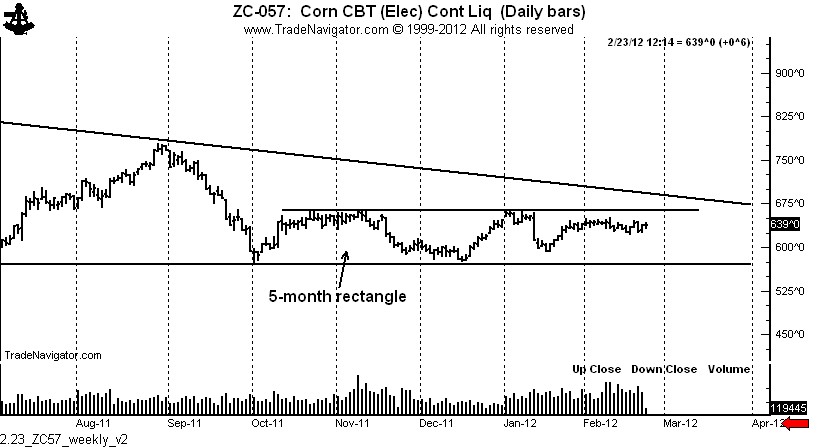 Next, let's look at the two charts of the July delivery contract. The chart below shows the possibility of a massive 10-month H&S top formation. This pattern REQUIRES a decisive close below the neckline in order to officially be labeled as a H&S top. Until this we are only dealing with possibilities. By the way, this pattern would count to $3.83.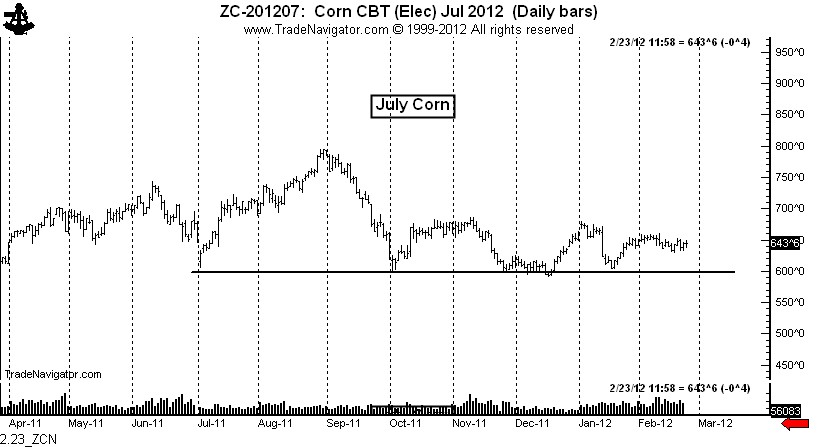 What I find interesting is the period since the October low. If we only take this segment of the chart we can identify a possible 5-month H&S bottom. Importantly, in classical charting we consider a H&S failure to be a significant pattern in and of itself. Thus, whenever we find a H&S bottom (upside bias) we also have the possibility of a H&S bottom failure (downside bias).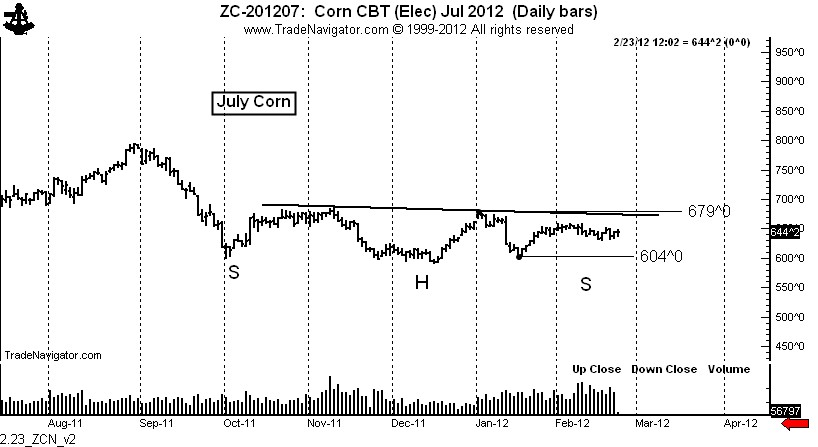 So, here is how I plan to play this market. If prices close above the January high I will go long — but my heart will not be in it. My real bias (yes, all discretionary traders, both macro and technical, have biases) is to look to the short side. Corn is grossly overpriced against Soybeans, Wheat and Soybean Meal and it is tough to think bullish on Corn unless a really bullish story can be told for the other grains.
I will nible on the short side if the existing February low is penetrated. I will extend my short position if the January low is violated and I will complete my short line if the December low is taken out.
So, there you have it. All you folks that are dying to fade me, this is your chance.
Markets: $ZC_F, $JJG, $RJA
.
https://www.peterlbrandt.com/wp-content/uploads/2016/03/Factor-Research-Trading-Services-300x79-300x79.png
0
0
Peter Brandt
https://www.peterlbrandt.com/wp-content/uploads/2016/03/Factor-Research-Trading-Services-300x79-300x79.png
Peter Brandt
2012-02-24 02:02:11
2016-01-28 13:44:10
Corn -- What do the charts say (getting ready for a BIG move)