Charts are like onions — they unfold layer after after layer with each layer revealing something a little different.
I know some readers do not like the fact I am bullish one day and bearish the next only to be bullish again a week later. Sorry, but that is the way I am. I am a trader not an analyst. I am constantly on the alert for subtle changes in market behavior. Also, keep in mind that as a charts I can be constructive on a market for one time frame yet guarded, or even negative, on a market for a different time frame. I realize that for you Silver bulls this is just uncomprehensible.
A monthly chart is made up of many chart patterns from the weekly chart. The weekly chart, in turn, is comprised of many patterns from the daily chart. The daily chart consists of many patterns from the intraday charts. In the above, most of the patterns fail and morph into larger patterns within the same time framing.
Intraday patterns are far less dependable than are daily charts. Daily patterns are less dependable than are weekly patterns, and on it goes. You get the point. Nevertheless, as charts unfold every time frame must be considered. Rather than a comparison to an onion, charts are actually like a three-dimensional jigsaw puzzle.
And all of the above bring us to Soybeans.
The quarterly chart is powerfully bullish. The advance in Dec 2007 completed a multi-decade rectangle. The advance in Jul 2012 completed a 4-year triangle. The triangle projects prices to the $22 level.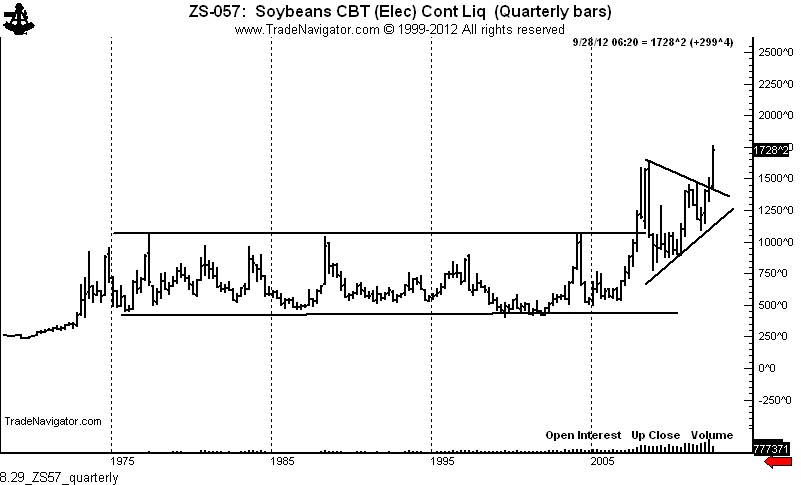 It is important to always remember that the longer term charts trump the shorter term charts. Shorter term patterns that run contrary to longer term trends have the highest probability of failing.
The weekly graph of Nov Soybeans shows the sustained rally during the past three years. The incredible advance since Jun 2012 reflects this summer's drought in the important growing states.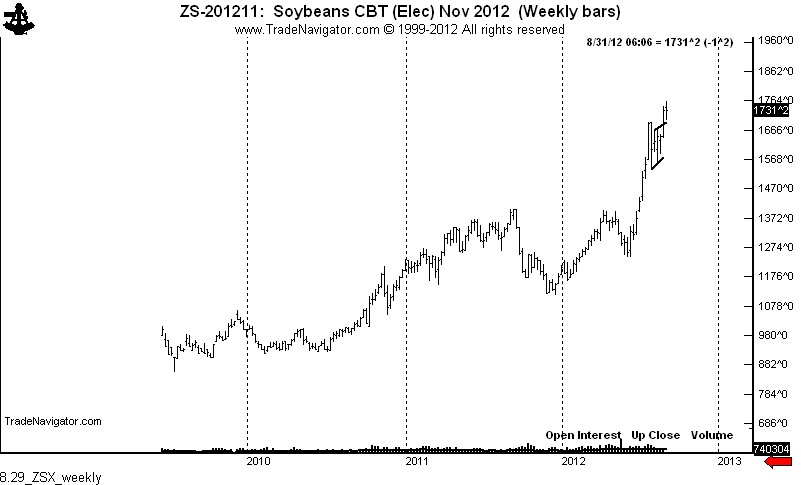 The daily chart shows that a possible 5-week pennant was completed on Aug 20. Patterns such as this are often "half-mast" or half-way patterns, indicating in this case that the rally from the Aug low will equal the distance of the move from the Jun low to the Jul high. This "half-mast" target is is $19.90 per bushel. Please, please, please, please remember that targets are NOT sacred. Markets are not obliged to travel to targets. Markets are always subject to morhping and revision.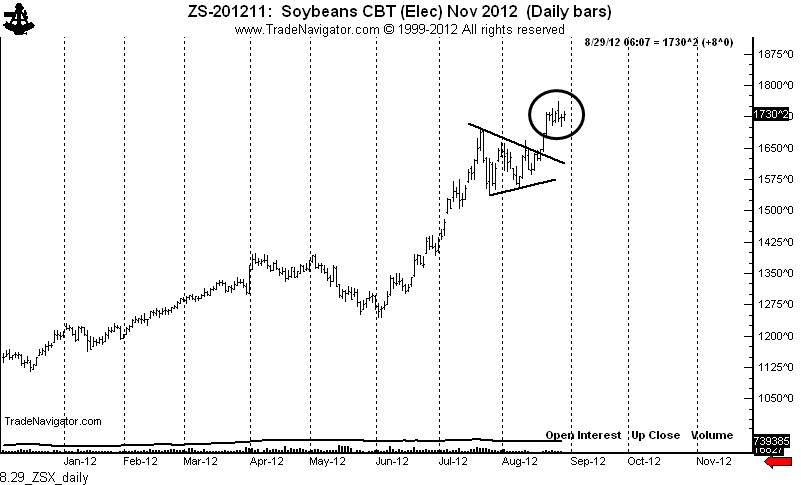 Next, note the small congestion area of the past seven days. Given that chart confusion (a congestion area is a confusion area) resolve themselves in the direction of the next larger-scale trend, this small pause should lead to a further rally — or to morphing before a further advance occurs. Chances are greatest that this current pause in the daily chart will be quickly resolved. Thus, for scalp and swing traders this small pause could be used for a quick trade.
Yet, this current pause can be seen as a possible H&S top on the intraday chart. This is where it gets dicey for me as a chartist. On one hand I understand that charts tend to resolve themselves in the direction of the next larger scale trend. On the other hand I know from experience that massive trends (such as we have in grains) often end with very brief tops. So, I must respect this small H&S if it is completed by a downward breakout.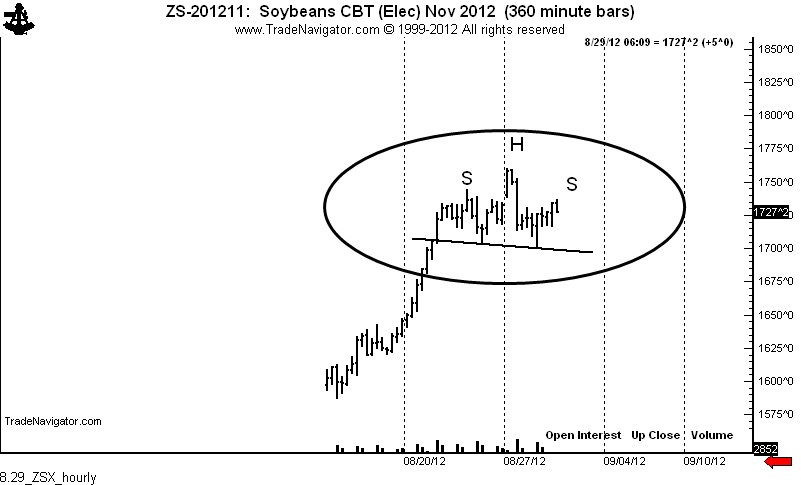 So, how should a chartist play the Soybean market?. Well, it depends upon the time frame of your analysis and trading. Are you a position trader? You would have no reason to care about this current pause. Are you a swing trader? You would use this pause as an excuse to go long for another thrust up. Are you a scalper? Then you could play this intraday H&S for quick short trade (selling against the Aug 26 high or waiting for a breakdown before selling).
As for me, I am already long the grains (Soybean Meal). I would wait for the Soybeans to break back toward $17.00 and then I would place a buy stop above today's high. Or I would wait for this small H&S top to breakdown, but fail, then I would go long for a swing trade.
But remember, charts morph. What I think today may change by next week. There is a major difference between a longer term view point (for me, that is being a Soybean bull) and a shorter term scalp or swing trade (for me, that could be in either direction despite my longer term bias).
Markets: $ZS_F, $RJA, $DBC
###
Note: There are three seats left for the Oct boot camp in Colorado Springs. The odds are very high this will be my last teaching/training (at least in North America). Past attendees tell me that this training is the most impactful learning they have experienced as traders. In the boot camp I attempt to "hand over" every thing I have learned in 30-plus years of market operations. To secure a seat click the link below.
https://www.peterlbrandt.com/wp-content/uploads/2016/03/Factor-Research-Trading-Services-300x79-300x79.png
0
0
Peter Brandt
https://www.peterlbrandt.com/wp-content/uploads/2016/03/Factor-Research-Trading-Services-300x79-300x79.png
Peter Brandt
2012-08-29 08:56:47
2016-01-28 13:43:43
Chart of the day, August 29, 2012 (Soybeans)