The Monthly | Blog Edition | May 2022
A glimpse inside the Factor Member Portal
From the just-completed month
May Numbers
Tweets posted on our Private Member Twitter: 134
Updates and Special Reports posted on the Member site: 8
---
Snippets from Thoughts on a Weekend Afternoon
Peter's thoughts on the finished week and the week ahead | Issued most weekends
Excerpt from June 5th report
There is no magic formula to discretionary trading. When I see something with a measured risk and a potential for gain, I step to the line and place a bet. My default assumption is that the next trade I enter will be a loser. In reality at least 80% of the trades I enter will either be losers or NOT produce a large enough profit to contribute to my net profitability. Only 15% to 20% of my trades end up being the outcomes I seek. Hey, that's a reality for me and there is a great chance it's reality for you.
Let others in financial Twitter brag about how they are always right and how they were able to figure out in advance every waggle and weave by every market. That's not reality for me. In fact, I think the pursuit of "BEING RIGHT" in trading is far over-rated. Long-term consistent profitability in trading comes from the ability to manage losing trades. But if you are intent on chasing the illusionary "BEING RIGHT" trading goal, then I completely understand that the Factor Service is not for you. If I did not know that the Emerald City was just a myth I would probably be searching for it too.
The obsession with "BEING RIGHT" by retail traders is something my peers at the CBOT in the 1970s/1980s would
have found mystifying.
May 22nd Report –  Overview of a possible trade in Nov 2022 Soybean futures
Major trend in Soybeans has been up
Assumption is that congestion periods more often represent continuation patterns than reversal patterns. This is a bullish consideration.
On the weekly chart, Nov Beans is in the second elongated congestion period since the inception of this bull trend. Each subsequent congestion in a trend must be treated with more suspicion for failure. This is a neutral to slightly bearish consideration.
Soybean prices are at historical resistance as represented by the peaks of previous bull markets. This is a slightly bearish consideration.
There is a strong seasonal tendency whereby Beans top in May/June and bottom in Sep/Oct. This is a bearish consideration.
Counter-seasonal moves (when they occur) are usually explosive. The reason behind this is that the fundamentals that can move prices counter-seasonally are typically overwhelming to price discovery. This is a bullish consideration.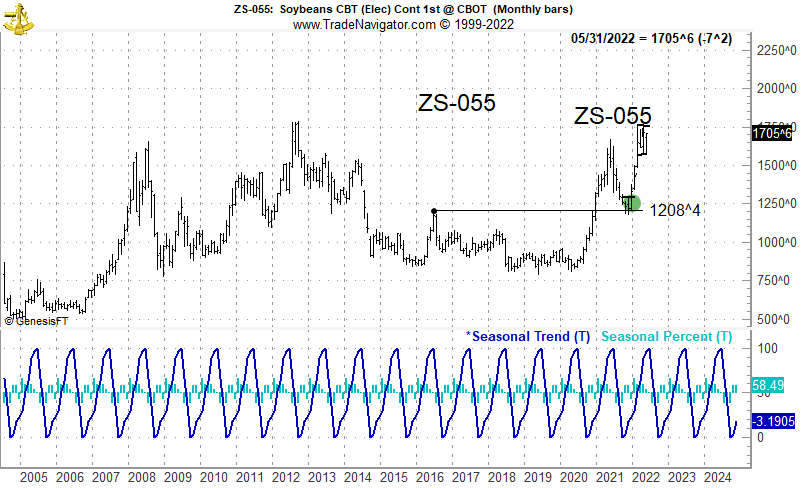 The daily and weekly charts present a well-defined symmetrical triangle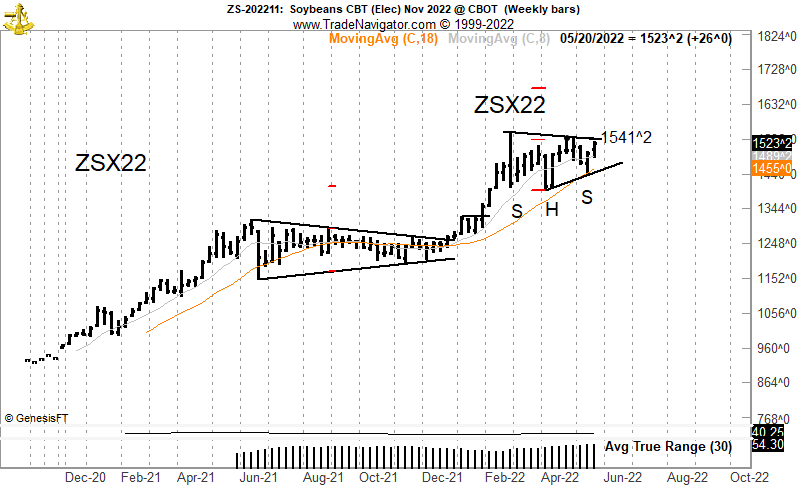 Construction of long-side trade
Details of a short side trade (still a consideration) are to be determined
Max risk on the trade is 60 BPs (30 each for two tranches)
For a pattern of 13 weeks, I use a 50% ATR breakout
The ATR breakout level for Nov beans is approx 28 cents above the Apr 22 high, so 14 cents is the 50% mark
I don't trust overnight price discovery in grains, so my buy stop (with limit) order is valid only in daytime hours
I also attach protective sell stop orders that become active if/when the buy stop is triggered
These protective stop levels initially are just best guesses. Once the buy stop is filled I will modify the sell stops (usually in the direction of less overall risk, often within minutes of the buy stop fill)
In this case my protective stops are below the May 20 close for one tranche and below the May 19 low for the second tranche
The quantity of each tranche is different in order to equalize the net risk of each tranche
I will also enter target orders once the trade is active. The target and protective stop orders will be on an OCO basis (One Cancels the Other)
The initial Risk/Reward (R/r) on one tranche is 3.4 /1 and 1.7/1 on the other tranche. R/r is NOT an important metric in my trading because I actively manage trades. As a result, the R/r becomes a moving target.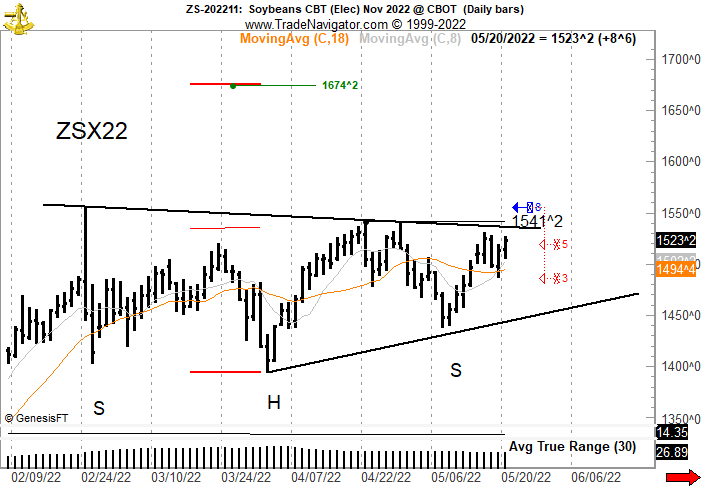 If this trade is entered I will provide a daily (if necessary) update on our Private Member Twitter stream.
May 22nd – Random Charts
Dow Jones Composite. This is NOT a
pretty picture.
Pattern: H&S top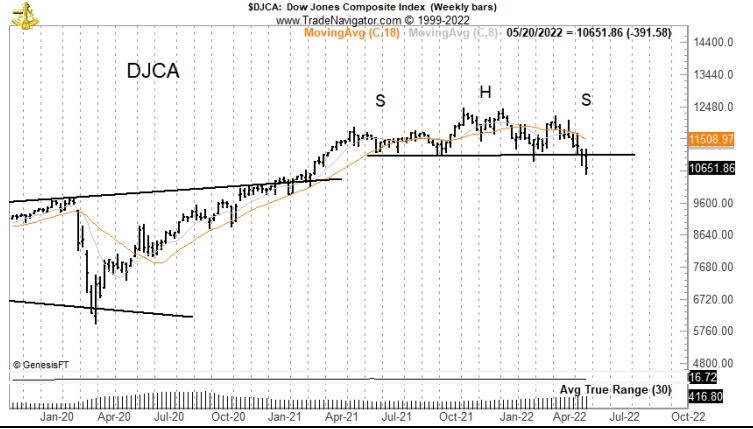 ---
Factor Member Private Twitter
Top Six Tweets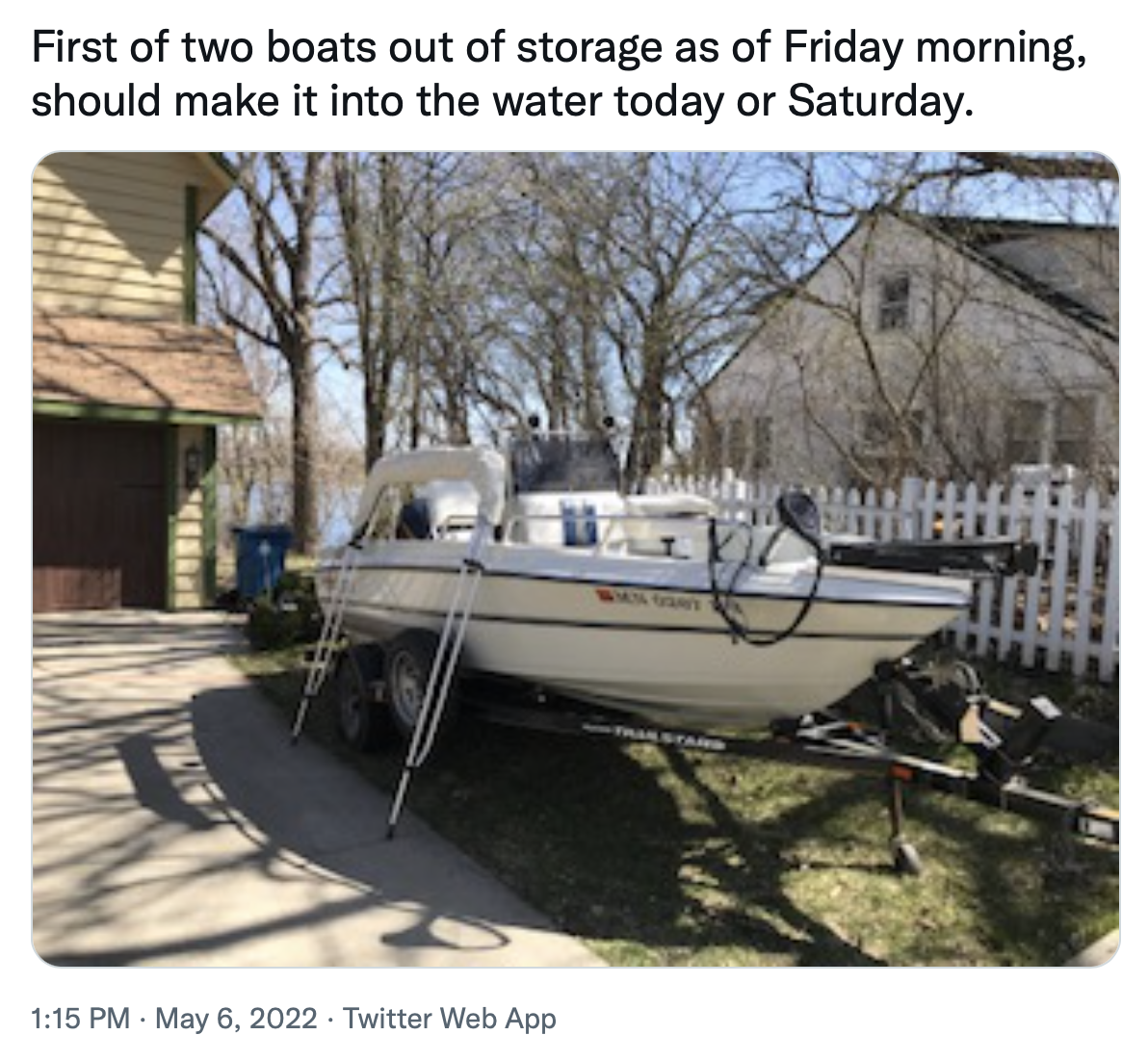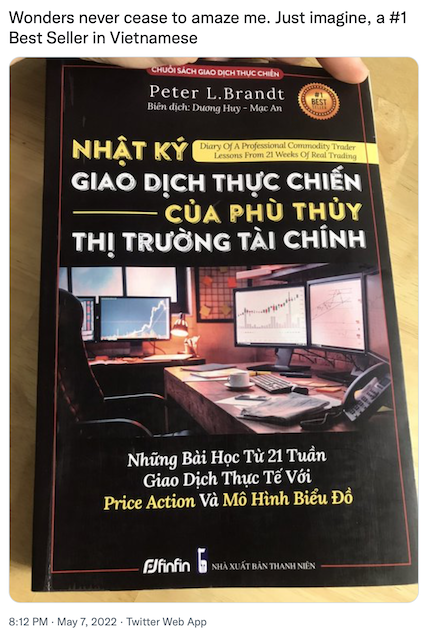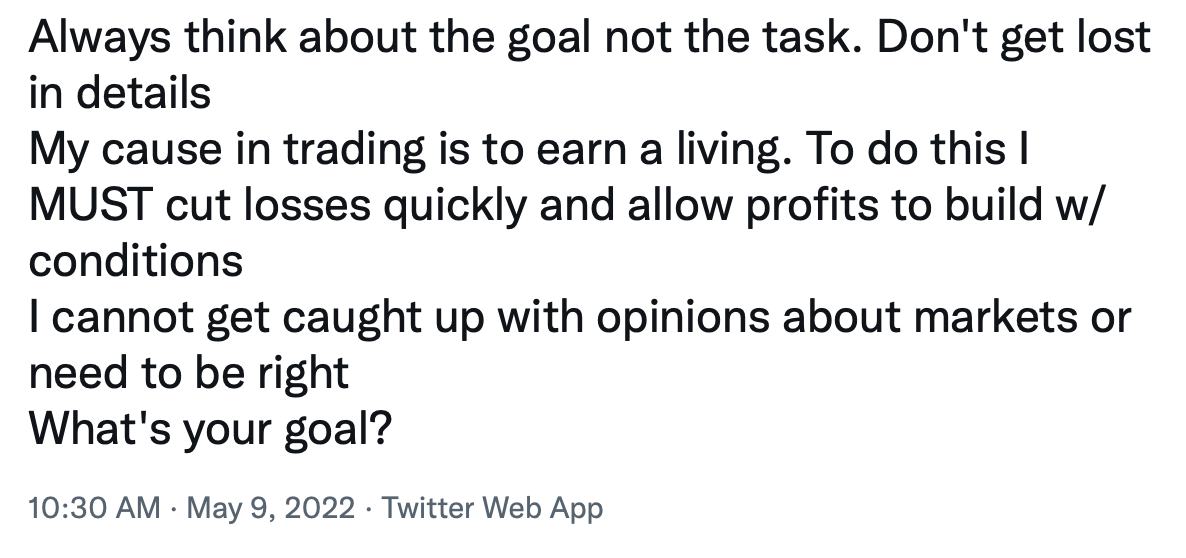 ---
Recommended Watching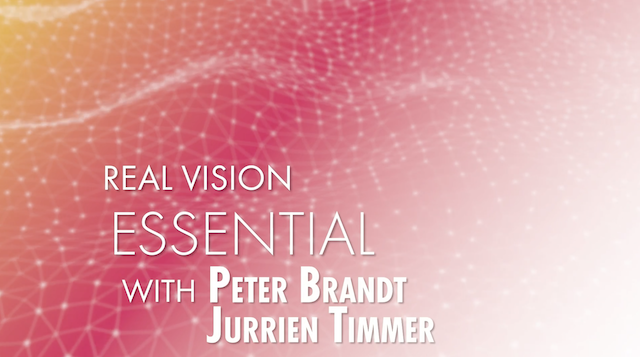 CHART YOUR WAY THROUGH CHOPPY WATERS
Featuring Jurrien Timmer and Peter Brandt
Published on: May 19th, 2022 • Duration: 69 minutes
With the global economy teetering on the edge of recession and financial markets whipsawing on a daily basis, these are challenging times even for seasoned investors. At times like these, technical analysis helps clarify the bigger picture by establishing correlations with downturns of the past. Few market participants are better positioned to help us navigate current conditions than Jurrien Timmer, Director of Global Macro at Fidelity Investments and a Chartered Market Technician. Timmer speaks to Peter Brandt, founder and CEO of Factor LLP and a renowned technician himself, about the prevailing macro environment. Timmer and Brandt share lessons from the past (did you know the 1994 Federal Reserve tightening cycle was the only one to produce a soft landing or that there was significant "quantitative easing" after World War II?) and identify trends for the future. The two chartists talk about bonds, rates, earnings, and Bitcoin, and they single out what they see as the greatest "chart crimes." Recorded on April 26, 2022.
---

Become a Factor Member
Members receive:
Trading Commodity Futures with Classical Chart Patterns: A free PDF copy of Peter's classic out-of-print book
The Weekend: Thoughts on a Sunday (Weekend) Afternoon
The Monthly: Issued monthly, will provide an overview of the completed month and highlighted member content
Private Twitter Page: Real-time alerts on interesting charts and observations, member dialog, the process of trading, the human aspect of trading, and risk/trade management (streamed on the member site as well)
Webinars: Periodic member-only webinars where Peter speaks about current conditions and fields member questions
Knowledge Center: Fast and easy access to current and archived content from Peter's extensive library of trading content
Automatic notifications: Email and social media notifications are sent out when new content is published
Factor Report Educational Papers: Periodic educational and instructional documents
View your Factor Member options here. You could consider your membership in the Factor Service as just one more trade. If the Factor Service is not of value to you, well, it is just one more trade that did not work. My goal is to shoot straight on what trading is all about.
I hope you will consider joining the Factor community.

https://www.peterlbrandt.com/wp-content/uploads/2021/10/Screen-Shot-2021-10-24-at-4.50.37-PM.png
644
1114
Peter Brandt
https://www.peterlbrandt.com/wp-content/uploads/2020/04/TheFactorReport-small-logo.jpg
Peter Brandt
2022-06-16 18:19:36
2022-09-17 09:05:09
The Monthly | Blog Edition | May 2022