The big speculative interests (futures and hedge funds) are in BIG trouble in the Eurodollar market. The commercial interests are properly positioned to do BIG damage to the BIG spec
Let's look at the Eurodollar futures market (Eurodollars are an interest rate instrument, not the foreign currency).
Open interest (the number of contracts that are being held) is at a record open interest, at nearly 11.5 million contracts. At an underlying principle value of $1 million per contract, this represents Eurodollar interbank deposits with a principal value of $11 trillion.
It becomes really dicey when one considers the ownership profile of this open interest. Commercials have an all-time record net long position. Large specs have an all-time record net short position. All this spells potential capitulation by large specs.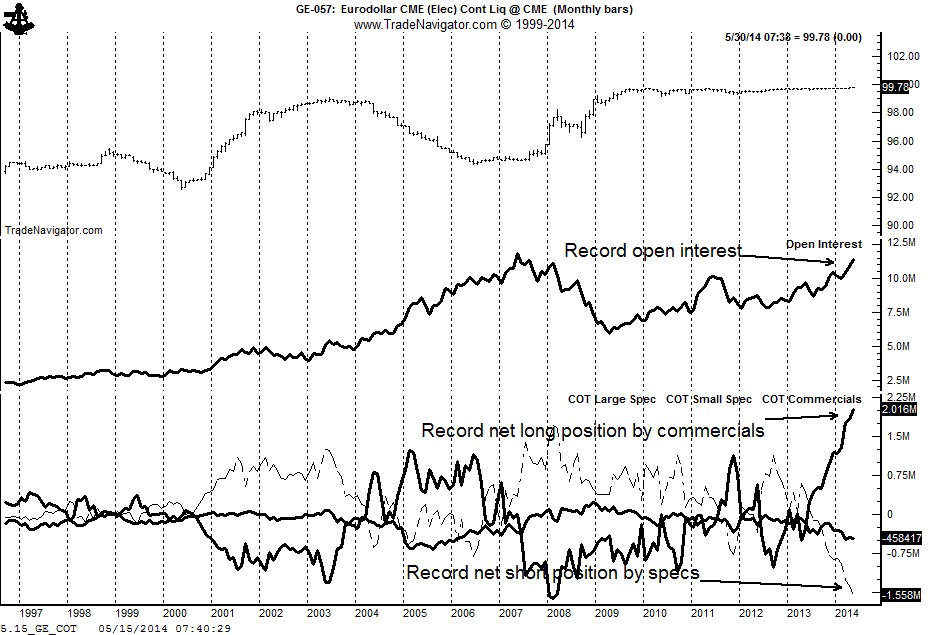 So, what do the charts tell us?
First, it is important to know that the deferred contracts of Eurodollars have already discounted an enormous increase in fed fund and T-Bill yields. [Note: Eurodollars trade based on price, not on yield. A price of 99.00 represents a 1% yield, 98.00 represents a 2% yield, etc.]
Eurodollars in the spot position trade at 99.78 (22 basis points or .22% yield). Eurodollars for Dec 2017 trade at 97.25, or a 2.75% yield. Thus, traders should question if the deferred contracts have already over-compensated for higher rates.
The Dec 2017 weekly graph displays a possible H&S top formation. However, H&S top patterns can fail to materialize, resulting in at least another retest of the high of the head (98.135). Notice the construction of this pattern in relationship to the current spot price.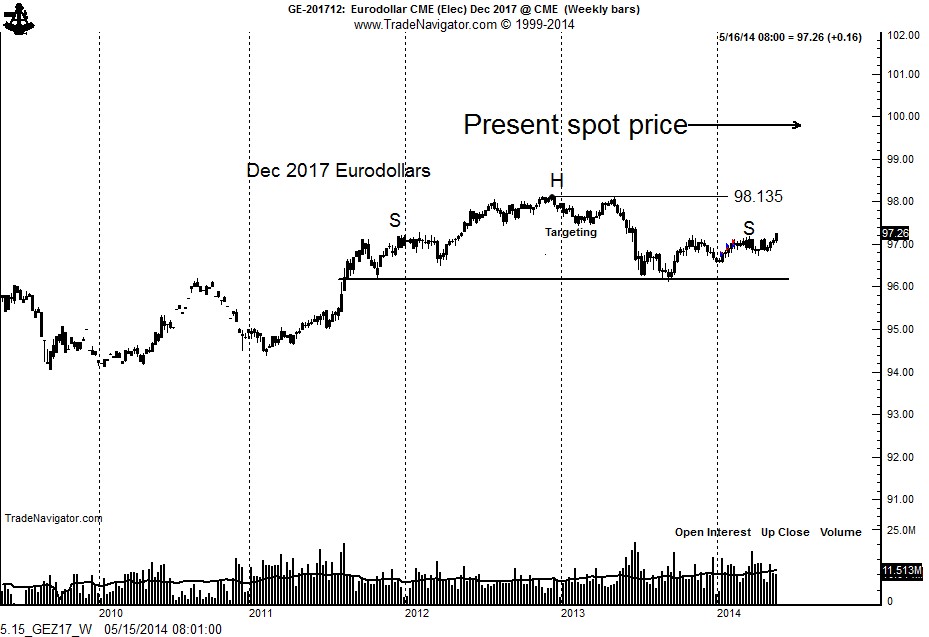 The daily chart of the Dec 2017 contract has now completed a 7-month ascending triangle pattern with a target of 97.71. However, if one considers the Sep 2013 low to be the start of this ascending triangle, then the target is closer to the 98.13 level.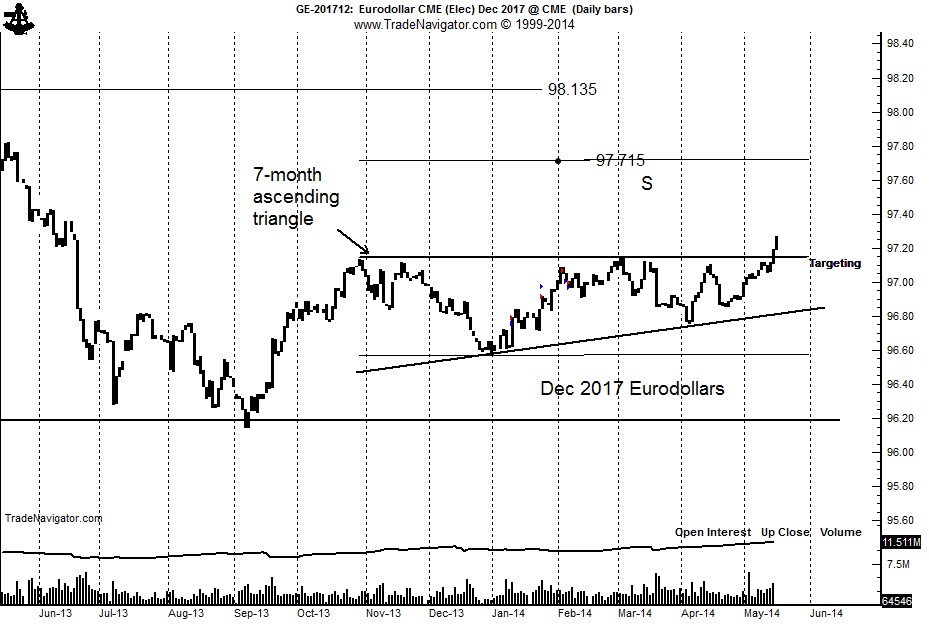 $GE_F, $TLT, $SHY
###
https://www.peterlbrandt.com/wp-content/uploads/2016/03/Factor-Research-Trading-Services-300x79-300x79.png
0
0
Peter Brandt
https://www.peterlbrandt.com/wp-content/uploads/2016/03/Factor-Research-Trading-Services-300x79-300x79.png
Peter Brandt
2014-05-15 10:51:15
2016-01-28 13:35:50
Eurodollar interest rates -- the commercials have the big specs by the gonads