The charts suggest a better than 50/50 chance that Gold prices will far exceed the present all-time high — in Swiss Francs that is.
In the U.S. we view Gold in USD terms. And, as a general rule, Gold (and Crude Oil) are globally quoted in USD. Yet, substantial investors in other countries view Gold in terms of their own currency. This makes sense. If Gold is the ultimate store of value, then it is a store of value relative to any and all currency units.
While Gold prices have retraced sharply in USD terms, the same cannot be said of Gold priced in other major currency units.
First, the chart of Gold in US$. It might be observed that Gold has broken through its 31-month trendline and, on a closing price basis, penetrated the September low. Arguably, the historic bull trend in Gold priced in US$ is being threatened.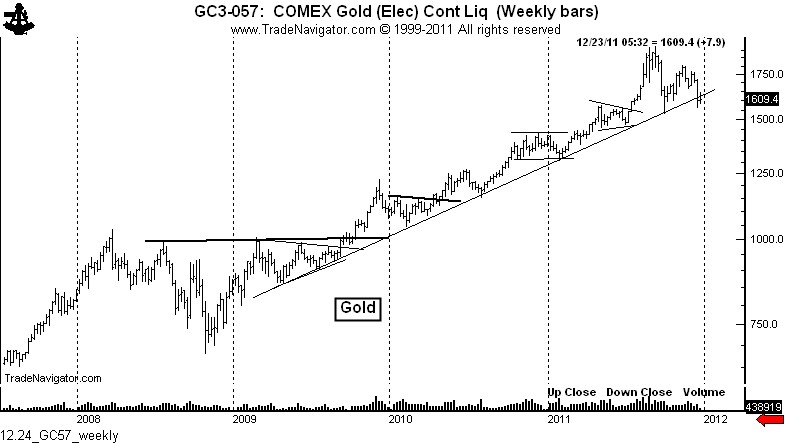 The same cannot be said of Gold priced in terms of other currency units. 
First, let's focus on Gold priced in Swiss Francs, which is a logical currency to examine considering Switzerland's historic connection with Gold.
Remember that any trade in Gold, in any currency, represents a spread. If you go long Gold in the U.S., you are spread long Gold and short US$. If a Swiss investor buys Gold, the trade is long Gold and short $CHF. The proper way to express this spread is Gold/CHF, or GC/CHF.
The bull trend in GoldCHF shows no signs of a top — in fact, the trend is accelerating as shown on the weekly graph below.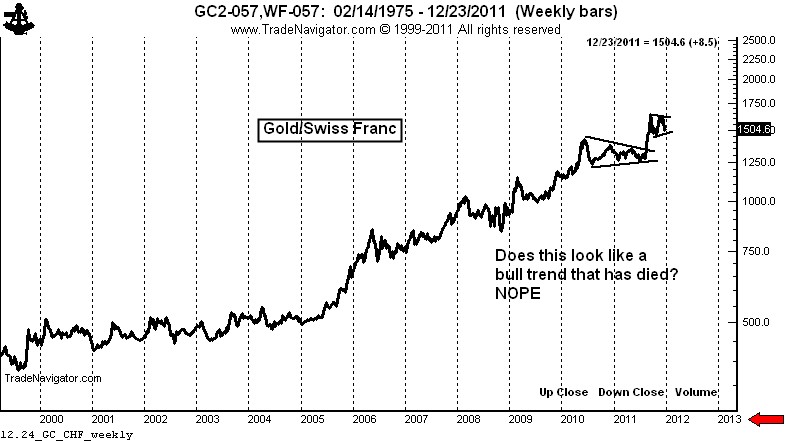 The daily Gold/CHF graph shows that the spread is forming a well-defined symmetrical triangle. Remember, the probabilities are always better than 50/50 that a period of consolidation will become a continuation pattern, not a reversal pattern. So, the odds favor an upside breakout of this pattern.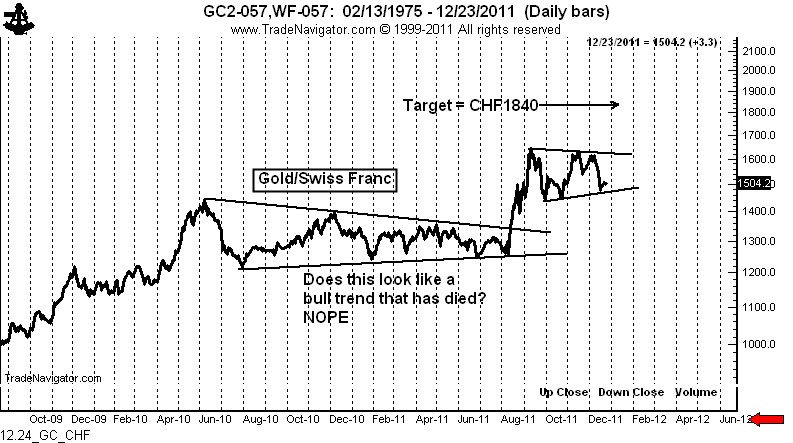 It is important to note that the GoldCHF chart is closer to the bottom boundary of the triangle than to the upper boundary. If this present coil is to become a symmetrical triangle two events must occur.
Prices must hold the lower boundary.
Prices must advance out of the upper boundary.
The completion of the symmetrical triangle would establish a target of CHF1850 per ounce. This represents an advance from present levels of more than CHF300.
The chart of Gold/Euro also shows a healthier trend than the chart of Gold priced in Dollars. The Gold/EUR daily chart is also forming a symmetrical triangle pattern.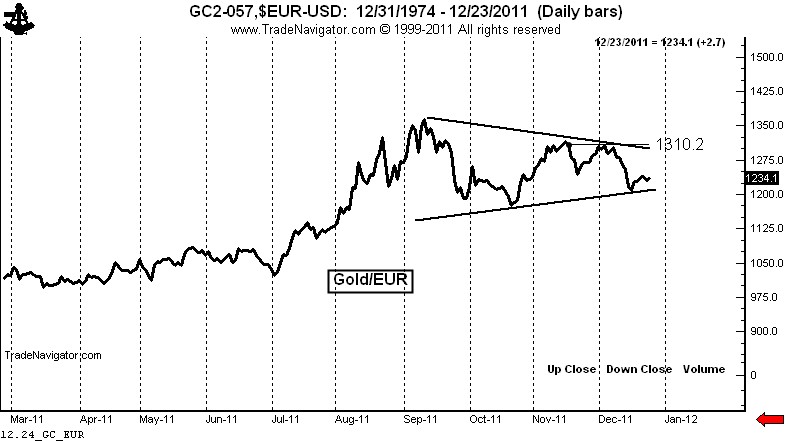 The Gold/CHF trade can be done in at least two ways for a flat price trader. Options traders have an infinite number of alternatives.
Futures/forex
Buy a contract of Comex Gold futures (current value about $161,000) and buy $160,000 of $USDCHF in the forex market. Remember, buying the USDCHF is the same thing as going short the Swiss Franc.
As an option, you could buy a mini contract of Gold (present value about $53,000) and buy $50,000 of $USDCHF. If GC/CHF moves from the present level of around CHF1505 to the target of CHF1840, this trade would yield a profit of CHF335 per ounce. Using one mini Gold contract, this converts to a profit of approximately $11,800. Of course, a profitable trade requires the right direction and the right timing. I am not suggesting that today is the right timing. You need to determine timing based on your signal guidelines.
ETFs
Buy 200 shares of $GLD (present value about $31,200) and short 300 shares of $FXF (present value about $31,500).
Caveat
Of course there is a caveat to this analysis. The continuation patterns cited have not yet been completed. There is nothing that says the present congestion in Gold/CHF will not become a double top or rally to the upper boundary, fail, and form a 5-point reversal symmetrical triangle top.
One more caveat — I presently have a post highlighting the chart reasons for $25.60 Silver (see here). So what is it — a drop in Silver of an explosive rally in Gold? No doubt some Silver bull will point out the inconsistency. The reality is that both scenarios are not likely to come true. I am not sure which one — if either — will bear fruit. The very idea of a bullish review of Gold and a bearish review of Silver is only something a true trader can understand. I understand that a Silver bull would not get the nuance of this concept. That's ok. I am a trader and a Gold bull in the very long-term. I could care less what Silver does. I respect thoughtful Silver bulls.
Disclaimer: I am presently short Silver as a trader. I presently have a profit. I have a protective stop locking in a part of that profit. I could be long next week — another idea precious metal bulls cannot quite grasp.
Markets: $GLD, $GC_F, $FXF, $USDCHF, $G6S_F
### 
.
https://www.peterlbrandt.com/wp-content/uploads/2016/03/Factor-Research-Trading-Services-300x79-300x79.png
0
0
Peter Brandt
https://www.peterlbrandt.com/wp-content/uploads/2016/03/Factor-Research-Trading-Services-300x79-300x79.png
Peter Brandt
2011-12-23 08:28:25
2016-01-28 13:44:22
Merry Christmas -- Gold could be heading to substantial new all-time highs