Silver has reached a technical "do or die" point
Owners of $SLV, this post is intended for you.
I believe that "investors" who buy $SLV are absolute idiots. If you own $SLV, you are a fool! Whether silver prices go up or silver prices go down, you are still a fool.
On December 3, 2012, I posted a blog explaining why trading ETFs rather than futures contracts is a fool's game. See here for the post. Many investors are scared of futures — so out of their fear they become idiots by trading ETFs in markets where futures contracts exist. FOOLS!!!!! While I am picking on $SLV owners here, my finger is also pointed at other ETFs, such as $QQQ, #DIA, $GLD, $SPY, $JJD et al.
Well, back to Silver. My "love affair" with Silver bulls dates back to late April 2011 when I called the absolute top of the market with a series of posts. See "How do you spell bubble … S.I.L.V.E.R" here and ("Silver … Eight years of supply traded last week") here. Sure, I have been wrong on a few wiggles and waggles along the way, but Silver bulls have never stopped reminding me of my "fullishness" for thinking Silver could ever return to the low $20s.
The daily chart of $SLV shows a strong down trend. The market has not been able to rally, and has formed a 6-week sideways consolidation called a pennant pattern. Only a close above $29 would idle the trend back into neutral. However, a decisive close below $27.50 would verify the down trend and establish a possible target of $25.50, and this is where the real fun could begin.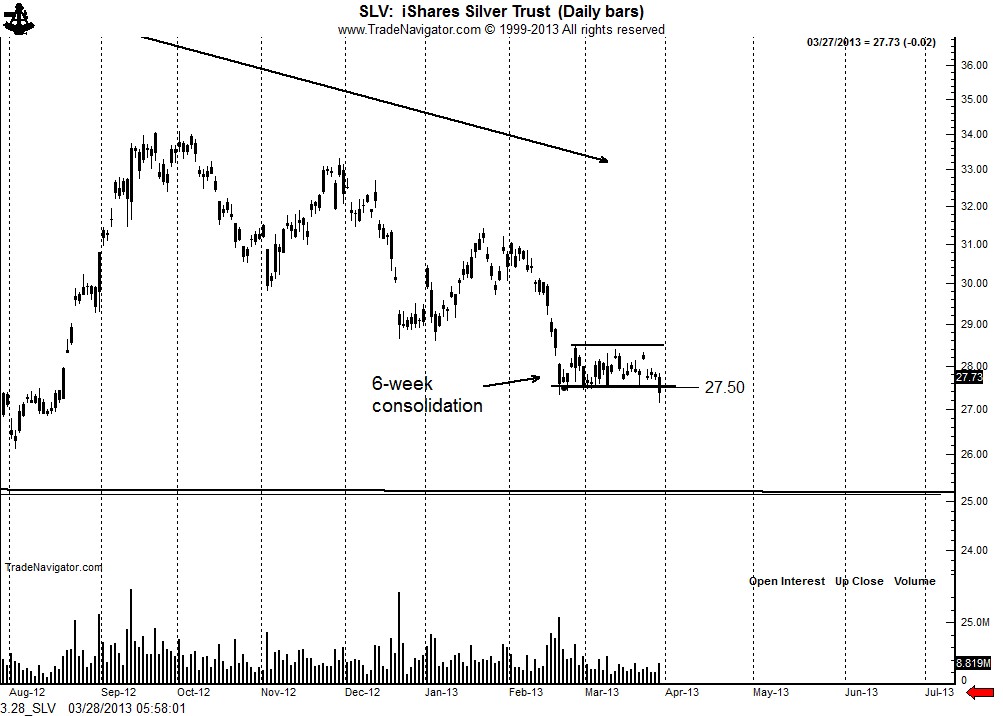 The $25.50 level has provided important support for $SLV dating back to late 2011, as shown on the weekly graph below.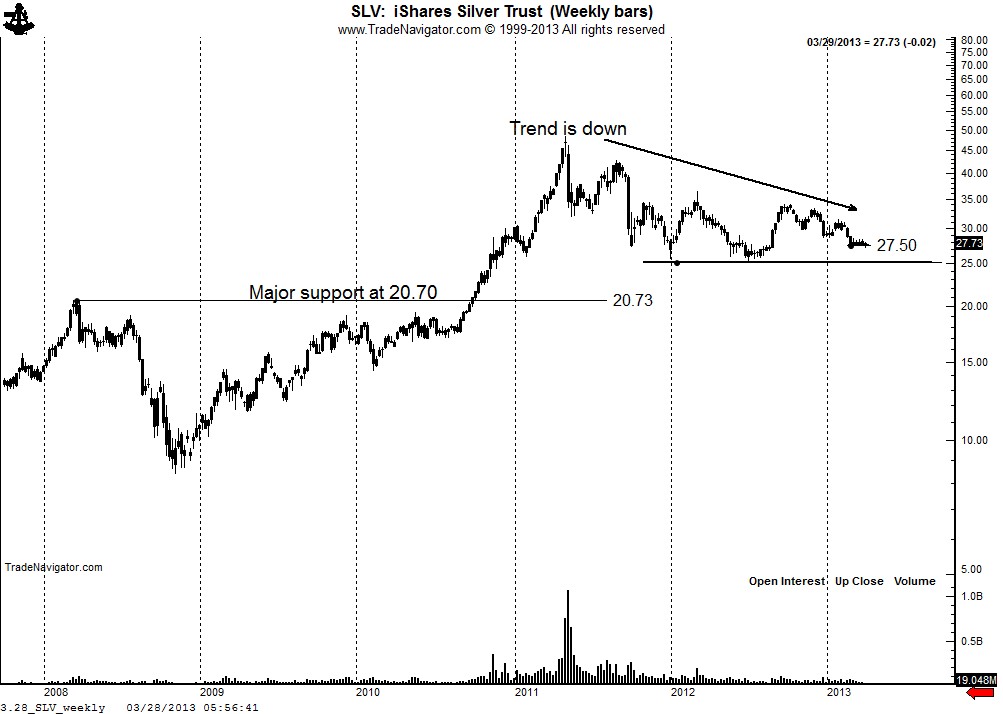 Should the $25.50 be penetrated, there is no reason SLV could not trade back to major support at $20.75. Let's do the math!
$SLV is presently priced at around $27.70. There are 356.8 million shares in float, worth approximately $9.9 BILLION. A decline to $20.70 would wipe out $2.5 BILLION of the wealth of Silver bulls.
Let me make myself clear on this post — by beef is not really for or against Silver prices (although the Silver charts are potentially ugly). I think ETFs are a fools game. I think ultra ETFs (2x, 3x, etc) are an invention by Wall Street to separate fools from their money. ETFs are nothing more than plain pieces of paper folded in fancy ways to deceive investors on their real value. I highly recommend the book "Financial Origami: How the Wall Street Model Broke" by Brendan Moynihan.
This post favors a decline in the price of Silver. I may or may not be correct on this call. But via this post I am absolutely coming out against ETFs for any and all markets for which a futures contract exists.
###
https://www.peterlbrandt.com/wp-content/uploads/2016/03/Factor-Research-Trading-Services-300x79-300x79.png
0
0
Peter Brandt
https://www.peterlbrandt.com/wp-content/uploads/2016/03/Factor-Research-Trading-Services-300x79-300x79.png
Peter Brandt
2013-03-28 09:19:42
2016-01-28 13:43:32
Silver bulls, are you ready to be tarnished?