I know that I am not exactly the poster boy for the Silver bulls. Yet, I have done nothing other than call the charts for what they are since the late April high.
It is in the spirit of looking purely at the charts that this piece is being posted. The bottom line is this — the Silver charts could not get any uglier than the present disaster they portray. I am focusing this post on the Silver ETFs, but the same comments apply to futures.
First, let's look at $SLV. The chart can be described in one word: "Look out below." Oh, I am sorry, that is three words.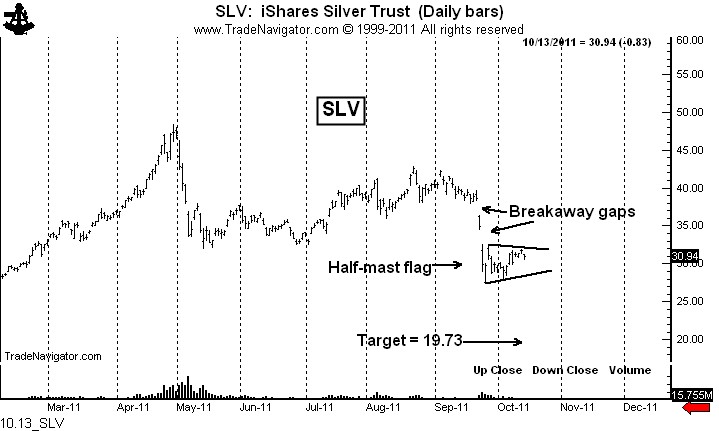 The trend is clearly DOWN — sorry Silver bulls, but the truth sometimes hurts. Three technical observations are worth of note:
The Sept. 22 and 23 gaps are either breakaway or measuring gaps. In either case, the news is not good.
The market has formed a 4-week pennant. This is a very bearish pattern. This of it this way — the market is so weak it cannot even fill the lower portion of the Sept. 23 gap. Chances are this is a half-mast pattern. If this proves to be correct, the completion of the flag should lead to a straight line drop to a target at 19.73.
The candlestick folks claim that the Oct. 12 bar was very bearish, especially considering the down gap on Thursday.
There are four ways to play this pennant in Silver — keep in mind, the pennant is not completed until the October low is penetrated on a closing basis.
First, be short Silver futures ($SI_F). Second, be short $SLV. Third, buy some SLV or SI_F puts (the futures puts are very pricey). Fourth, go short $AGQ, the ultra long ETF. I like the fourth option. You may come up with your own ideas. The chart of $AGQ is shown below. Everyone who has bought AGQ in the past 12 months has a loss. Nice bull market.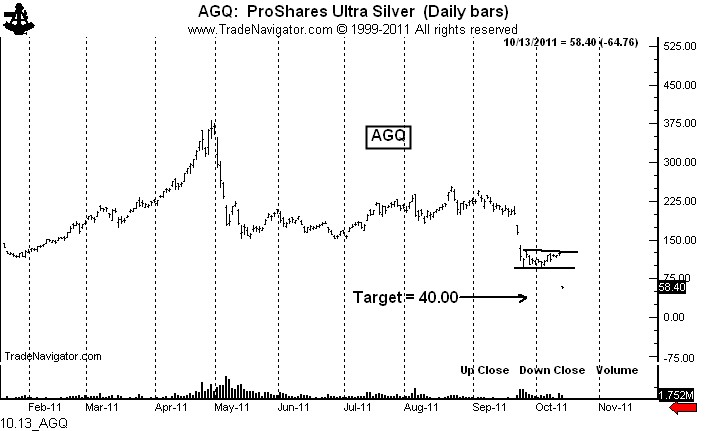 By the way, AGQ split 2 for 1 and my chart does not adjust for it yet.
Let me close in an unexpected way. There is a big irony to charts that become mature and ready to go. The irony is that in the case of some patterns the move could be in either direction. This is why it is not uncommon for me to bracket a pattern — going either long or short depending upon the direction of the breakout.
The case can be made that Silver futures will actually look rather constructive if prices can advance above 33.50 and then 34.00. In such a case an ascending triangle would be completed and a $6 or so rally could be supported.
###