Copper
The daily and weekly charts of Copper appear to be forming an 11-week rectangle or ascending triangle, depending on how the boundary lines are drawn. A move and close above 274.40 would complete this consolidation pattern and establish an upside profit target of 300.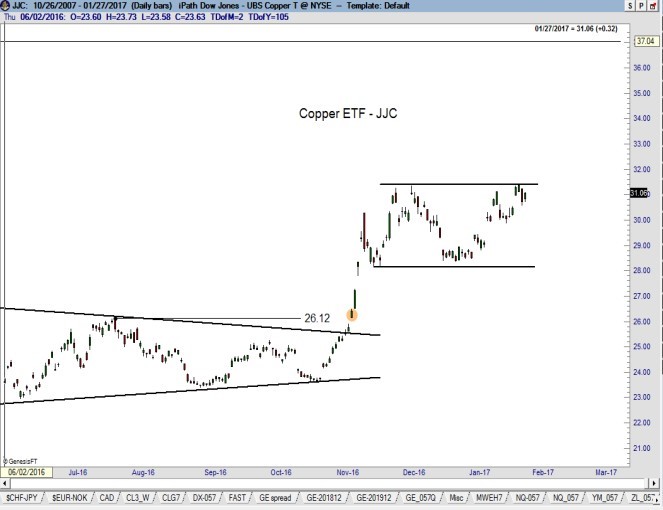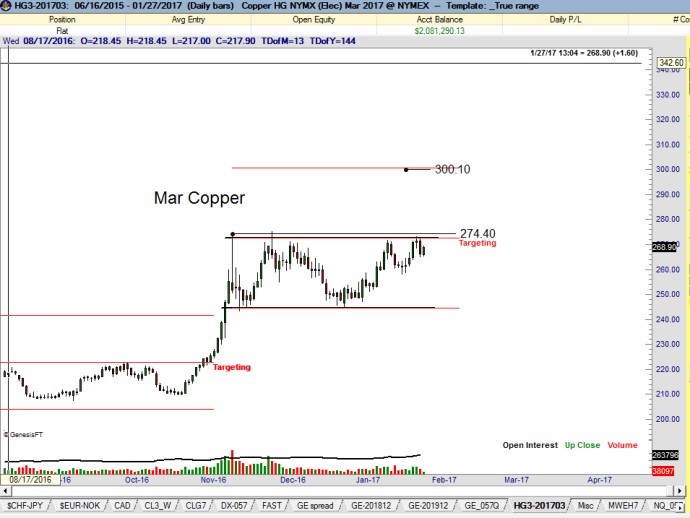 I am willing to buy the breakout in Copper, but with a huge caveat. The market is coming off a period of all-time record spec long and commercial short positions (by a massive margin compared to the previous records). Normally I would shy away from buying a market with this COT profile. Yet, as I have pointed out elsewhere in this Update, there have been rare occasions when a market is resolved in the direction of a record spec long COT profile. In fact, the most outstanding example of capitulation by commercial interests occurred in Copper in Oct 2003 – the period with the previous spec long and commercial short record holdings (see red vertical line on the monthly chart, next page). In that case the market went straight up for 2½ years with prices quadrupling. Usually commercial interests are right – but when they are wrong, they are dead wrong.
.
.
Peter Brandt is a 40+ year veteran of trading.  Through his Factor Service, members receive:

Trading Commodity Futures with Classical Chart Patterns: A free PDF copy of Peter's classic out-of-print book

Weekend Update: 10-16 pages full of in-depth chart analysis and charting commentary

Alerts: Detailed information on specific charts as unique opportunities present themselves

Market Commentaries: Communications on specific topics regarding market speculation and trading distributed periodically

Webinars: Monthly member-only webinars where Peter speaks about current conditions and fields member questions

Knowledge Center: Fast and easy access to current and archived content from Peter's extensive library of content

Automatic notifications: Email and social media notifications are sent out when new content is published
.
View your Factor Member options here. You could consider your membership in the Factor Service as just one more trade. If the Factor Service is not of value to you, well, it is just one more trade that did not work.   Through the Factor Service I endeavor to alert novice and aspiring traders to the many pitfalls you will face – and to offer advice on overcoming those pitfalls. My goal is to shoot straight on what trading is all about.  For more information watch my 30 minute webinar where we cover the Factor service in depth.
I hope you will consider joining the Factor community.

.

.
https://www.peterlbrandt.com/wp-content/uploads/2017/01/Copper.jpg
1067
1600
Peter Brandt
https://www.peterlbrandt.com/wp-content/uploads/2016/03/Factor-Research-Trading-Services-300x79-300x79.png
Peter Brandt
2017-01-31 10:42:10
2017-01-31 10:43:17
Can Copper Defy the Odds
Silver Potential


Great Traders are Underwater Most of the Time