My actual real-life story demonstrates the joke that is Obombacare
In a November 8 blog post I expained the horror story my wife and I were going through with Obamacare because she lost her health insurance plan. See post here. [Obama: "If you like your health plean, you can keep it. Period! If you like your doctor, you can keep your doctor. Period!]
 Click to play video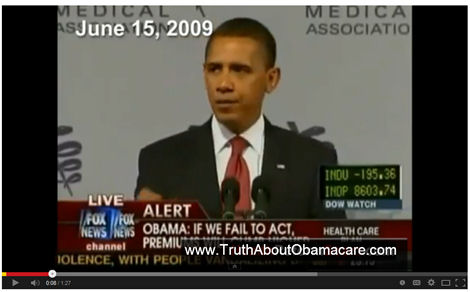 What a pack of lies! Obombacare would have never been passed into law had the truth of "If you like your doctor, you can keep your doctor. Period!" been known.
I decided I was not going to take Obombacare without a fight. So we went out shopping for a new plan that would take us through my wife's eligibiity for Medicare in late 2014.  And we found a plan that would work.
The table below shows the private health insurance plan we secured compared to the most comparable  Obombacare plan she would have been forced into.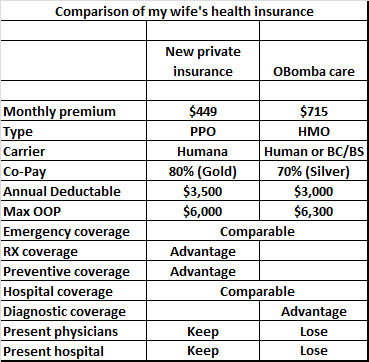 Bottom line is this:
Actual private plan:
$447/mo
PPO
80% co-pay
My wife keeps her doctors and hospital
Obombacare plan:
$715/mo (60% more than the private plan)
HMO
70% co-pay
My wife loses her doctors and hospital
We are lucky because my wife has no major pre-existing condition — thus, we were able to secure a private policy. But there are hundreds of thousands (perhaps millions) of people who have no choice or do not know how to fight the Marxist system. They will be dragged into Obombacare, lose their doctors and hospital and be charged a huge premium for the right to become slaves of Federalism.
Obombacare — what a joke!
There is one good thing I see from all of this. Obombacare will become Obama's legacy.
###
https://www.peterlbrandt.com/wp-content/uploads/2016/03/Factor-Research-Trading-Services-300x79-300x79.png
0
0
Peter Brandt
https://www.peterlbrandt.com/wp-content/uploads/2016/03/Factor-Research-Trading-Services-300x79-300x79.png
Peter Brandt
2013-11-22 11:30:24
2016-01-28 13:36:15
My personal case against Obombacare and how I beat it