CFTC COT Data – A discussion
As a trader, I have gone months and even years paying little attention to the composition of open interest as reported each week by the CFTC's Commitment of Traders data (COT).  I have covered the topic of CFTC COT Data recently, only because a number of markets have experienced all-time record levels of spec long and commercial short positions.
In a recent Factor update, I even raised the question of whether the old book on how to interpret COT data might be thrown away – that we might have entered a new and different era. Evidence now indicates that the old book and understanding of CFTC COT data still applies – that record levels of spec longs and commercial shorts is a reason for concern.
The charts below show some recent and current markets exhibiting CFTC COT extremes. In the cases of Soybean Oil, Sugar, Gold, Silver, Cotton, Copper and Crude Oil, record COT spec long positions led to significant market sell offs. It should be noted that Soybean Oil, Sugar, Cotton, Coffee and Copper are still at COT extremes, indicating that additional selling pressure is likely.
Please do not misunderstand me to be saying that record spec long positions MUST always lead to price declines. This is NOT the case. There have been times in the past when commercials have been forced to capitulate. For example, the monthly Copper chart (bottom chart featured) shows that a COT profile similar to the current profile resulted in an historic advance starting in Sep 2003.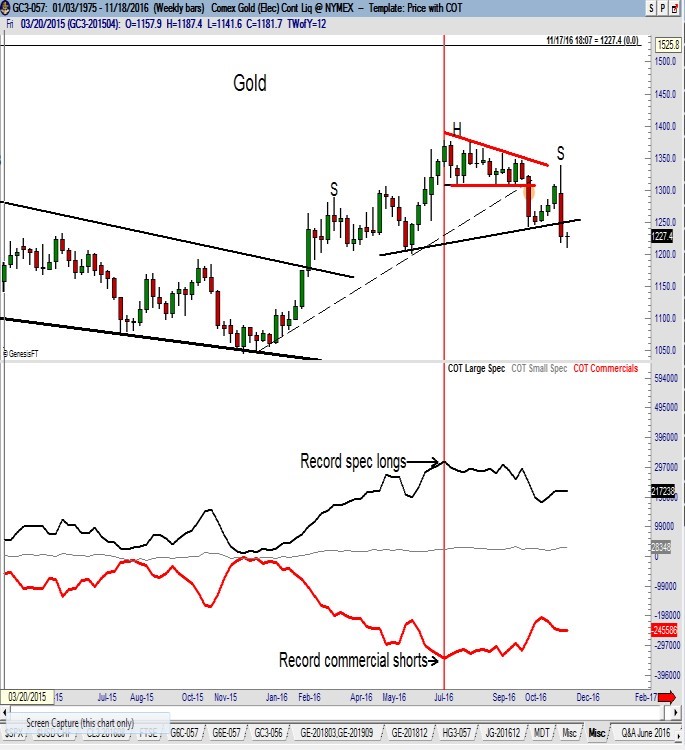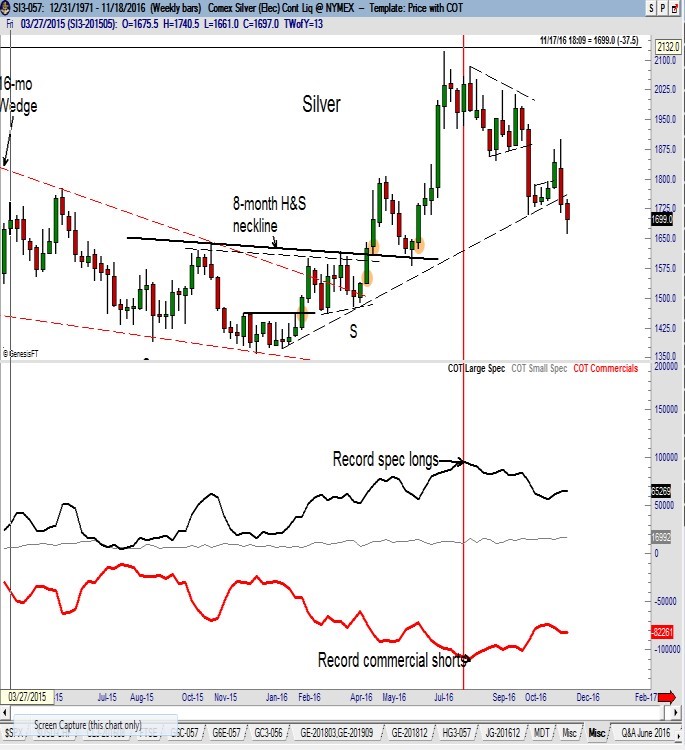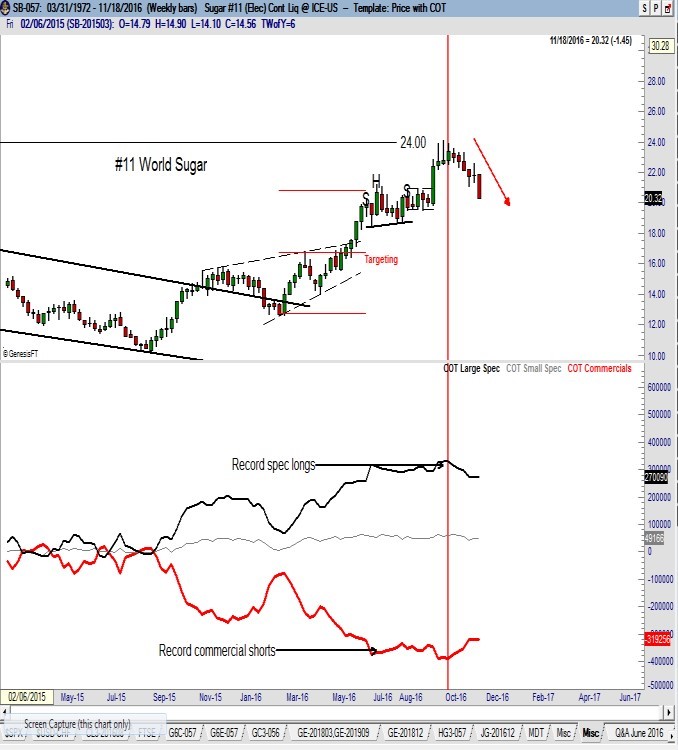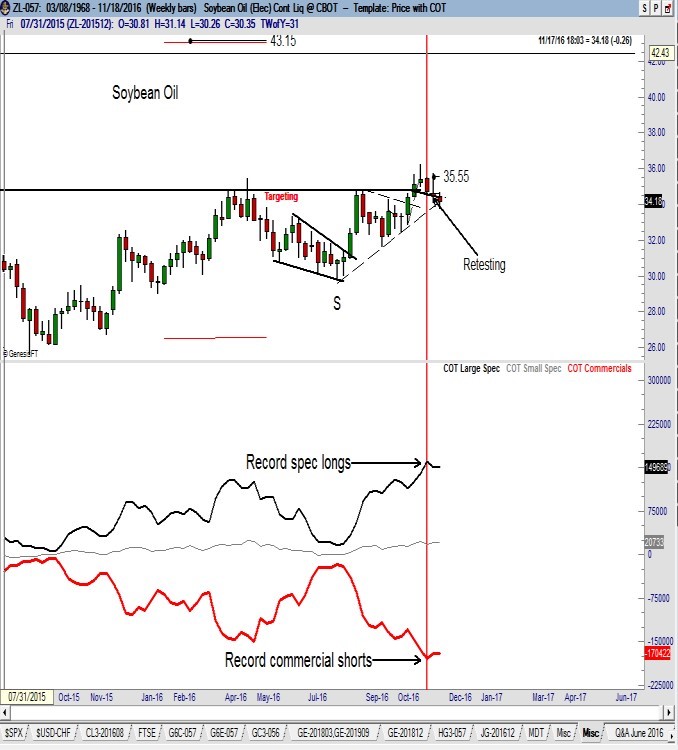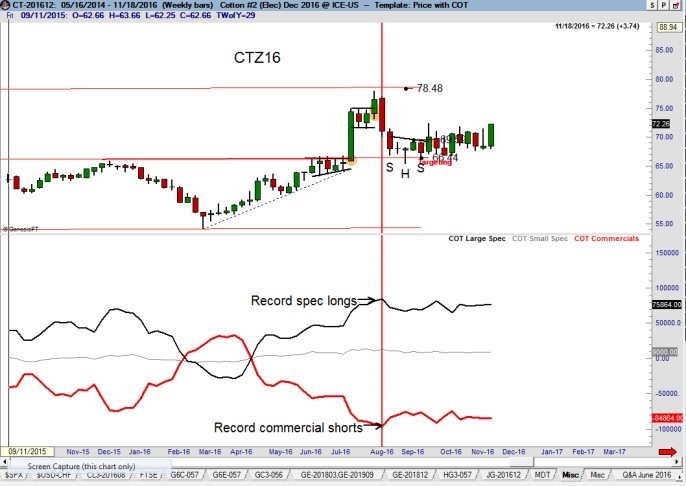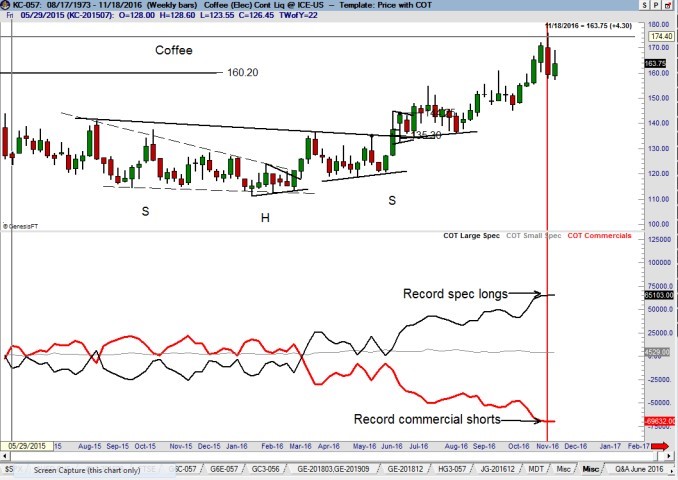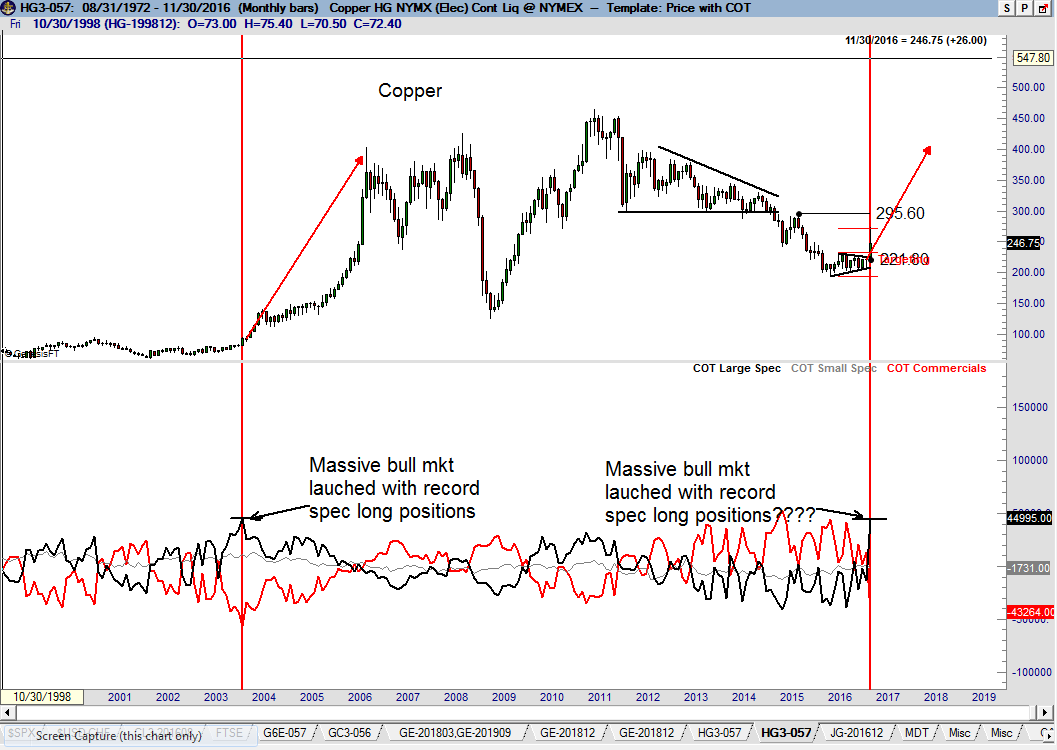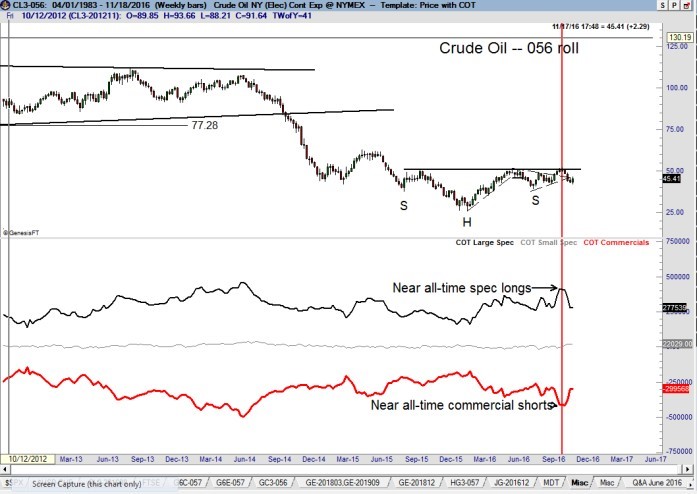 Peter Brandt is a 40+ year veteran of trading.  Through his Factor Service, members receive:

Trading Commodity Futures with Classical Chart Patterns: A free PDF copy of Peter's classic out-of-print book

Weekend Update: 10-16 pages full of in-depth chart analysis and charting commentary

Alerts: Detailed information on specific charts as unique opportunities present themselves

Market Commentaries: Communications on specific topics regarding market speculation and trading distributed periodically

Webinars: Monthly member-only webinars where Peter speaks about current conditions and fields member questions

Knowledge Center: Fast and easy access to current and archived content from Peter's extensive library of content

Automatic notifications: Email and social media notifications are sent out when new content is published
View your Factor Member options here. You could consider your membership in the Factor Service as just one more trade. If the Factor Service is not of value to you, well, it is just one more trade that did not work.   Through the Factor Service I endeavor to alert novice and aspiring traders to the many pitfalls you will face – and to offer advice on overcoming those pitfalls. My goal is to shoot straight on what trading is all about.  For more information watch my 30 minute webinar where we cover the Factor service in depth.
I hope you will consider joining the Factor community.


https://www.peterlbrandt.com/wp-content/uploads/2016/11/CFTC-COT-Data.jpg
733
1333
Peter Brandt
https://www.peterlbrandt.com/wp-content/uploads/2020/04/TheFactorReport-small-logo.jpg
Peter Brandt
2016-11-21 09:49:33
2016-11-21 09:49:33
CFTC COT Data – A discussion