Factor Trading is honored to be joining forces with my friend Aksel Kibar and his firm TechCharts to provide comprehensive coverage of global forex, futures and equity markets from the perspective of classical charting principles.
TechCharts will begin as a subscription-based service on May 22 — with a pricing discount for Premium Members of the Factor Service.
Our mutual mission is to alert members of the Factor Service and TechCharts to markets exhibiting those classical chart patterns with highest level of reliability.
In the weeks ahead Aksel will post material on the Factor web site so that you can sample the wonderful work he does.
Please see the recording of the video between Aksel and myself discussing this new association.  Link Here
Peter Brandt
Cup and Handle
by Aksel Kibar
The Cup with Handle is a bullish continuation chart pattern that marks a consolidation period followed by a breakout. It was developed by William O'Neil and introduced in his 1988 book, How to Make Money in Stocks. Cup with handle is a chart pattern that has a well-defined horizontal boundary. Breakouts from chart patterns with horizontal boundary are usually strong and reliable.  As its name implies, there are two parts to the pattern: the cup and the handle. The cup forms after an advance and looks like a bowl or rounding bottom. As the cup is completed, a trading range develops on the right hand side and the handle is formed. A subsequent breakout from the handle's trading range signals a continuation of the prior advance. Breakouts that complete a lengthy bullish continuation chart pattern and also record new all-time highs offer great long-term opportunity.
TAG IMMOBILIEN AG (TEGG.DE)
A 2 year-long cup with handle chart pattern formed on TAG IMMOBILIEN, a financial company listed in Germany on XETRA exchange. TAG Immobilien AG is a Germany-based real estate company that focuses on the acquisition, development and management of residential real estate. The geographical focus is on northern and eastern Germany, such as the metropolitan areas of Hamburg and Berlin, as well as on the Salzgitter and Thuringia/Saxony regions and North Rhine-Westphalia.
The stock not only formed a 2 year-long cup with handle chart pattern but also another shorter duration cup with handle chart pattern that is possibly acting as a launching pattern. For more information on launching patterns you can check out last week's guest post here. (Launching Patterns – Guest Post May 2, 2017). When two chart patterns implying the same technical outlook overlap, the breakout is usually more significant. In this case the 8 month-long cup with handle and the 2 year-long cup with handle continuation chart pattern both suggests higher levels in the coming weeks/months. The daily close above 13.50 levels confirmed the breakout from the bullish continuation chart patterns. The breakout was featured in the Global Equity Markets – May 6, 2017 report. There are two possible chart pattern price targets. One calculated from the 8 month-long cup with handle and the other from the 2 year-long bullish continuation cup with handle. Charts below show both possibilities and how these two chart patterns are labelled. Initially TAG IMMOBILIEN can target 15 levels and possibly continue towards the larger scale chart pattern price target at 16.6 levels.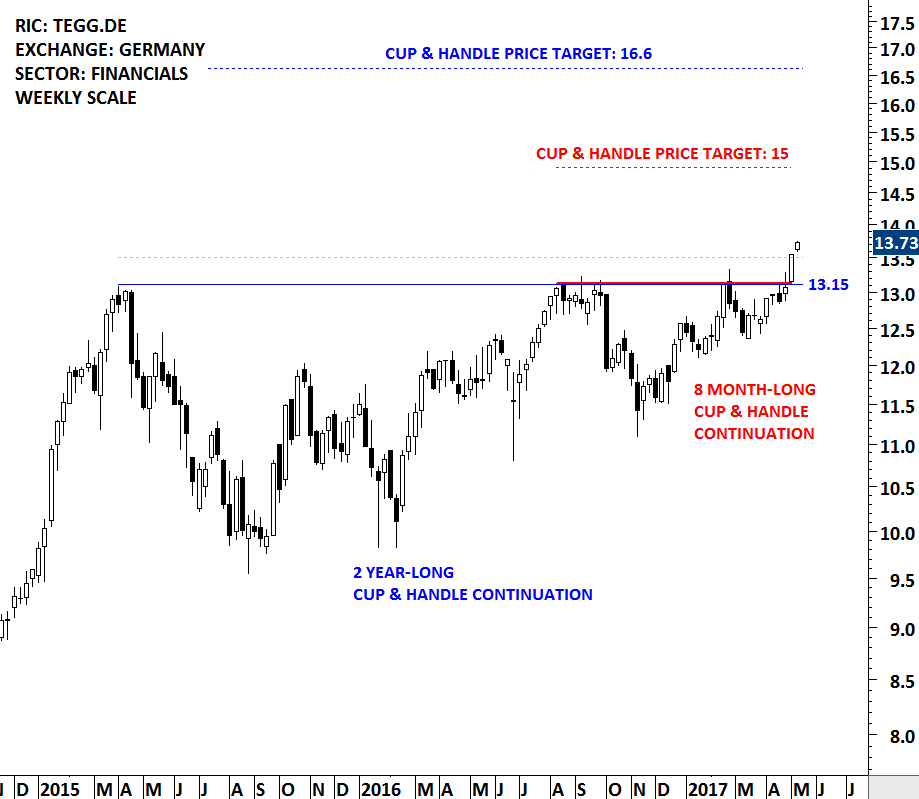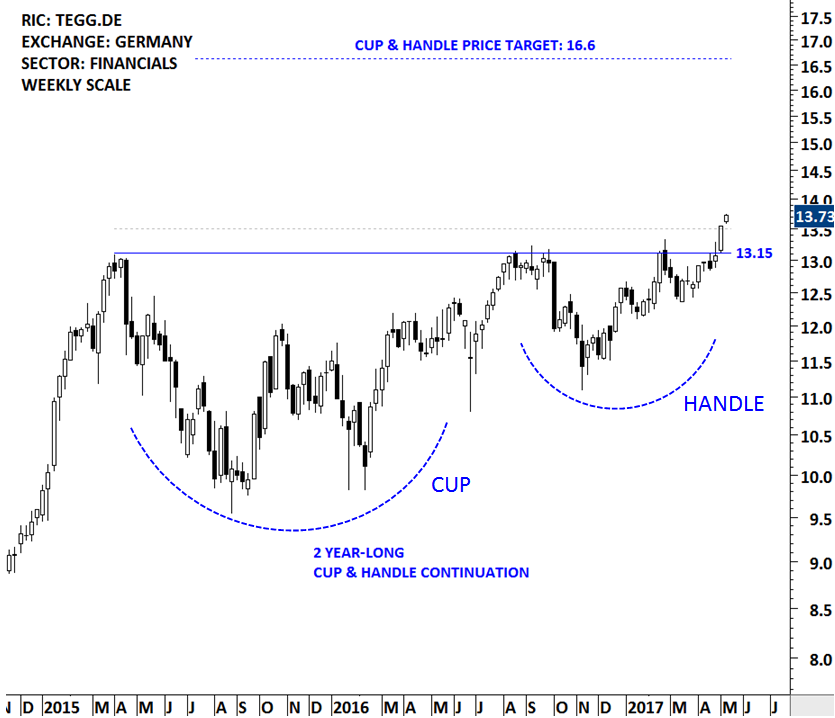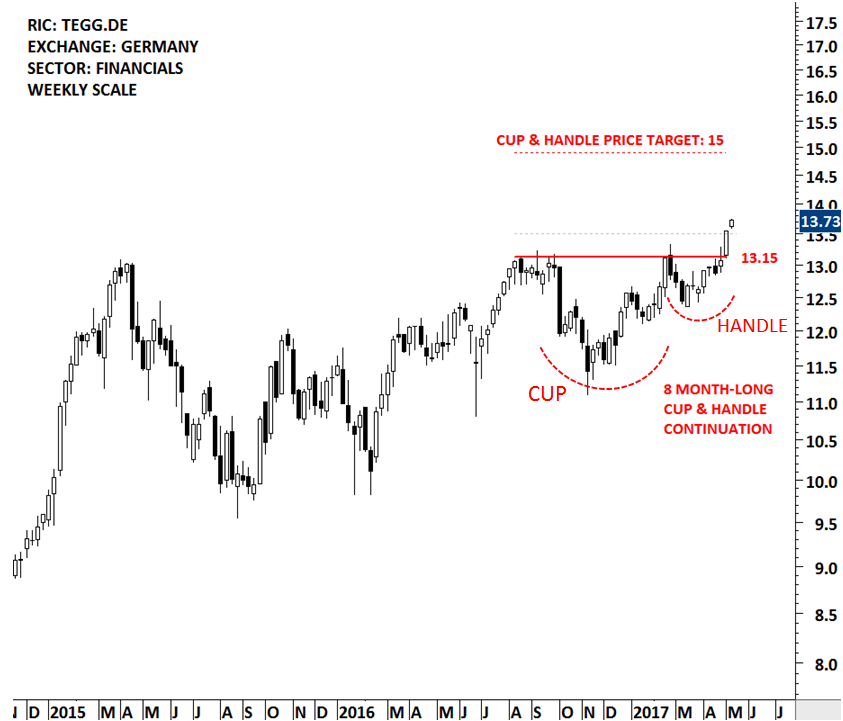 A similar chart pattern developed on CINEWORLD GROUP in the beginning of the year. The breakout and the follow through is a perfect example for cup with handle chart pattern.
CINEWORLD GROUP (CINE.L)
CINEWORLD GROUP is a consumer cyclical company listed on the London Stock Exchange. Price chart completed a 16 month-long cup with handle chart pattern and broke out to all-time high levels. The stock was covered in the Global Equity Markets – January 21, 2017 report under the watchlist. The breakout took place in the following weeks with a strong weekly price action and it was alerted and featured on the Global Equity Markets – February 4, 2017 report. Since then, CINEWORLD GROUP has been in a steady uptrend. With this week's strong price action CINEWORLD GROUP reached its chart pattern price target at 720 levels.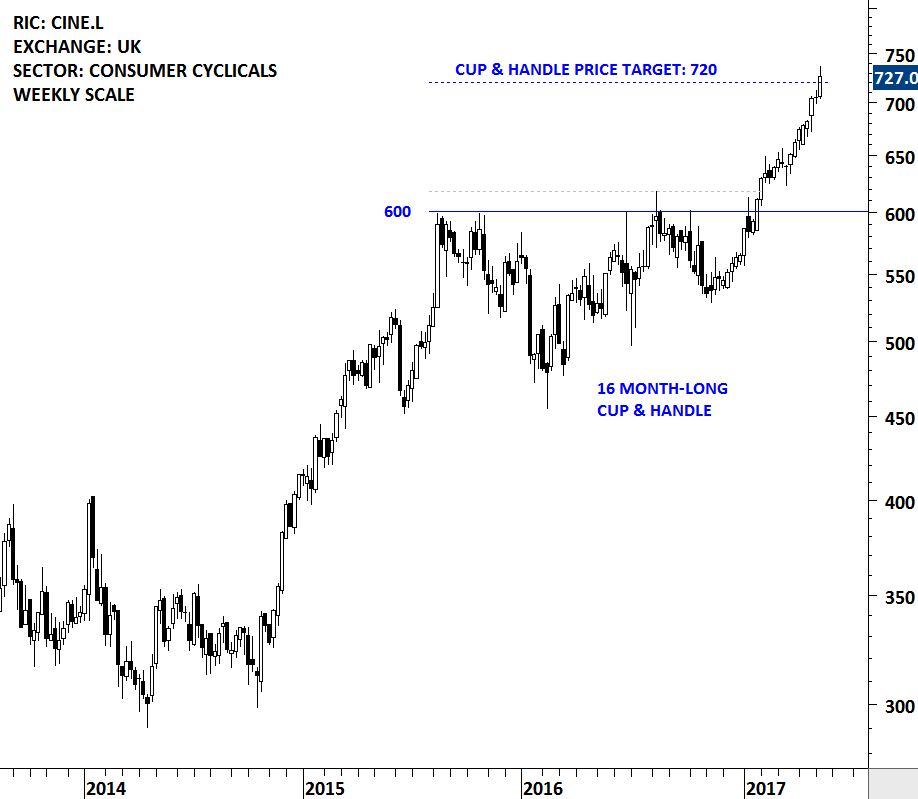 ​
To learn more about Cup with handle chart patterns you can watch this video.
VIDEO :CUP & HANDLE – FRONTIER SERVICES
Please visit my website at >>>  https://blog.techcharts.net  where you can sign up for free and receive my weekly Global Equities Market Report.
Regards,
Aksel Kibar

https://www.peterlbrandt.com/wp-content/uploads/2017/05/Cup-and-Handle-Aksel-Kibar.jpg
823
1233
Aksel Kibar
https://www.peterlbrandt.com/wp-content/uploads/2016/03/Factor-Research-Trading-Services-300x79-300x79.png
Aksel Kibar
2017-05-10 10:17:55
2017-05-10 10:18:34
Cup and Handle - Guest Post