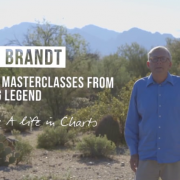 RealVision produced a wonderful video series about my life as a trader, I hope you enjoy it. It was a joy to work with the fantastic team at RealVision. My thanks goes out to the entire RealVisionTV team for their hard work and dedication to this project. Peter
CHARTING MASTERCLASSES FROM A TRADING LEGEND
Peter Brandt is a classical chartist and has been a trading legend in the foreign exchange and futures markets since 1975. In this exclusive five-part series, Peter shares his knowledge and the framework he has developed to trade successfully with chart-based analysis.
EPISODE ONE – A LIFE IN CHARTS
In Episode 1, Peter takes Raoul Pal through his fascinating life story, from how he discovered charts and the importance of risk management to the mentality of markets and what they can teach you about yourself.
EPISODE TWO – RISK MANAGEMENT
Charting Masterclasses from a Trading Legend continues with Episode 2 as Peter Brandt outlines the backbone of his trading philosophy and what keeps him in the game – Risk Management. In this episode, Peter spells out the ratios and rules he has lived by throughout a 40-plus year career trading commodity futures markets and the principles that guide him as a classical chartist.
EPISODE THREE – CLASSICAL CHARTING & TECHNICAL ANALYSIS
Peter Brandt delves into the world of classical charting and technical analysis. Peter explains what charts can tell you and importantly what they can't, with a lesson on the major pattern formations he looks for and the crucial ability to spot false breakouts. There's also a number of practical examples of how price trend action has followed chart patterns in some of the major commodity and foreign exchange markets.
EPISODE FOUR – THE HUMAN ELEMENT
Peter Brandt examines the often ignored but crucial human element of trading, which plays such an important role in market speculation. Peter says, "If you want to really know yourself, become a trader." Watch as he isolates the impact of emotions and how to manage them to give traders an edge.
EPISODE FIVE – THE PROCESS OF TRADING
Our exclusive series chronicling the life and career of classical chartist and trading legend Peter Brandt concludes with Episode 5 – The Process of Trading. In this episode, Peter breaks down the "dead serious" business of trading, running through his process every step of the way in a typical week at Factor Trading. It's a process that has been enduringly successful with a track record of 40% returns over a 40-plus year career.
Read More
https://www.peterlbrandt.com/wp-content/uploads/2017/06/Screen-Shot-2017-06-08-at-9.37.29-AM.png
424
844
Peter Brandt
https://www.peterlbrandt.com/wp-content/uploads/2016/03/Factor-Research-Trading-Services-300x79-300x79.png
Peter Brandt
2017-06-08 10:46:28
2017-06-08 11:02:14
RealVision Video Series with Peter Brandt - Five Episodes