Sometimes a possible top gains clarity if one can flip the chart over and view it as a possible bottom. The easiest way to do this is to print a chart and flip it 180 degrees. But since I cannot do this with a blog post, I did the next best thing — convert a chart into its reciprocal value. Those of you familiar with spot forex know exactly what this means and how to do it. Forex trades can trade many currency pairs in the reciprocal.
The possible top I am referring to is in Soybean Oil. First, let us look at the chart straight away.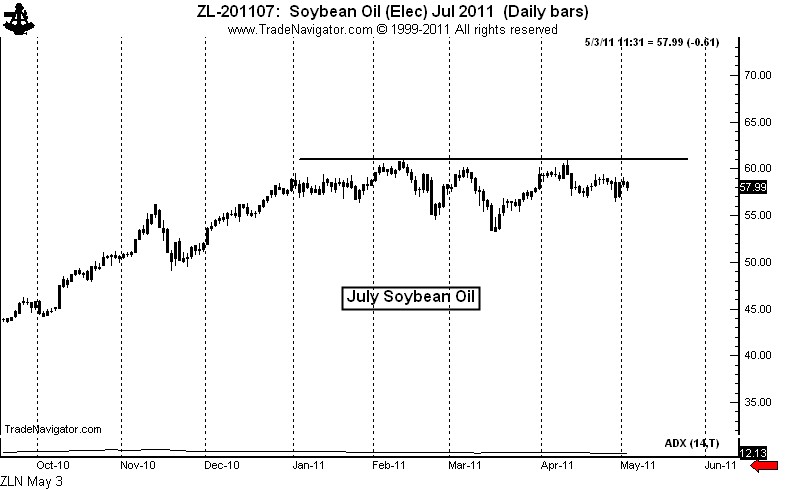 My initial response to this chart is that a contiuation congestion is occurring and that a breakout into new highs would lead to another strong advance.
But when I "flip" the chart, my initial reaction is different. Shown below is the reciprocal value chart of July Soybean Oil. What can be seen very clearly is a possible bottom pattern known to point and figure chartists as the "compound fulcrum." The compound fulcrum is a bottom pattern about 80% of the time, a top pattern the other 20%, and is a powerful chart formation.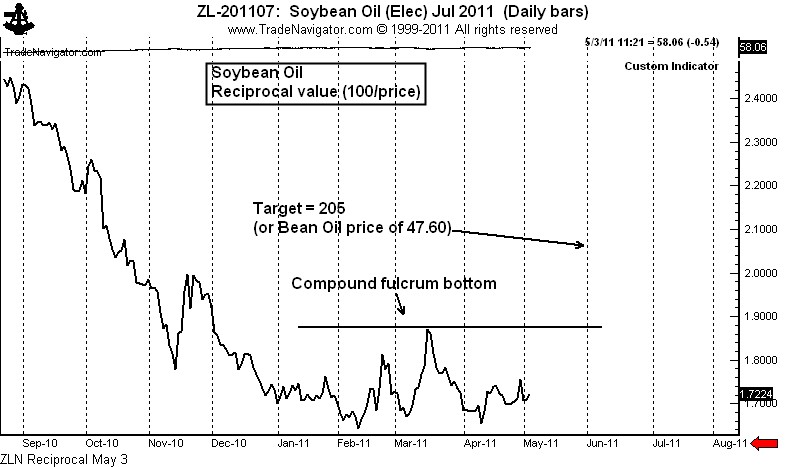 A compound fulcrum bottom can best be described as a H&S top pattern that serves as a bottom. Keep in mind that a bottom in the reciprocal chart equals a top in the actual commodity.
This pattern in the July Soybean Oil would have a target of 205 which is equivalent to 47.60 in the price of July Bean Oil (compared to a current price of 58.00). There are two problems with this trade. First, more price action is needed to develop symmetry in the pattern — another two to three weeks of sideways movement followed up a gradual uptrend in the reciprocal chart would do the trick.
The second problem is fundamental in nature. Soybeans are VERY cheap compared to Corn, and Soybean Oil is likely to remain strong compared to Meal, because Meal is now competing in the feed market with the residual mash from the Corn ethanol process. While these factors do not seemingly bode well for a bear trend in Bean Oil, conventional wisdom is often wrong. Some of my best trades over the years have been trades flying in the face of conventional wisdom. The public is a major long in grains. The public is subject to shake outs.
The Soybean Meal chart is also potentially bearish. The August contract daily chart displays a possible top in place followed by a H&S pattern.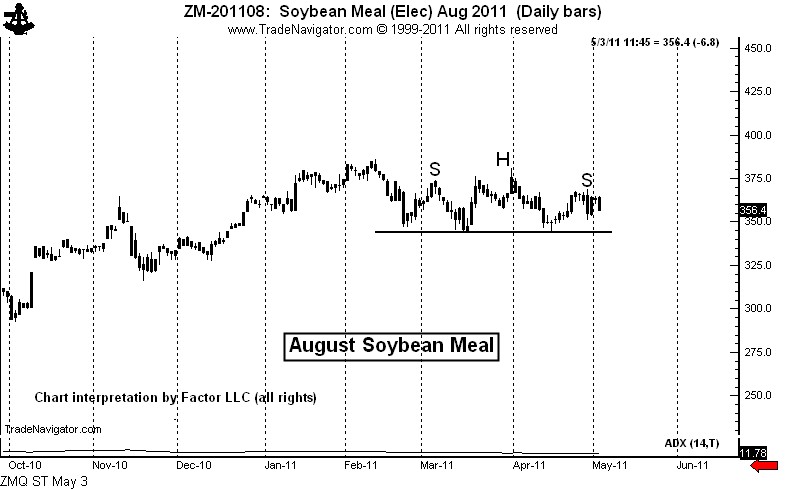 If these patterns develop more fully they would set up as trades for me. Remember, I am looking for patterns that will stand the test of historical scrutiny as among the best 10 to 20 classical patterns of the year. I think both of these charts are candidates. But the price action has not yet confirmed the signals.
https://www.peterlbrandt.com/wp-content/uploads/2020/04/TheFactorReport-small-logo.jpg
0
0
Peter Brandt
https://www.peterlbrandt.com/wp-content/uploads/2020/04/TheFactorReport-small-logo.jpg
Peter Brandt
2011-05-04 05:11:47
2016-01-28 13:46:01
Turning a chart on its head