The second major leg of the bull market in the Japanese stock market indexes and the USD/JPY has begun
Japanese stocks should surge another 35% in the next 12 to 18 months
Daily I hear cries from market analysts (naysayers) that the Japanese stock market and Yen are grossly overdone. My response, in a word, is…
Nonsense!
A review of the longer-term charts shows that the bear market in the Yen (or bull trend in the USD/JPY cross) and the bull trend in Japanese stocks has a long way yet to go.
Let's take the Yen first.
The following chart is the monthly high/low/close version of the USD/JPY dating back to the 1970s. The idea that the USD/JPY is overdone to the upside is laughable.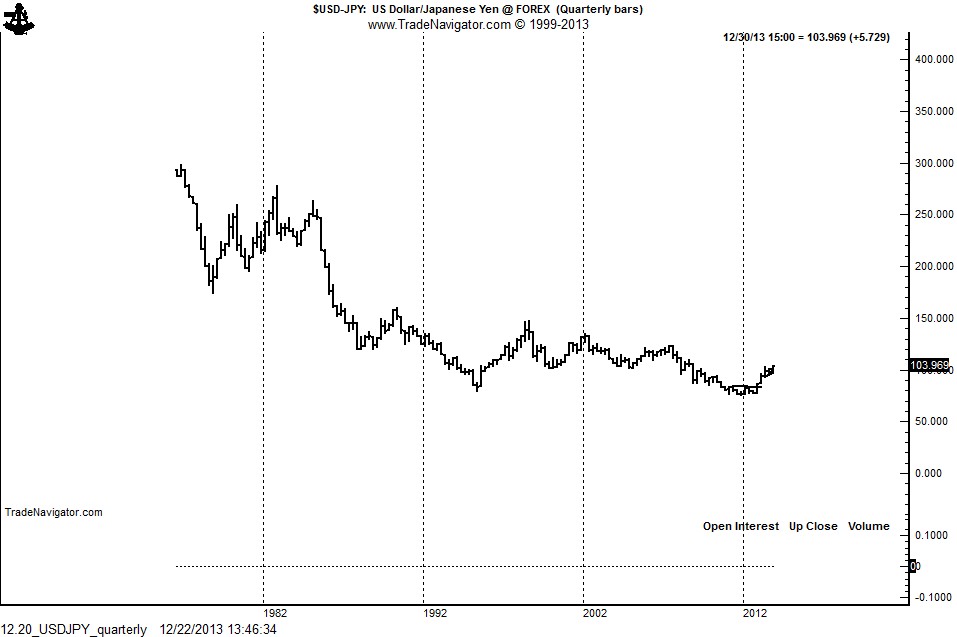 The next chart is the weekly version of the USD/JPY, showing that this current rise in the cross rate began with a classic H&S bottom formation. The market has recently completed a possible half-mast coil.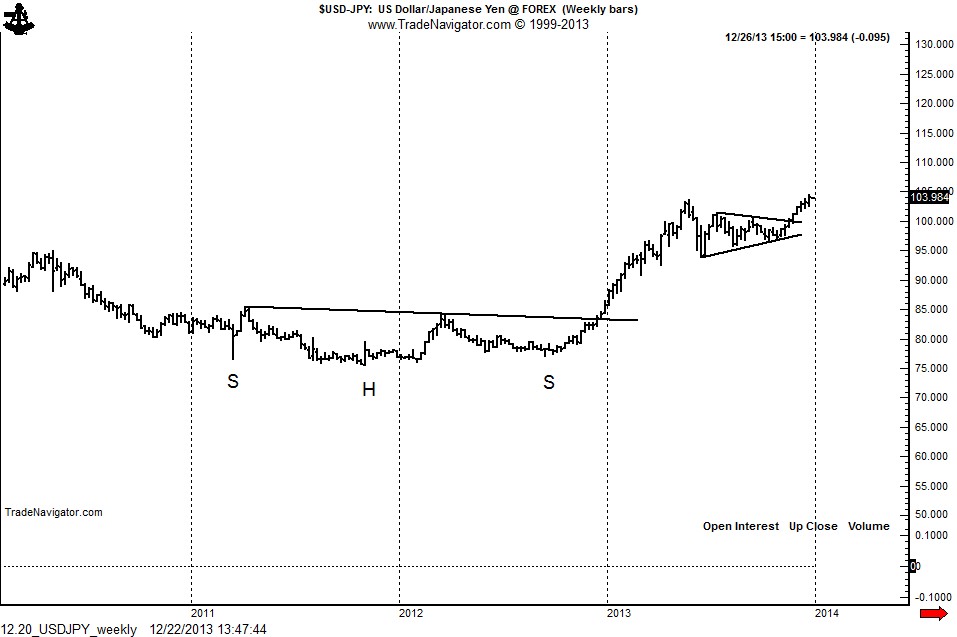 Next, let's examine some of the charts of the Japanese stock indexes.
The chart below is the weekly graph of the U.S. Dollar denominated Nikkei Index. I like this futures contract because it is a simultaneous play on both Japanese stocks and the Yen. The chart would indicate that the market has just recently completed a half-mast pennant with an initial target of 20,000.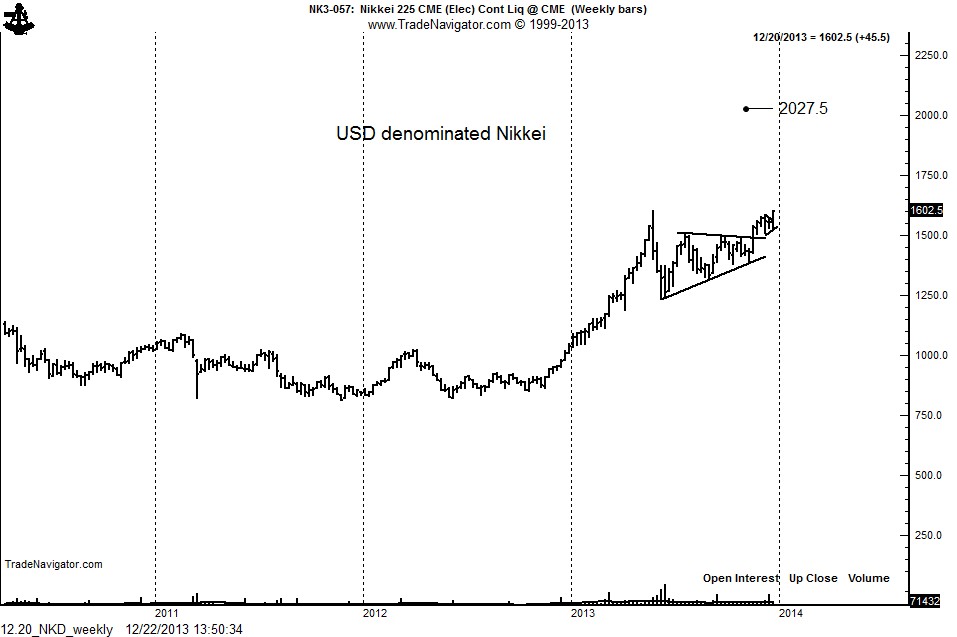 While the above chart would appear to be over bought, on a longer-term graph the Japanese stocks are hardly over done to the upside. The quarterly chart of the Topix Index shows a logical target of  1750, the level of the 1993, 1994, 1996, 2000, 2006 and 2007 highs. Such a target would represent a 38% gain from current levels.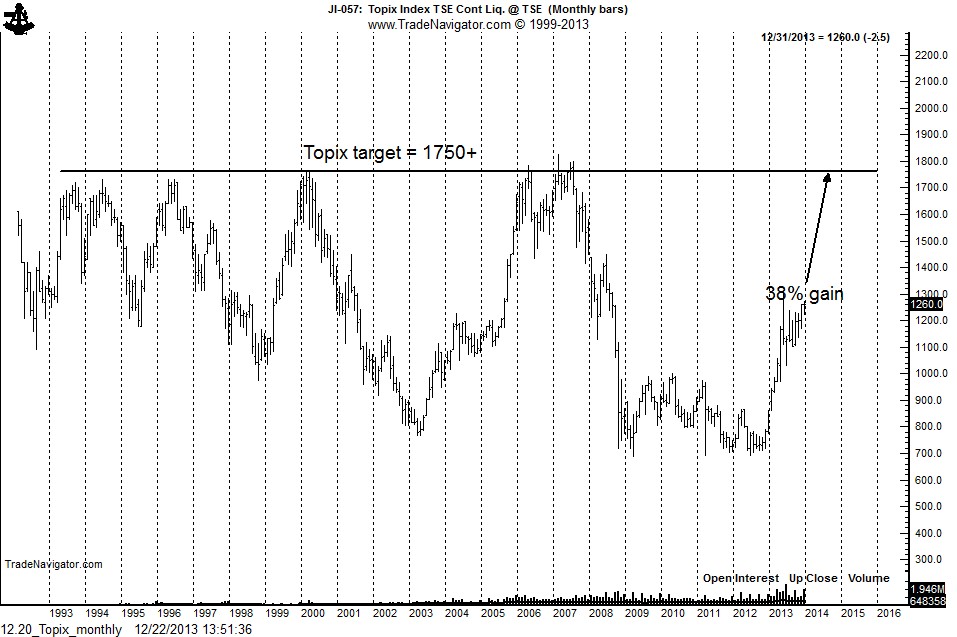 The final chart displays the relationship between the Nikkei Dow and the DJIA. This chart shows that the Japanese market remains depressed against U.S. stocks.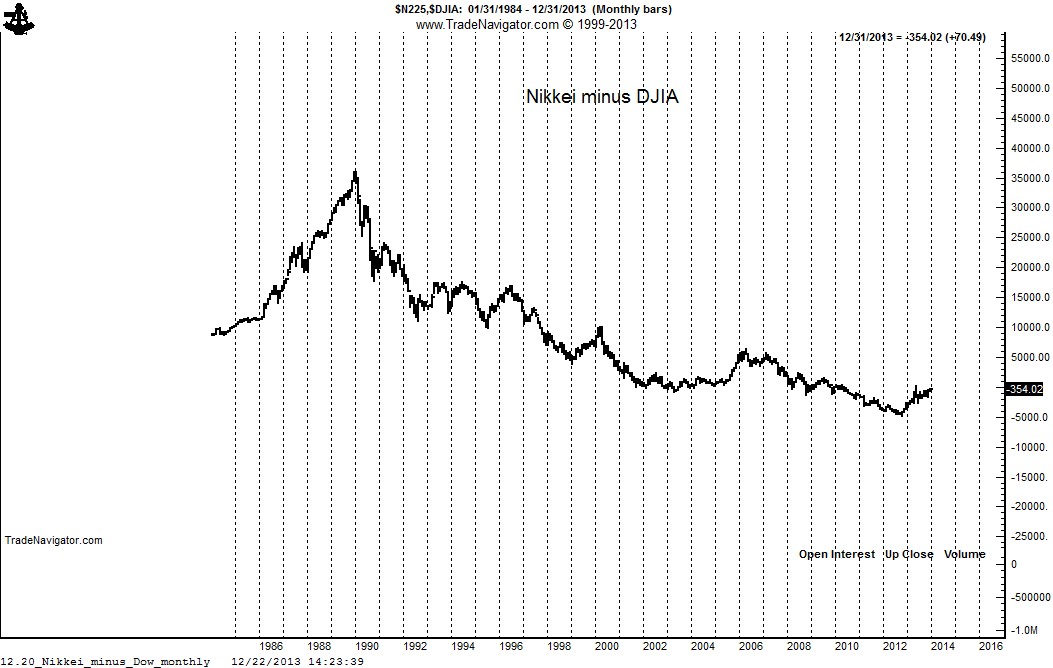 Markets: $NKD_F, $N225, $DJIA, $6J_f, $USDJPY
###
https://www.peterlbrandt.com/wp-content/uploads/2016/03/Factor-Research-Trading-Services-300x79-300x79.png
0
0
Peter Brandt
https://www.peterlbrandt.com/wp-content/uploads/2016/03/Factor-Research-Trading-Services-300x79-300x79.png
Peter Brandt
2013-12-22 16:44:49
2016-01-28 13:36:15
A chart update on the Japanese stock indexes and the Yen