Why I am SUPER Bullish on the Soybeans/Corn Spread
Long before I became a chartist (and ever since) I have followed the fundamental data on corn and soybeans. In fact, in my early days at the Chicago Board of Trade I focused on these two commodities for three years.
It is often a mistake for a technician to dabble in fundaments, but that is exactly what I have undertaken. And based on this undertaking, my conclusion is that anybody committed to the short side of soybeans for the next 12 to 18 months will get massacred. Do NOT become married to the short side of soybeans.
Here are my fundamental reasons:
Corn supplies are extremely tight. Ending U.S. corn stocks are projected to be 675 million bushels. That is equal to 5% of consumption, or 18 days worth of supplies. An 18 day supply barely fills the pipeline. (Source: USDA Global Report, April 8, 2011.) It is the role of price to ration supply. Prices will need to remain strong or go higher to curb demand for U.S. corn.
High corn prices have not curbed demand. Usage remains strong despite record prices. (Ibid.)
Soybeans prices (old crop) are at their cheapest level ever against corn prices. It is not unreasonable to expect 2011 planted acreage in the U.S. to move from soybeans to corn given the current price ratio.
I am including a number of charts and graphs to make my case. The first chart shows U.S. corn carryout as a percent of production. Ending corn stocks as a percent of consumption have been near the current projected levels only a few times in history.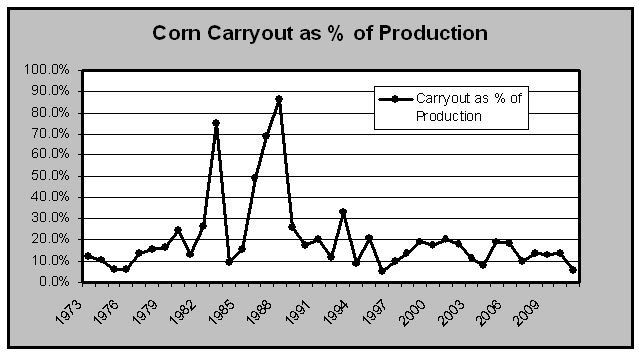 The next chart shows how corn prices behaved in the years of short ending stocks.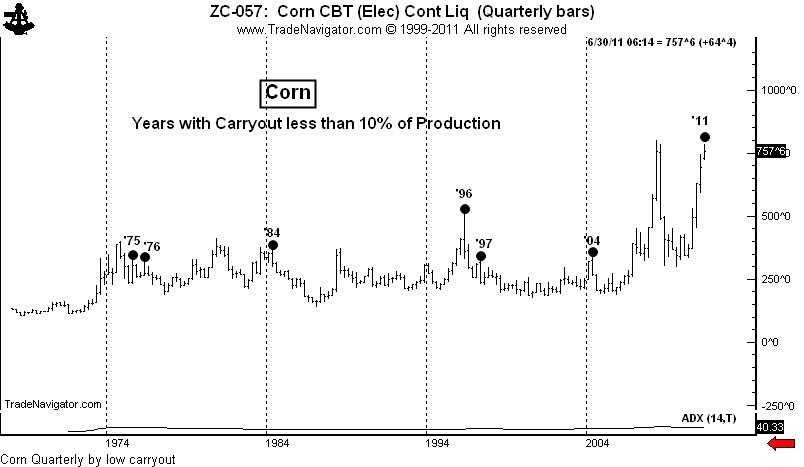 The next chart shows the soybean/corn ratio dating back to the late 1960s. Historically, soybeans are considered cheap to corn whenever the bean/corn ratio is below 2.0. Currently the old crop bean/corn ratio is 1.76 to 1. This is a record cheap level.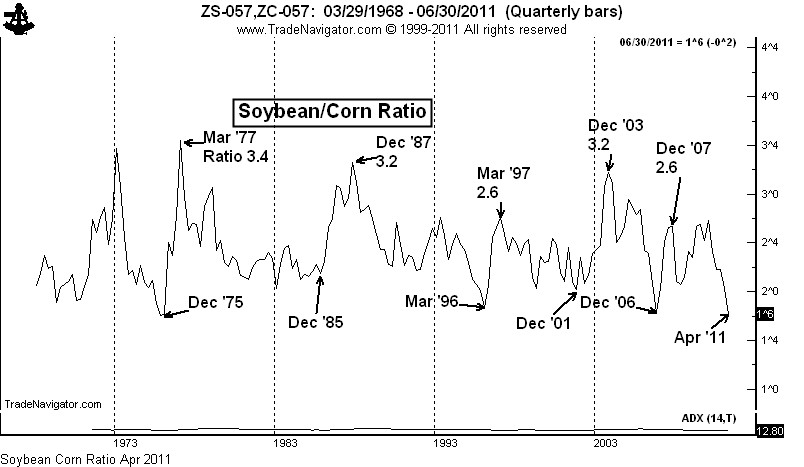 Historically, acreage moves from soybeans to corn whenever the bean/corn ratio is below 2.0. The next table shows what happens in the 12 to 24 months following low bean/corn ratios. Note the substantial advance in the ratio following periods of low ratios.

 I am a technical chart trader. However, I believe that in the next 12 to 24 months the bean/corn ratio will advance to a minimum of 2.8 to 1. Presently the new crop ratio is 2.1 to 1. The way to trade the ratio is to sell two bushels of corn for every one bushel of beans purchased.
Technical traders should monitor the corn and beans separately, looking for buy signals in the beans that are not confirmed by corn. View such situations as an opportunity to buy the bean/corn spread. Trend followers could also follow the daily chart of the bean/corn spread.
###
https://www.peterlbrandt.com/wp-content/uploads/2016/03/Factor-Research-Trading-Services-300x79-300x79.png
0
0
Peter Brandt
https://www.peterlbrandt.com/wp-content/uploads/2016/03/Factor-Research-Trading-Services-300x79-300x79.png
Peter Brandt
2011-04-13 11:40:10
2016-01-28 13:46:13
Special Report, Buy Soybeans & Sell Corn: 04.13.2011